Neil Johnson Talks Panama, PokerStars Championship Bahamas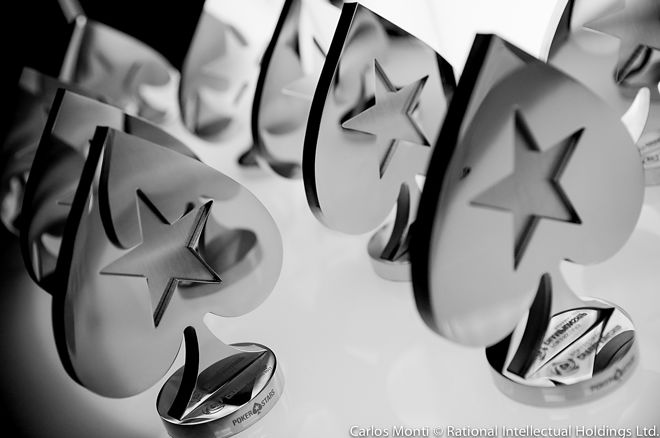 Christian Harder has claimed his trophy for the PokerStars Championship Bahamas $5,000 Main Event, and the inaugural PokerStars Championship event has wrapped up.
As with almost any debut of a major poker event, there were successes and failures, strong points to reinforce and wrinkles to iron out. PokerStars Department Head of Live Poker Operations Neil Johnson admitted as much but was pleased with the event overall.
"I think it's been a good launch," he said.
The advent of the spin & go tournament format on PokerStars has been a major change to the landscape of the big PokerStars events. PokerStars has leveraged the enormous popularity of the lottery-style sit & go to send a number of recreational players on poker vacations. Many of the players in the event — Johnson estimated about 140 players qualified through Spin & Go — were players used to playing $10 Spin & Go tournaments who would never ordinarily be able to fire a $5,000 event. He called the qualifiers a "tremendous success."
And while the expression "dead money" has been applied to players like Chris Moneymaker, who ultimately ended up winning huge events, some of the players who qualified for the event were the deadest money possible.
"I think it's been a good launch."
"We had a few that didn't show up," Johnson said with a laugh. "It's great for people that want to donate five grand to the other poker players. I'm sure [Harder and Cliff Josephy] appreciated the donation."
Josephy finished second in the Main Event after chopping with Harder.
The new live Tournament Leaderboard is also something Johnson's excited about. In conjunction with the Global Poker Index points system, PokerStars Championship events will each feature a leaderboard where players can accrue points based on their finishes in every numbered event on the schedule. Whoever tops the standings at a given stop will earn a seat into an exclusive sit & go against the other 2017 TLB winners that will take place next year and award $100,000 to the winner.
Bryn Kenney earned the seat from PokerStars Championship Bahamas by virtue of crushing the high roller circuit for four final tables and over $1.7 million in cashes, including a win in the $50,000 Single-Day High Roller.
On the downside, the turnout for the PokerStars Championship Bahamas paled in comparison to events at Atlantis Resort under the old PokerStars Caribbean Adventure banner. The PCA Main Event used to regularly draw over 1,000 players and drew 928 in its first year at the $5,000 price point in 2016. This year, only 738 entered.
In today's poker economy, that's still quite a large turnout for a $5,000 event — a similar event at the World Series of Poker drew 524 — but side events suffered greatly, with some drawing single-digit participation and a few impromptu high rollers not running at all. That may have been a case of overly aggressive scheduling with 98 tournaments packed into barely over a week, something Johnson acknowledged.
"We definitely will look at elements of the schedule next year," he said. "There's a little bit too much, a little bit too much overlap."
One addition did prove to be a success: the $25,000 Shot Clock event that ran on Day 3 of the Main Event at the behest of a number of high rollers. The event will likely stick on future events in some form, with the buy-in varying depending on the stop.
Particularly disappointing to Johnson was the four-person turnout for $25,000 Pot-Limit Omaha. Johnson said he was "stunned" only four people ended up playing, but one person told him the field was simply too tough for players to be excited about ponying up $25,000, as the initial registration list reportedly included four of the consensus top PLO players in the world. Well-known crushers Isaac Haxton and Ben Tollerene ended up chopping the event.
For now, PokerStars is still going forward with a $10,300 PLO event at PokerStars Championship Panama.
"I think we'll see a lot of people giving Panama and Macau a try."
While Johnson admitted he's less than confident that the event will be a hit, he's excited for that stop and the next one in Macau, and it's a feeling he thinks is mutual based on the discussions he's had with some players.
"I've talked to a number of players here who are excited for a chance to go someplace new," he said of the Panama stop. "Beautiful city, great nightlife, good weather and the chance to play with people you've never played with before. I think we'll see a lot of people giving Panama and Macau a try."
PokerStars has run successful events in Central and South America for a number of years through the Latin American Poker Tour and the Brazil Series of Poker. Poker has been gaining popularity in those areas and PokerStars has capitalized, helping foster burgeoning local players bases and running successful events in countries from Costa Rica to Chile to Peru.
Previous Panama stops for the LAPT had Main Events that fluctuated in buy-in from $1,500 to $2,500 over the course of the last five seasons of the tour. Therefore, it didn't attract a ton of traveling players, and the $5,000 price point of the PokerStars Championships represents an altogether new course for PokerStars' ventures in Panama.
"We're not setting our sights on the moon," Johnson said, citing a number around 500. "It'll be a big experiment. I think it'll be very interesting to see how it turns out, but I'm looking forward to it."