'Shot Clock' Added at PokerStars Championship Bahamas $25K
PokerStars implemented an action timer, often colloquially referred to as a "shot clock," for the first time in an impromptu one-day $25K High Roller at PokerStars Championship Bahamas.
The timers are simple, small handheld devices set for 30-second timers. Once its each player's turn to act, the dealer presses a button to start the timer and the countdown begins. Players get three time banks worth 30 seconds apiece. It's an unsophisticated system, to be sure, but the move has been successful so far, PokerStars Department Head of Live Poker Operations Neil Johnson said.
"My Twitter hasn't exploded, so there obviously hasn't been a massive issue," Johnson said with a laugh.
Originally, the PokerStars Championship Bahamas schedule only included the standard issue $100K, $50K and $25K tournaments for the deep-pocketed players; however, a movement among the high roller community resulted in an additional six events being tacked on, much like the two events that were added in Prague at the behest of Steve O'Dwyer.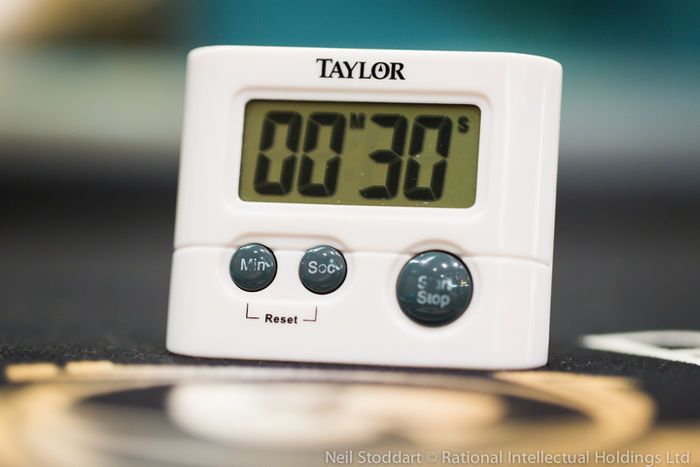 When the time came to hammer out the logistics of this $25K, the $50,000 Single-Day High Roller was running. Johnson asked all seven tables full of players if they had any objections to the clock and he received approvals all around.
The tournament drew 59 entries total. Forty-two of those were unique entries, so at least 17 players felt good enough about the structure and implementation of timers to pony up another $25K. That's a sizable jump from the other added events — two were canceled and one drew just 12 runners — but it's likely a quirk of the scheduling. Johnson noted that more players are busted from the Main Event at this juncture and there's no other nosebleed action until the $25K High Roller, so he could see added high rollers on Day 3 of Main Events being a regular thing.
Igor Kurganov was among the players with a nice run in the event, having ran up about eight starting stacks by the time an early-evening break hit. He told PokerNews he was happy with the clocks.
"I think any turbo should have a shot clock, basically," Kurganov said. "Just the idea that the shot clock is out there makes everyone act faster. I think it's a great thing and should be tried out in many tournaments."
While the $25K with the shot clock ran, Paul Newey occupied a seat at in a neighboring tournament for a $3K event.
"I think any turbo should have a shot clock."

PokerNews asked if the shot clock was the reason Newey, a regular face in high rollers around the world, skipped the event. He said he simply preferred a longer structured tournament, though, and it had nothing to do with the shot clock.
"It wouldn't bother me at all," he said of potentially increased timer usage. "I'm pretty quick with my decisions anyway."
Johnson said PokerStars has looked at using shot clocks before. Typically, PokerStars' long live festivals feature dozens of tournaments, including a number of turbos and hyper turbos. He admitted that the small handheld devices being used wouldn't be his first choice — in fact, PokerStars has inquired about the action clocks used by the World Poker Tour Tournament of Champions — but stressed that PokerStars is ready and willing to accommodate the needs of its players.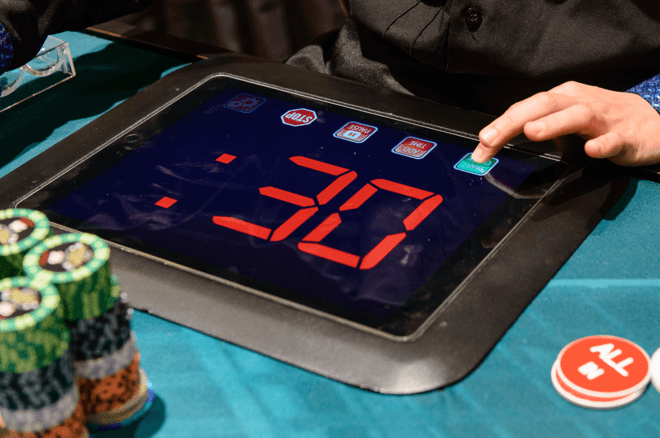 "We're happy to build these with the players because they're for such a small group of players," he said.
Kurganov has some ideas along those lines. He'd like to see a variety of experiments tried out in poker tournaments, high roller events especially. He likened it to chess; just as there are different variants of chess such as speed chess and chess using different boards, there could be different ways to play hold'em.
"I think there should be more things tried out to make it a little bit more fun and take a little bit of the edge away that pros have," he said. "Whatever benefits the recreational players more and whatever benefits the viewers' experience more, that's what should happen in high rollers."
As far as timers go, Kurganov only wonders if 30 seconds is a starting point that could trend smaller. He believes 30 seconds is "plenty of time" and would like to see experiments with shorter timers, even 10 seconds.
However, both Kurganov and Johnson mentioned that as timers get shorter, implementation becomes more challenging. A scenario where it takes a couple of extra seconds to get the clock going isn't a big deal with 30 seconds on the timer, but that's more than 10 percent of the total time on a 10-second clock.
Overall, Johnson himself isn't a fan of the shot clock but he sees a practical reason for their usage in high rollers and isn't opposed to their use there. At this time, though, he doesn't see that happening in any Main Events or other tournaments.
"Two years from now, there could be a clock embedded on every table."
Imagine, he said, being a $10 Spin & Go qualifier facing a raise from Vanessa Selbst or Mike "Timex" McDonald and getting an intimidating staredown with a clock ticking away.
"I think it's very unwelcoming," he said.
Johnson agreed tanking and stalling can be a problem but hopes to see players police it themselves. He'd like to see players call the clock more on habitual tankers but understands it can create acrimonious scenarios at the tables that are uncomfortable for everyone.
If player enforcement doesn't prove effective, Johnson does see a potential future where shot clocks are standard issue.
"Two years from now, there could be a clock embedded on every table and that's just the way tournament poker is played," Johnson said.