Scotty Nguyen's Winning Smile Shines Bright at the WSOP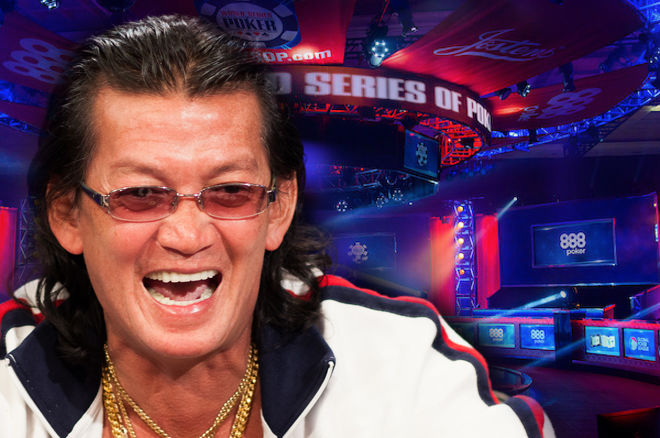 Scotty Nguyen casts a happy eye around the scene of his legendary triumph. We've just walked away from a band of fans requesting selfies with the five-time bracelet winner.
Nguyen takes ten minutes trying to walk ten feet at the Rio All-Suites Hotel and Casino, but he doesn't care. As we find somewhere secluded to talk, 100 people pass us in the corridors of the gigantic conference center, each face transforming from whichever resting expression it held to a smile, all from seeing Nguyen. Not many players at the 2017 World Series of Poker have an effect quite like Nguyen, and he's well aware of the privileged position he holds by inspiring such happiness.
"I never turn down a picture. It's their moment. Without them, I'd never have made it."
Nguyen isn't kidding. The Vietnamese player really does put it all down to the fans and not without reason. His famous Main Event victory in 1998 still remains one of the most talked about final tables in poker history.
Nguyen came into the event with nothing to his name. His poker career was riding on what happened for him in the World Series Main Event, the biggest event of all. Vegas is famous for win-or-bust stories, and Nguyen's may well be the greatest.
"It doesn't matter how bad your World Series is going, you can always turn it around in the Main Event," Nguyen told PokerNews. "When I won the Main Event in 1998, the way I played the game made it fun for everyone. That's how poker got so big, not because of Moneymaker. Five years before he came along, I talked to people, I laughed, I joked. I didn't just sit there."
"Every time I play, I always think about the fans. What I say or do is to make the game enjoyable for them."
That's an understatement. Nguyen famously told Kevin McBride, 'You call, [it's] gonna be all over, baby' in the final hand. McBride played the board of a full house of eights over nines. Scotty Nguyen had a nine in his hand and took the title. He didn't celebrate alone, announcing 'Party time, baby. We did it, man!' as he hugged his friends and fans on the rail, including Mike Matusow. Suddenly, the man who came into the event with nothing had everything he always wanted.
"Especially when you're at the final table, you should enjoy it and have fun. Fans used to turn on the TV [in 1998] and they were glued to the screen. 'Scotty Nguyen's on TV!' You have to appreciate them, to give something back by entertaining them. The players who play now forget the fans when they get to the final table. They just think about the money."
The point isn't lost on Nguyen that the fans he entertained years ago might have taken up the game because of him. They might have become recreational players and if they did, some of them are now at the Rio shaking his hand, commanding a selfie or asking for him to speak his famous catchphrase right into their phones. It happens throughout our conversation and Nguyen happily engages every single one of them.
"Every time I play, I always think about the fans. What I say or do is to make the game enjoyable for them. When I have a bad day, they cheer me up, they make me want to do better and better. I've blown tournaments and made bad plays just to make the fans happy. You know, baby, without them, we'd never have me."
Nguyen is one of the most recognizable faces in poker. He suggests that the same cannot be said for many who followed him into the history books.
"The last five or six years, if any of the world champions walked past you, you wouldn't recognize them. But it doesn't matter where I go, people always recognize me. It makes my life a beautiful one. I'm very proud of that. When they make it to the top, they forget where they came from. I don't."
It is quite clear that Nguyen isn't only talking about the poker. A long time before the 1998 World Series Main Event win and the glamorous party lifestyle he encapsulated, Nguyen was as alone as it was possible to be.
"I came here to Las Vegas with nothing. No dollars, no family, nothing. This place has given me what I need. The players, the fans, they are my family. Every time they see me and smile, it just feels so good."
Nguyen now limits the number of tournaments he plays at the Rio during the summer. The 54-year-old prefers to take two days off for each tournament he plays. He's sat down in eight tournaments so far this World Series. Number nine will most likely be the Main Event.
"The players, the fans, they are my family. Every time they see me and smile, it just feels so good."
"Players focus too much. After 12-13 hours, they're still talking about poker. When I come away from the table, I don't want to talk about poker. I call my wife and my kid to let them know how I'm doing. Most people on their break, all they talk about is a good hand or a bad hand. Taking that break for a couple of days makes me miss the game, it makes me love the game. The longer I take off, the hungrier I am. When I play, I'm then more patient. You get the build-up too. I'm not just my name, I'm the 'one and only' Scotty Nguyen. No one can take that away from me."
The legacy of Scotty Nguyen will always be his WSOP Main Event win in 1998. That didn't change when ten years later in 2008, he won the $50,000 H.O.R.S.E. World Championship for a fraction under $2 million. That legacy won't change if he doubles his tally of five WSOP bracelets because of the symbolic nature of his break-out moment. The Prince of Poker won a cool million dollars in the most dramatic circumstances, but he never makes mention of it.
"Money?" Nguyen laughs. "The fans are more important. It doesn't matter how many tournaments you win, you can even be Player of the Year. But if you don't win the Main Event nobody will recognize you. The Main Event is everything to any poker player, it's the dream. That's our goal, to win the WSOP Main Event."
Nguyen lived his dream and relives it every time a fan approaches him to talk about it. His parlance has become poker vocabulary, his style often imitated but never replicated. His message for anyone taking on the thousands of others to try and win the big one this year is simple.
"If you win the Main Event, you live forever, baby."