Yuki Ko Takes Massive Lead into PokerStars Festival Korea Final Table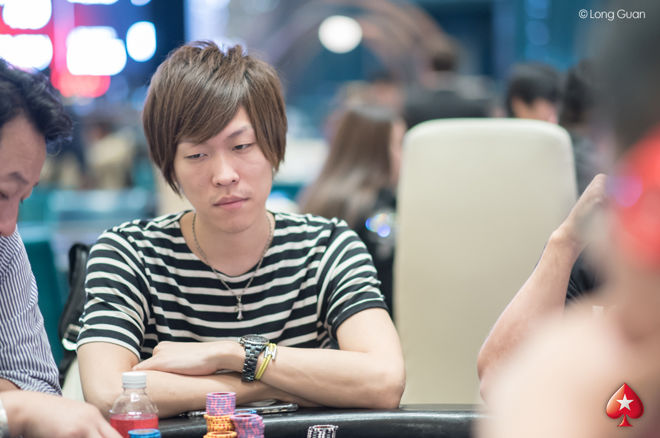 The PokerStars Festival Korea Main Event is down to a final table, and a clear favorite has emerged heading into the final day of play. Korean player Yuki Ko, who started the day with the chip lead, will hold more than 30 percent of the chips when official final table play begins on Day 3.
Ko used an extremely aggressive, unpredictable style of play that absolutely stymied his opponents and allowed him to build up a stack that's more than double that of Scott Janik (1,367,000) and Taehoon Han (1,345,000), who are essentially tied for second place. It seemed like every time Ko's opponents tried to play back at him, they ran into a buzzsaw as he either had the goods or simply ran well when the cards were tabled.
For instance, Mitsuru Sano had a big stack and tried butting heads with Ko when there were 14 left. He check-raised the turn on a three-flush board with second pair that was he was turning into a bluff, following up with a big river bet. However, Ko had the flush with a six-four of diamonds that he played under the gun and won a huge pot.
In another spot, Ko opened and got three-bet small by small blind Wei Hsiang Yeu. Ko stuffed it to put Yeu all in, and the latter sighed and called it off with pocket threes. A king-jack-three flop looked great for Yeu, and he even turned a queen of spades to add a flush draw. However, Ko hit an offsuit ten on the river to make a straight.
A couple of representatives of Team PokerStars were among the players coming into the day with high hopes but having them dashed early. Team Online's Randy "nanonoko" Lew busted early when he ran pocket jacks into the pocket kings of Dmitrii Kovalevskii, who advanced to the final table with the short stack of 403,000. Team Pro Celina Lin lasted only a little longer.
Among the 98 players who started the day, there were a few notables who advanced into the money in the top 39 places. Alan Lau, Albert Paik, Jack Wu, Justin Chan and Sparrow Cheung all cashed, though none reached the final table.
A subplot coming into Day 2 was the possibility of Lau, Cheung and Pete Chen, the top three respectively in Asia Player of the Year rankings, seeking points. Cheung would be the last to fall, going out 12th, so all three missed the chance to accrue points by finishing top 10.
The remaining eight players will return at noon local time on Monday for the final table, which will begin with the following setup:
| Seat | Player | Stack |
| --- | --- | --- |
| 1 | Mitsuru Sano | 865,000 |
| 2 | Yuki Ko | 2,820,000 |
| 3 | Jwahyoung Kim | 509,000 |
| 4 | Taehoon Han | 1,345,000 |
| 5 | Dmitrii Kovalevskii | 403,000 |
| 6 | Scott Janik | 1,367,000 |
| 7 | Weikuo Hsiao | 722,000 |
| 8 | Harunobu Kojima | 456,000 |
Just under 19 minutes remain in Level 23 (12,000/24,000/4,000). Come back to PokerNews to see who claims the ₩83,130,000, or about $75,000, that will go to the winner.
Everybody needs an account at one of these online poker rooms! They're the biggest, the best, and we get you the best poker bonuses. Check out our online poker section for details on all the online poker rooms around.