The Muck: Barcelona Champ Challenges Polk, Leonard Responds to 'Angling'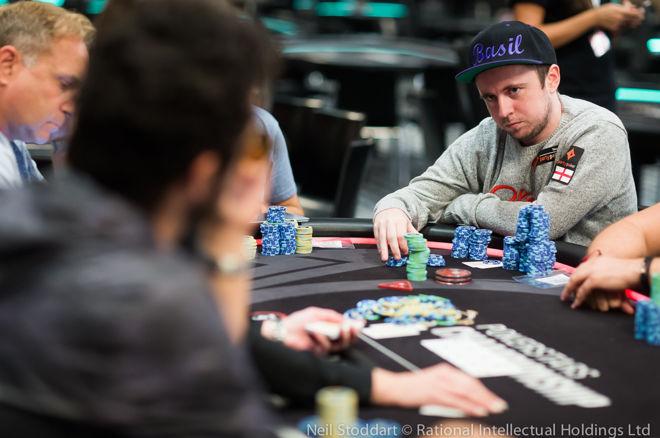 While the financial health of the poker community was hanging in the balance waiting for the result of the Mayweather/McGregor fight this past weekend, there was another bout brewing closer to home. It might not have included a ring or a $100 pay-per-view ticket, but there were plenty of spectators and trash-talking going on.
Table Talk Controversary
It's never fun when your phone starts to buzz with texts and twitter notifications as you're nearing the money in a major tournament. It could be a sign that something is wrong.
But that's exactly what happened to Patrick Leonard (pictured above) after accusations of angle shooting lit Twitter and poker forums on fire.
As the PokerStars Championship Barcelona Main Event was nearing the money, some questionable table talk by Leonard got him into some hot water with the live stream commentators and fans that were watching.
Leonard, a partypoker ambassador with nearly $2 million in tournament winnings on his resume, was completely caught off guard by the accusation and struggled to even remember what hand people were referring to.
Here's a clip of the alleged offense.
The video clip and accusation caught the attention of Daniel Negreanu, who quickly put up a poll — because it wouldn't be poker Twitter if a poll weren't involved. Leonard wasn't all that thrilled about it, either.
Do you think this was shooting an angle by @plenopads during Barcelona main event? https://t.co/OaWeIjr3Bt

— Daniel Negreanu (@RealKidPoker)
@RealKidPoker Really Daniel? Surely there's a more interesting poll than this today #

— Patrick Leonard (@plenopads)
@plenopads It's very similar to an angle Amarillo Slim used to shoot. I think it's a really good poll question and… https://t.co/DhKbxbzxwB

— Daniel Negreanu (@RealKidPoker)
Negreanu and Leonard had a bit of a contentious back and forth, and then as luck would have it, ended up meeting at the elevator to discuss face to face.
@RealKidPoker Went back to the elevator on the break and guess who's there? Mr real kid poker himself! We discussed and agreed #

— Patrick Leonard (@plenopads)
@jstclkdabtn @plenopads I spoke to him and don't think he intended to shoot the angle that could have arised as a r… https://t.co/OY9WAYEQ4Z

— Daniel Negreanu (@RealKidPoker)
There was even a disagreement between PokerStars' Lee Jones and THE authority on tournaments, Matt Savage.
@RealKidPoker @draywharton these are the words that matter and are binding in turn per @PokerTDA.

— Matt Savage (@SavagePoker)
@SavagePoker @RealKidPoker @draywharton @PokerTDA This was @pokerstars Championship Barcelona. Guy tanked, talked a… https://t.co/3PHtNhnON5

— Lee Jones (@leehjones)
Focus on your birthday today @LeeHJones and leave the rulings to the floormen! #Happy60th https://t.co/RLFbTPIw1I

— Matt Savage (@SavagePoker)
Leonard has been out there defending his play by responding on forums and Twitter, but it hasn't seemed to put the issue to rest. Even his tablemate, Andre Akkari, came to his defense.
@plenopads @bvdahl @Mettigelmann @PokerStarsTV I honestly didnt see anything special, just some talk trying to get… https://t.co/FXq6T9DDLO

— andre akkari (@aakkari)
After some reflection on his trip home, Leonard decided to address the accusation and clear the air.
During his vlog, Leonard explains he was simply trying to gain information from his opponent, and he would do it again because talking to your opponents is a big part of live poker, but there is one thing he regrets.
"In my mind, I was completely innocent here. But looking back, I regret the choice of words, saying 'you got it,' because 'you got it' does kind of mean you're going to fold. And I was folding. It's just a word and a phrase you shouldn't use, and I won't use it in the future."
While there are still plenty of people on both sides of the fence as to whether this is an angle shot or not, everyone can agree that words that imply action but are not binding are a bit on the shady side.
Give A Guy a Million Bucks ...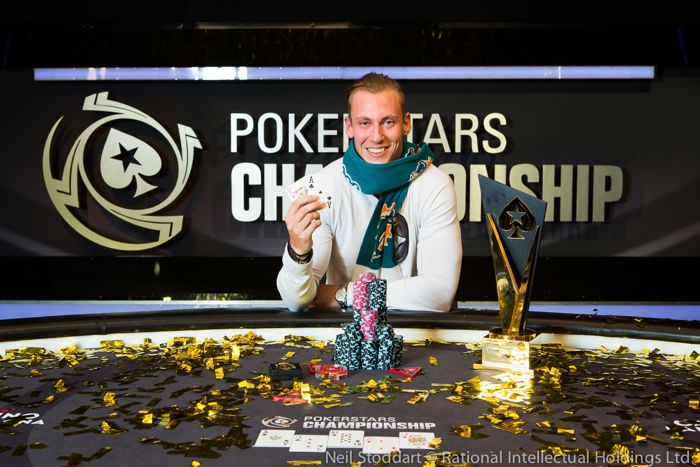 Sebastian Sorensson won the Pokerstars Championship Barcelona Main Event for €987,043, and you might be surprised what he wants to do with some of his winnings.
No, he's not going to Disney World. Instead, he took his new found wealth and challenged Doug Polk to a heads up match.
"Hey Doug Polk, if you want to play heads up, holler at me," he said during his trophy presentation.
And Polk welcomed the call out and is probably welcoming the thought of redemption after losing his well-publicized heads up match up to Phil Hellmuth last week.
What makes this challenge so spectacular and a little unexpected is ...
Sorensson is mostly a low-stakes online player
It was his first live cash
It was only his second live tournament
@DougPolkPoker If only there was a hill somewhere you guys could play on, maybe see who becomes the king of it or something.

— PNIA (@PokerNightTV)
While we're waiting for the details of the match, you might be quite surprised to find out how Sorensson earned his poker bankroll. He gives PokerNews' Sarah Herring the scoop, and it's a doozy.
Close But No Cigar
Last week, we talked about Kyle Cartwright's incredible video poker run where he won three royal flushes within two months holding hearts.
This week the chatter is about Ryan Riess winning three major titles holding ace-king of — yep, you guessed it again — hearts.
Immediately upon seeing the WSOP, WPT, and PokerStars wins, "triple crown" started popping up in conversation.
Unfortunately for Riess, the PokerStars win was a side event and doesn't count toward the triple crown. But the discussion quickly turned to the definition of a triple crown. You see, the triple crown accolade has been under question ever since PokerStars dropped the EPT branding.
@PokerNews @AronGunningham @RyanRiess1 PSC shouldn't be an exclusive piece of the triple crown anymore imo. The co… https://t.co/Npr4MctVZq

— Kevin MacPhee (@KevinMacphee)
The poker landscape is changing, but who is the deciding factor on the milestones players should be celebrating and striving to achieve?
@KevinMacphee @AllenKessler @PokerNews @AronGunningham @RyanRiess1 @partypokerlive @SavagePoker @MattGlantz It is t… https://t.co/GbzWXEogh6

— Kevin Mathers (@Kevmath)
All we can say for sure is if you are playing Riess heads up and you're holding either the ace or king of hearts, you can breathe a little easier.
ICYMI
We talked a lot about PSC Barcelona in this article, so we thought we'd leave you with some highlights from one of the player's favorite spots. You know, in case you missed the action because you were caught up in a bout or two. Enjoy.