Warwick Mirzikinian Wins Another Title at Star Sydney Championships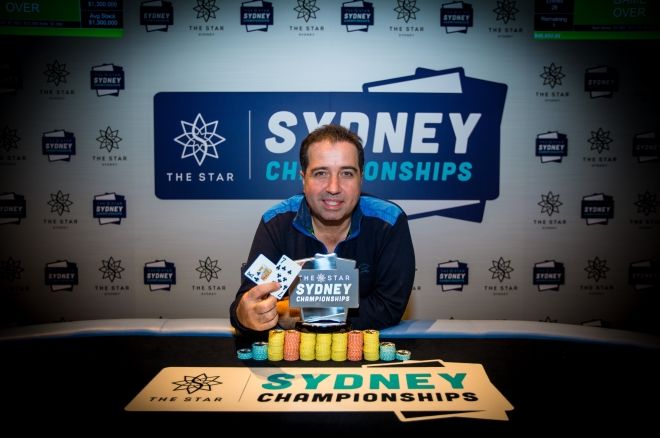 Just a few days after winning the Star Sydney Championships 6-Max event, Warwick Mirzikinian claimed his second title of the week in the inaugural $20,000 High Roller event.
"I'm worried," Mirzikinian said afterward, quoting his favorite politician according to the Star Poker Live Reporting Team. "I'm going to do so much winning. I am going to win, win win. I am going to do so much winning that people are going to get bored of me winning."
The Field
Ask anyone down under, they'll surely agree that this High Roller was a resounding success with 26 runners. Mirzikinian and Jonathan "xMONSTERxDONG" Karamalikis could be seen convincing players to pony up the $20,000 buy-in early on thanks to a bet where Mirizikinian took the over of 35 players. While Karamalikis won the bet, the players were pleased with the turnout.
As you would expect, the event attracted Australia's best. Besides Mirzikinian and Karamalikis, 2005 World Champion Joe Hachem, Daniel Neilson (over $2 million in lifetime earnings), Australian Hall of Famer Hall of Famer Jason Gray, and high-stakes cash player Jarred Graham took to the felt for this two-day event.
The Action
It's not unusual for play in a high roller event to start out slow. It was no different here as players spent some time sizing up their competition. But that only lasted for so long when the first elimination happened just 90 minutes in. David Wang and Mirizikinian put their chips in the middle pre-flop. In the end, Wang's
was no match for Mirizikinian's
.
Day 1 ended with eight players vying for the title and Andy Lee in the chip lead with Mirizikinian not far behind in second and Karamalikis and Nielson still in the hunt.
It only took two hours on Day 2 to get into the money when Rory Young was eliminated on the bubble, ensuring Karamilikis, Mirizikian and Lee would collect a paycheck. Another two hours later, Karamalikis was eliminated in third place taking home AU$98,800 for his efforts.
Young and Mirzikinian had been trash talking all day, prompting this quote from Mirzikinian: "Jono (Karamalikis) is a great player. I got very lucky that Rory was cheering for him when we were all-in against each other. The guy (Rory) is the biggest mock in the world. If Rory wasn't cheering for Jono, he probably goes on to win the hand and then the whole tournament, so I have to thank Rory for my victory today. I couldn't have done it without him."
Heads Up
Mirizikinian and Lee are both local high-stakes cash game regulars, so it was no surprise to find them heads up with a lot of cash on the line. Lee was in control of the match early on, and the momentum seemed to be on his side.
Of course, momentum can be fleeting, and eventually, it flipped over to Mirizikinian to set up the final hand.
After a bet by Mirikinian and raise by Lee pre-flop, all the chips went in after a flop of
was dealt.
Lee revealed
while Mirizikinian held
for the lead in the hand. Lee did not improve when the
were dealt on the turn and river, awarding Mirzikinian the title and AU$247,000, the largest live cash of his career.
Continuing on his politician-themed quotes, Mirizikinian, referencing his chip stack said, "I wanted to build a wall. I wanted to build a wall, and I wanted Andy to pay for it."
And build a wall, he did.
The Star Sydney Championships Continue
There are still a few more days of play left at the Star Sydney Championships with events being held through August 7.
The full schedule can be found on the StarPoker website.
Everybody needs an account at one of these online poker rooms! They're the biggest, the best, and we get you the best poker bonuses. Check out our online poker section for details on all the online poker rooms around.