HPT Golden Gates: Greenblatt Wins, Kevin "Phwap" Boudreau Fourth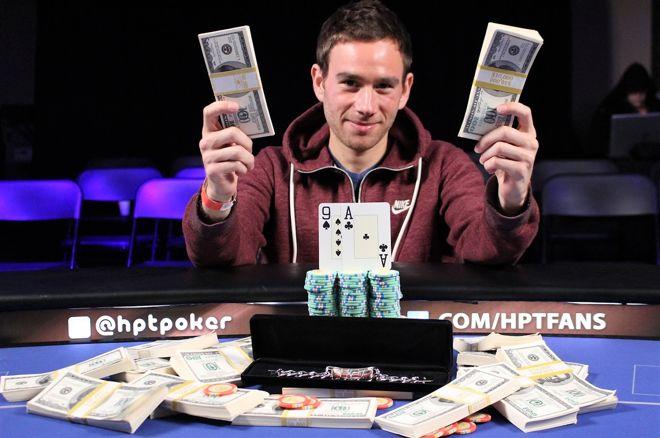 Heartland Poker Tour Golden Gates in Colorado, always a flagship stop for the poker tour, wrapped up earlier this week. It ended Monday with poker pro Alex Greenblatt taking down a $179,274 first-place prize, the biggest live cash in a career that's surpassed $1 million now in live earnings.
Greenblatt's big win wasn't the only story to come out of the event, though. Colorado native and poker community favorite Kevin "Phwap" Boudreau, who suffered through a horrific health occurrence in 2013, also made the final table. That continued a series of strong results for Boudreau in his home state since he made his return to poker.
Tournament Recap
Official Final Table Results
| Place | Player | Prize |
| --- | --- | --- |
| 1 | Alex Greenblatt | $179,274 |
| 2 | Matt Livingston | $110,747 |
| 3 | Fernando Galvan | $72,583 |
| 4 | Kevin Boudreau | $50,434 |
| 5 | Izzy Garcia | $36,650 |
| 6 | Danny Gonzales | $28,440 |
| 7 | Bobby Garcia | $23,902 |
| 8 | Evan Ross | $19,919 |
| 9 | Ben Greenberg | $15,935 |
The tournament drew 542 entries over the course of four starting flights. There would be 63 paid, including the likes of Chan Pelton, Scott Stanko, David Gutfreund, Kevin Eyster, Nick Jivkov, Josh Turner and Ryan Van Sanford. World Series of Poker bracelet winner Will Givens would also advance into the final 10 but bubble the official final table.
While Greenblatt went into the final table as the chip leader, according to the live updates, Boudreau had a nice stack of his own with 80 big blinds and flopped a set of fours early in a three-bet pot against Ben Greenberg, who had aces and hit the rail in ninth.
Boudreau also scored the next elimination by winning a flip against Evan Ross, with Bobby Garcia following in seventh after losing a flip of his own to Izzy Garcia.
Local standout Danny Gonzales, who has a handful of big final tables to his credit at Golden Gates, was next to go. After doubling in a flip against Boudreau, he looked to be on the upswing. However, he shoved for just under 20 big blinds after a Matt Livingston raise and a Fernando Galvan call. Livingston put him at risk with
and Gonzales'
was no match for big slick as both paired their aces but improved no further.
Livingston went for the bully shove in the small blind, putting Garcia to the test for 810,000 at 30,000/60,000/10,000. Garcia woke up with
and made the call but found himself on the short end of a
runout against
.
Boudreau held the lead four-handed but would advance no further after a tough beat at the hands of Greenblatt. During the next level, Greenblatt raised preflop and Boudreau called from the blinds, with the two seeing a
flop. They got stacks in for Greenblatt's 2.4 million and the Californian was drawing with
against Boudreau's monster flopped flush with
. Unfortunately for Boudreau, a
hit the river.
Phwap would exit in a subsequent race against Livingston, who would then continue to run hot by winning all in preflop with
against the aces of Galvan when Livingston put in the four-bet ship and hit two pair. That gave him a 2-1 lead against Greenblatt going heads up.
Greenblatt evened things out when he raised and then called a reraise with
, seeing a
flop. Livingston had top pair with
and bet the flop, then shoved the
turn, failing to improve on the river when Greenblatt called it off. The remainder of the chips then went Greenblatt's way when they got stacks in with Greenblatt again holding ace-nine and Livingston ace-six. A
flop was an unwelcome sight for Greenblatt, but he held on through the turn and river to capture the victory.
Boudreau Continues Recovery
Boudreau's scary incident left the many friends he'd made in the poker community devastated, hoping and praying for a strong recovery. Boudreau made a cameo appearance of sorts at the 2014 WSOP, which hinted he was on the right track and working his way back to the game.
When Boudreau showed up to compete at MSPT Golden Gates in November 2014, many were heartened and eagerly followed along with the coverage right here on PokerNews as Boudreau navigated to a strong fourth-place finish and a cash of $34,678, with a two-outer in a massive pot possibly costing him the chance at a win.
Since then, Boudreau has racked up three more final tables in his home state and even made his way back to the WSOP, tallying two cashes. Here's a look at his results since he began recovering:
| Month | Tournament | Place | Prize |
| --- | --- | --- | --- |
| November 2014 | $1,100 MSPT Golden Gates | 4th | $34,678 |
| March 2015 | $1,100 MSPT Golden Gates | 7th | $15,076 |
| June 2015 | $3,000 WSOP Six-Max | 107th | $5,666 |
| February 2016 | $1,650 HPT Golden Gates | 10th | $16,188 |
| June 2016 | $1,500 WSOP Monster Stack | 286th | $5,542 |
| September 2016 | $1,650 HPT Golden Gates | 22nd | $5,093 |
| September 2017 | $1,650 HPT Golden Gates | 4th | $50,434 |
Even more heartening for those rooting for Boudreau's continued recovery, Bryon Devonshire reported seeing Boudreau standing up when the two greeted each other at the recent Golden Gates event. Boudreau was wheelchair-bound at the events he played that were covered by PokerNews.
While Boudreau is undoubtedly disappointed to come close but again fall in fourth, $50,434 is nothing to sneeze at. It seems his recovery is progressing in a positive direction both on and off the felt, and many in the poker community look forward to continuing to follow his results as he establishes himself once more in the game.
Lead photo courtesy of HPT
Finding a trustworthy room to play online poker can be a monumental burden. That's all the more true if you're just looking for a place to play poker for free. We've listed five of the best play-money poker sites to enjoy and help hone your skills.