Inside Gaming: Fontainebleau Las Vegas Sale Nets Big Profit for Icahn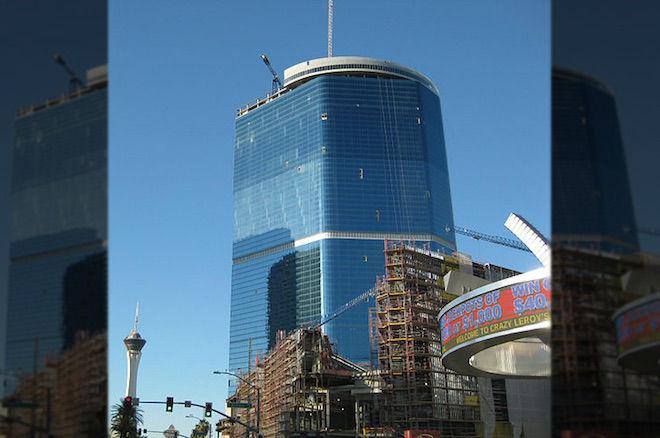 This week's installment of Inside Gaming covers the recent sale of the Fontainebleau property on the Las Vegas Strip, reports New Jersey's filings to the Supreme Court regarding its appeal of the federal sports betting ban, and follows up on heavy betting on "The Money Fight" from last weekend.
Icahn Turns Profit on Sale of Unfinished Fontainebleau Las Vegas
Forbes this week reports that Icahn Enterprises L.P. and its majority shareholder Carl Icahn has sold the unfinished Fontainebleau Las Vegas property on the Las Vegas Strip for $600 million. New York developer Steven Witkoff and his New Valley LLC were the purchasers.
The sale netted a $450 million-plus profit for Icahn. In 2010, the billionaire investor and business magnate paid $148 million for the site where construction had stalled on a projected $2.9 billion, 68-story hotel-casino, a price negotiated after its owners had filed for bankruptcy amid the recession.
"This successful investment is an example of our 'contrarian' modus operandi, which seeks to invest in undervalued assets and businesses, nurture, guide and improve their condition and operations, and ultimately sell them for large gains," noted Icahn in a statement regarding the sale.
"Witkoff did not outline plans for the property," reports VEGAS INC, with the buyers describing it as "a well-designed, structurally sound integrated resort."
The site was initially occupied by the Thunderbird Hotel and Casino that opened in 1948, later renamed the Silverbird then El Rancho before closing in 1992. Fontainebleau Resorts purchased the property in 2000, imploded the El Rancho, then bought additional adjoining acreage in 2005. Finally years of delays in planning and construction resulted in the 2010 sale to Icahn.
Among Icahn's other recent industry-related transactions was the sale of the shuttered Trump Taj Mahal for $50 million, a total revealed after the publication of filings with the Security and Exchange Commission — much less than the initially reported $300 million price tag.
Donald Trump relinquished his last 10 percent ownership stake in the Taj Mahal in February 2016 when Icahn helped Trump Entertainment Resorts out of bankruptcy by making it a subsidiary of Icahn Enterprises.
In December 2016, Icahn accepted a position with the incoming Donald Trump administration as special adviser on regulatory reform. In August Icahn stepped down from the role just before publication of an article in The New Yorker describing Icahn attacking regulations harmful to his own business interests.
New Jersey Files Briefs to Supreme Court Opposing Federal Sports Betting Ban
This week the state of New Jersey filed briefs with the U.S. Supreme Court arguing against the federal ban on sports betting — namely, the Professional and Amateur Sports Protection Act of 1992. The filings were submitted ahead of an August 30 deadline in anticipation of the Supreme Court's agreement to hear NJ's appeal of PASPA this fall.
As Wayne Parry reports for the Associated Press, New Jersey is arguing the federal ban should be struck down "because it wrongly forces states to enforce a regulation that Congress wants."
PASPA prohibits sports betting in all but four states, with sports lotteries allowed in Oregon, Delaware and Montana, and licensed sports betting (including single-game wagering) allowed in Nevada.
In its filings, the state writes "To meet Congress's objective of forestalling futher legalizaiton of sports wagering, PASPA directs States to maintain in effect their state-law prohibitions on the activity," a situation that from New Jersey's point of view represents federal overreach.
"Our constitutional structure does not permit Congress to regulate interstate commerce in that manner," New Jersey goes on to argue. "Under our Constitution, if Congress wishes sports wagering to be illegal, it must make the activity unlawful itself. It connot compel states to do so."
In 2011 New Jersey citizens voted in favor of allowing sports betting in the state, but lawsuits from the NCAA and all four major professional sports leagues in the U.S. caused U.S. District Judge Michael A. Shipp to issue a temporary restraining order.
Challenges in the lower courts followed, ultimately concluding with the United States Court of Appeals for the Third Circuit issuing a 2016 ruling upholding the ban.
While it is unknown which way the Supreme Court may lean on the matter, attorney Daniel Wallach who often comments on sports law predicts "a decent chance of success" for NJ, reports the AP.
"Congress can't prohibit states from decriminalizing activity within their borders, which is the crux of the case," maintains Wallach. "More like than not, New Jsery winds up with some sort of sports betting with the case is done, whether it's New Jersey alone, or all the states."
Historic Action in Vegas Sportsbooks on Mayweather-McGregor
Finally, last week in this space we highlighted last Saturday's Floyd Mayweather-Conor McGregor fight which followed most observers' predictions with Mayweather winning in the 10th round by technical knockout.
Also as predicted, the fight generated enormous betting interest right up until the opening bell. Indeed, during the days leading up to the fight it had already become clear the fight would likely prove the most bet upon boxing match in history.
As David Purdum reports for ESPN, two days prior to the fight the William Hill sportsbook in Nevada had already taken more money on it than on the 2015 bout between Mayweather and Manny Pacquiao, its prior record-holder for most bet flight.
While the Nevada Gaming Control doesn't track the amount bet on individual fights, estimates derived from the May 2015 report suggest around $60 million was bet statewide on "MayPac." Estimates leading into Saturday night were that "MayMac" — a.k.a. "The Money Fight" — would see as much as $80 million bet in Nevada alone.
Massive wagers were placed just before the fight, including one for $1.21 million at William Hill on Mayweather that paid out $242,000, as Darren Rovell shared:
JUST IN: Biggest bet on Mayweather has just been cashed. Bettor bet $1.21M, netted $242,000 at @WilliamHillUS sport… https://t.co/SDk7MUQSCF

— Darren Rovell (@darrenrovell)
That was just one of a few bets of $1 million or more placed on Mayweather. Even so, Nevada sportsbooks enjoyed a profitable night thanks to Mayweather's win, while avoiding a potentially huge setback had underdog McGregor been the victor.
Photo: "Fontainebleau-Las-Vegas-2-July-2009" (adapted), Neaco, CC BY-SA 3.0.