Unlit Cigarette: Catching up with Poker Legend Sammy Farha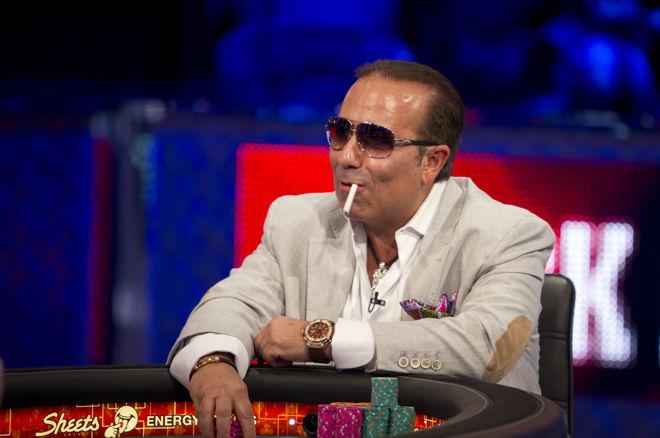 Many look back fondly to the 2003 World Series of Poker Main Event. It kickstarted the "poker boom" that stretched throughout the the 2000s with the aptly-named Chris Moneymaker as a messianic figurehead of this new card-playing revolution. Big-money games, tournaments, and TV shows followed and online poker sites now flush with cash dished out sponsorships to every young poker hot shot from Nevada to the Netherlands.
Beyond Moneymaker and the dotcom card rooms, another man played a big role in the significance of that final table – Houston's Sammy Farha. The Lebanese-born professional poker player at the time had limited tournament experience, but had spent plenty of time in big-money cash games. If Moneymaker was the ultra-aggressive new kid on the block with a background on the virtual felt, Farha was a cool customer with the look of a seasoned pro. The slicked-back hair, the sports coat, the gold chain – it all made for a cool Vegas vibe, even if Farha hailed from the Lone Star State.
And the unlit cigarette? An interesting politically incorrect calling card in a growing PC world. A throwback to the smoky, dark rooms that poker was slowly leaving behind. He seemed a fitting persona in one of the WSOP's last events at Binion's Horseshoe. Moneymaker would go on to take the title and $2.5 million in cash, but Farha earned a nice $1.3 million payday.
And while that epic event is massive in the poker world, Farha told PokerNews that to him it is ancient history. He doesn't look back too often, too busy with other things in his life to reflect.
"I think the whole world knows about it," he says. "I never think about it really."
Poker Life
Not that the 2003 runner-up finish was necessarily the capper to Farha's poker career. Even before that epic Main Event, he had won a bracelet In 1996 in a $2,500 Pot Limit Omaha tournament for $145,000. He later added two more bracelets in: $5,000 Omaha Hi/Lo in 2006 for $398,560; and the $10,000 Omaha Hi-Lo 8 or Better Championship in 2010 for $488,241.
With several other nice scores and appearances on shows like "High Stakes Poker," it has been a nice career for Farha. With almost $2.9 million in lifetime tournament winnings, he's played at the game's highest levels. But in recent years, poker has been put on the back burner.
"I still play poker, but not as much as I used to," he says.
Farha still makes it out to the WSOP for some cash games and a few tournaments, but at age 59 he has other things that occupy much of his time. He stays busy traveling overseas and has some investments and business interests he helps oversee. A friend of his also recently opened a poker club in Houston, and Farha has been helping him get it off the ground.
"It times a lot of time and energy to do that," he says of helping with the new endeavor.
As poker has grown, Farha has seen some good and bad things in the game. Certainly, there are many more tournaments and opportunities for players, but he also sees some negatives and feels there is more collusion and cheating in the game than in its pre-Moneymaker days.
"Just like any business, when you get so much money involved an amount of bullshit happens," he says. "I'm not saying there is a lot of cheating, but there's a lot of dumping chips and a lot of things that happen. I've caught some guys texting [hands to other players in the hand]. I'm the type of guy who tells it like it is. I don't want it to come out of my mouth like there's a ton of cheating in poker. No there isn't, but there is some. They just call it business."
The Bluff
Most poker enthusiasts remember "the bluff" from the 2003 Main Event. Heads-up for the title, the flop brought
. Farha checked with
and Moneymaker also checked with
. The turn brought the
and Farha fired 300,000 chips. Moneymaker then raised 500,000 more and his opponent quickly called. The
fell on the river and Farha checked. Moneymaker announced he was all-in – a complete bluff.
"You must have missed your flush, huh?" Farha asked Moneymaker, a perfect assessment of the situation.
After an agonizing 20 minutes of thought, Farha mucked his hand. It's one of the most memorable hands in poker, yet for Farha, it's something he doesn't think about too often. He also doesn't take too much stock in those who criticize his heads-up play back then.
"A lot of people say I should have called, I should have done this, I should have done that," Farha says. "It's just their opinion. But when you're at the table, you can't act as if you were watching. It's easier said than done. Sometimes you make mistakes, but I don't look at those.
"It's not a big deal to me now. I wish I won it now, but I don't think about it. I'm the kind of person who thinks about tomorrow, I don't look at yesterday."
Slowing Down
When Farha does have some free time, he pops in at a casino or finds a game in the Houston poker scene. His days of big games on television seem to have passed, but he seems happy just having some fun at the tables now.
"It's not as big as what I used to play, but it's a lot of fun," he says of games in Houston. "I've slowed down a lot. I lost interest in poker because there was so much bullshit involved in the big games. The only big game that I liked to play is nothing but Hold'em. It is my game, Hold'em, but it's kind of boring. I do not enjoy it as much. I play poker to enjoy myself now.
"You can't play high limits everyday. I played high limits for almost 14 years straight in Vegas. It wears you out."
"I've slowed down a lot. I lost interest in poker because there was so much bullshit involved in the big games."
Still quick with a joke or a laugh, which made him a favorite among many poker fans, Farha still has that affable personality that made for great televised poker. He missed the Main Event this year because he had to fly overseas. But it's not a big deal for Farha, who loves to travel and is pleased with his new pace in life. Europe has been a frequent spot for his travel getaways.
While his poker life may have been less of a focus in recent years, getting recognized by fans and even posing for pictures still continues over a decade after his major moment in the media spotlight.
"It's funny how people still recognize me because I lost my hair," he says laughing. "It's kind of fun because I like people. I like to be social so it's great that people still like you and appreciate you."