LAPC Getting Back to Basics with 25th Anniversary at Commerce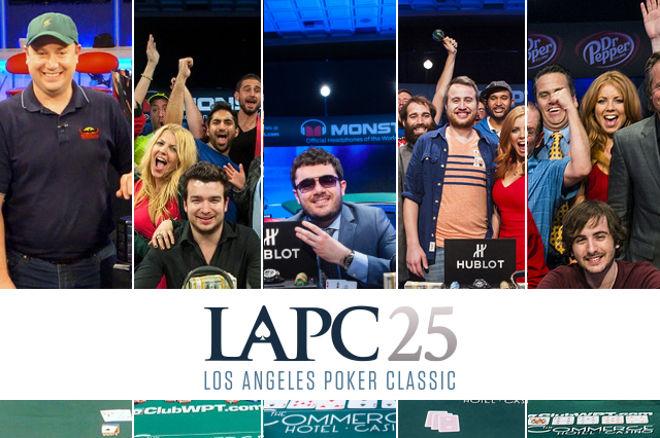 While much of the country is snowed in and dealing with frosty weather, there is plenty of sun and cool temps in SoCal as the L.A. Poker Classic continues this week after kicking off on Jan. 9.
With 67 events planned and the annual $10,000 Main Event promising a big field, a final table appearance on the World Poker Tour, and a $1 million guaranteed payday, there should be no shortage of rounders ready for action as the series celebrates 25 years of California card-playing.
New Logo, Rrefreshed Brand, Classic Trophies
To celebrate the LAPC's silver anniversary, the Commerce Casino commissioned a new logo for 2018. The new logo design is part of an evolution through the years in marketing the series. The Commerce has undergone a rebranding in recent months in an effort to renew its commitment to the game and to guests.
The event's new logo incorporates the number "25" as part of the image to show the event's history within the game. This year also marks the 35th year in operation for the Commerce. The casino opened in 1983 and has become a hot spot for poker and one of the most popular card-playing destinations on the West Coast.
"The trophy is probably the second most sought-after prize in poker after a WSOP bracelet."
"We're not reinventing ourselves," marketing promotions manager Joey Hernandez said. "We're embracing who we already are: LA's home for games of skill, pure and simple; a first-rate hotel, minutes away from the hottest spots in LA; and a welcoming environment."
Along with the LAPC, the property also runs the L.A. Poker Open and California State Poker Championships. The Commerce has become well-known for its great trophy offerings including the LAPC's Remingtons, which are based on one of Frederic Remington's first pieces called "Bronco Buster," a real piece of Americana that would be a spotlight for any trophy case.
Remington (1861-1909) was an American artist and writer who specialized in depictions of the Old West including paintings of cowboys and poker. An original cast of the sculpture has been in the Oval Office since the Carter administration.
"The trophy has a rich history in the L.A. market and is probably the second most sought-after prize in poker after a WSOP bracelet," Hammer said. "Players have given up thousands of dollars in final table deals in order to say they've acquired one."
Couldn't have said it any better, @SavagePoker # #CommerceCasino #LAPC #Poker #LosAngeles https://t.co/zdAM64wSpy

— Commerce Casino (@CommerceCasino)
Series to Remember
The LAPC is the longest running tournament series in Los Angeles and has a unique connection to many players on the West Coast. In the tournament's early years, there were limited options for a major tournament and the Commerce hoped to fill that void. With the growth of the WPT in the early-2000s and the evolution of poker, the LAPC also grew and evolved to a bigger and bigger event.
Through the years, the Commerce has been home to some of the biggest names in the game. Some of those who have graced the WPT-Commerce winner's circle and collecting the Remington Trophy trophy include: Gus Hansen (2003), Antonio Esfandiari (2004), Michael Mizrachi (2005), Phil Ivey (2008), Chris Moorman (2014), and WPT Season XIII Player of the Year Anthony Zinno.
"L.A. And poker are a great mix! Great action, great weather, and tons of stuff to do." - Phil Hellmuth
Commerce tournament coordinator Justin Hammer says Matt Savage's addition in 2009 was key in bringing his expertise to the Commerce. His efforts helped expand and grow the popular series.
"The Commerce is the best at adding value, honoring their guarantees, and providing the players with a great poker experience that makes them willing to come spend their hard earned money," Hammer said.
No stranger to success at the LAPC, 14-time WSOP bracelet winner Phil Hellmuth took home a trophy in 2017 after winning a heads-up battle against Mike Matusow in the $1,100 Omaha Hi-Low/Stud Hi-Lo for a $40,000 top prize. Hellmuth believes the mix of poker and a bit of Hollywood make for a nice tournament experience.
"Both the Bicycle Club and the Commerce WPTs are classics," he said. "They have both had main events there since the early 1990s. L.A. And poker are a great mix! Great action, great weather, and tons of stuff to do."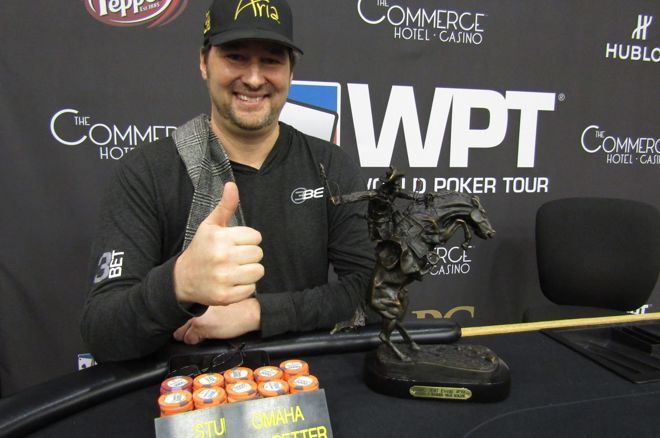 Blasts From the Past
Along with a chance at a massive WPT title on one's resumé, the LAPC offers numerous other events for poker players looking to jump in on the action. There are numerous tournaments and poker variants offered for rounders with differing bankrolls.
A unique highlight is the Player of the Series (POTS) promotions. A portion of each buy-in will go towards the prize pools, and the Commerce is adding $60,000 to sweeten the pot. The promotion offers four different POTS that will give all types of players a chance to win. That includes a payday for the player of the series for No Limit Holdem players as well awards for mixed game players. An overall POTS award combines these two, and an additional POTS award will be given for mega satellite players.
"Players can focus on any individual promotion, or even take a shot at all four," Hammer said.
Players who notch POTS will also earn a Remington. Along with these, LAPC organizers are also throwing some old favorites back into the mix at a time when more players are trying to bring the fun back to poker. Some of these include:
$350 Social Experiment II (Jan. 27) – It's old school poker – no electronics, sunglasses, hoodies, or headphones. "We take away all distractions to see how people interact with each other," says Hammer. "We even give them name tags." Get those conversation starters ready.
$1,100 E-ternament (Feb. 21) – Organizers say that this tournament "seeks to prove you don't need a lot of chips for a good structure." Players begin with a 1,000-chip starting stack and two-hour levels. It takes a full two days to finish and skilled short-stack players should find some success.
$570 Escalator – Levels go up five minutes every level, beginning at 5, then 10, 15, 20 and so on.
$115 Throwback Thursday – The Commerce turns back the clock to 1993 for the first year of the LAPC. Along with winning cash, players will take home prizes including CDs and DVDs of artists and movies that were popular in '93 as well as some LAPC swag.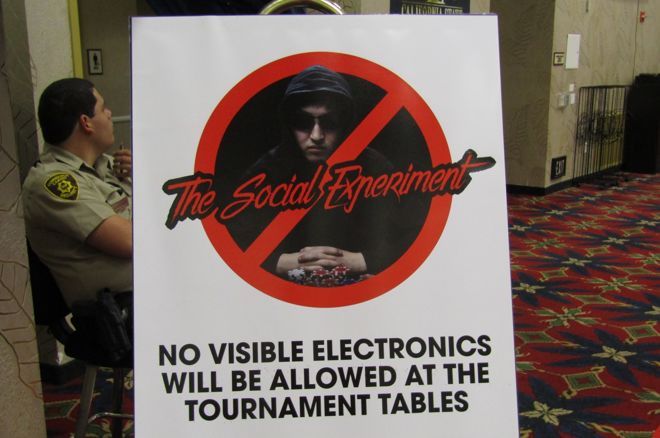 Other interesting events include an "All In or Fold" tournament and tournaments featuring the Action Clock, for those seeking a stepped-up pace.
"We have 67 unique events without a single repeat this year," Hammer said. "It's going to be great. If you've haven't played at Commerce in a while or even ever, now is the time to come check it out. It's an affordable way to experience what a Matt Savage-run tournament is like, and we also have a brand new ballroom, chairs, chips, and food. This is a great time to experience the brand new Commerce."
LAPC Champions
Here's a look at LAPC winners of the World Poker Tour Main Event since it became part of the series 15 years ago:
| Year | Players | Champion | Prize |
| --- | --- | --- | --- |
| 2003 | 136 | Gus Hansen | $507,190 |
| 2004 | 382 | Antonio Esfandiari | $1,400,000 |
| 2005 | 538 | Michael Mizrachi | $1,860,000 |
| 2006 | 692 | Alan Goehring | $2,390,000 |
| 2007 | 792 | Eric Hershler | $2,430,000 |
| 2008 | 655 | Phil Ivey | $1,600,000 |
| 2009 | 696 | Cornel Cimpan | $1,690,000 |
| 2010 | 745 | Andras Koroknai | $1,790,000 |
| 2011 | 681 | Gregory Brooks | $1,650,000 |
| 2012 | 549 | Sean Jazayeri | $1,370,000 |
| 2013 | 517 | Paul Klann | $1,000,000 |
| 2014 | 534 | Chris Moorman | $1,020,000 |
| 2015 | 538 | Anthony Zinno | $1,020,000 |
| 2016 | 515 | Dietrich Fast | $1,000,000 |
| 2017 | 521 | Daniel Strelitz | $1,000,000 |