Two Wichita Men Plead Guilty to Operating Illegal Gambling Operations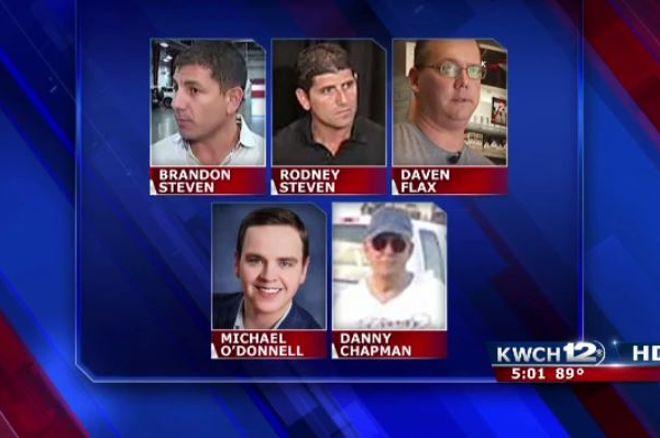 Danny Chapman and Daven Flax could be sentenced to five years in prison and fined $250,000 for their involvement in running illegal gambling operations in Wichita, according to U.S. attorney for Kansas Tom Beall — and that's just for the gambling charges. The Topeka Capital-Journal online reported Friday that the two men pleaded guilty to federal charges of operating illegal businesses, while Chapman is also on the hook for income tax evasion and Flax for making a false statement on a tax return.
Beall said in a statement on Friday that 67-year-old Chapman was operating a sports bookmaking business through online gambling sites set up in Costa Rica and he failed to pay $345,000 in tax on earnings from the illicit gaming operations.
The prosecutor in the case claimed that Chapman tried to hide the income in question by buying vehicles with cash and registering them under other people's names. He also purchased cashier's checks and money orders under the names of various family members.
Flax, 46, was one of Chapman's bookies and admitted to also running invitation-only poker games in commercial locations in Wichita. Some of his responsibilities included paying dealers, caterers and waitresses who were hired for the poker games. He apparently evaded more than $65,000 in federal income taxes earned from the illegal operations.
Chapman pleaded guilty to one count of operating an illegal gambling business and one count of tax evasion, while Flax pleaded guilty to two counts of operating an illegal gambling business and one count of making a false statement on a tax return.
Bigger Picture
The case of these two illegal gambling operators was part of a broader investigation into high-stakes gambling involving former Republican state senator and Sedgwick County Commissioner Michael O'Donnell and well-known high-stakes cash and tournament player Brandon Steven, who has nearly $3.2 million in live tournament earnings according to Hendon Mob.
Steven — known in Wichita as a prominent entrepreneur and owner of health clubs and car dealerships — and his brother and business partner Rodney were major investors in a bid for an exclusive license to build a state-sanctioned casino in southeast Kansas. State regulators awarded the license to a different investment group in 2015, and in response, the Steven brothers filed a lawsuit to challenge the decision.
An investigation by the U.S. Department of Justice ensued and involved phone tapping. Telephone calls involving Chapman and Flax were intercepted in 2015 and their names were subsequently included in letters from the DOJ, leading to the case against the two illegal gambling operators.
In February 2017, Brandon Steven told The Wichita Eagle, "I'm aware of the broad nature of this inquiry. As you know and everybody knows, I play high-stakes poker.
"And from what we understand, they are looking into my poker and my involvement with Castle Rock Casino."
Steven also indicated that he had retained counsel and would be cooperating fully. No further information on the federal investigation into Steven, his brother, or O'Donnell has been divulged.