Doug Polk's Crypto YouTube Channel Passes His Poker Channel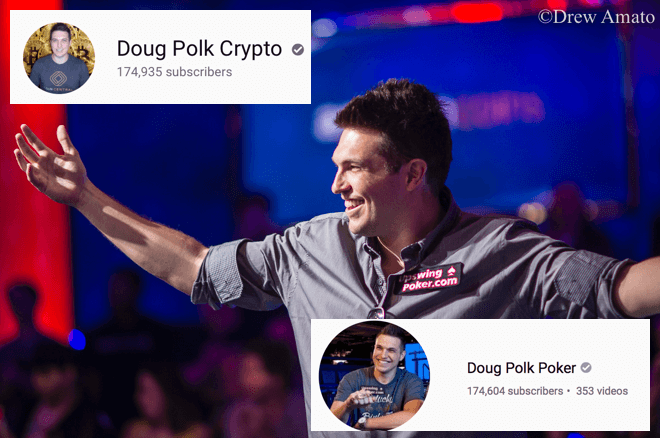 Doug Polk just hit a remarkable achievement — as of Feb. 20 his cryptocurrency channel has officially surpassed his poker YouTube channel in total number of subscribers.
Is it really a surprise? Crypto has been all the rage for a while now and Polk has been capitalizing on its growth. He tweeted,
This seems absolutely surreal, but as of today my #cryptocurrency channel has surpassed my poker channel in subscri… https://t.co/ci0Jy7Uw7U

— Doug Polk (@DougPolkPoker)
Doug Polk Poker
Let's take a look at the growth. His poker YouTube channel started in June 2016 and as of Tuesday, he had more than 174,699 subscribers. In less than two years, Polk has posted 353 videos for a total of 39,744,125 views and in doing so, he became the first poker player to receive the YouTube Silver Play Button, an award that YouTube gives to those content creators who surpass 100,000 subscribers.
Take a look at his poker growth charts. He added 7,481 in the last month alone!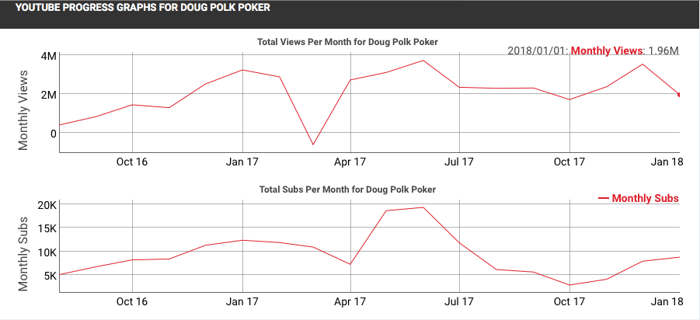 According to SocialBlade.com, Polk is earning anywhere between $6.7K and $107.3K Yearly Earnings for his poker channel and we don't know much about YouTube earnings, but I'll take a guess and say that he's definitely closer to the higher end of that range.
Doug Polk Crypto
Now this will blow your mind. Polk posted his first cryptocurrency video in December 2017. In just two months, he has posted only 40 videos, but has generated 174,925 subscribers, for a total of 6,402,733 views. It took eight times the number of poker videos for him to reach 174K subscribers and Polk reached that total with just 40 for his crypto channel.
This graph is pretty self explanatory — it goes straight up.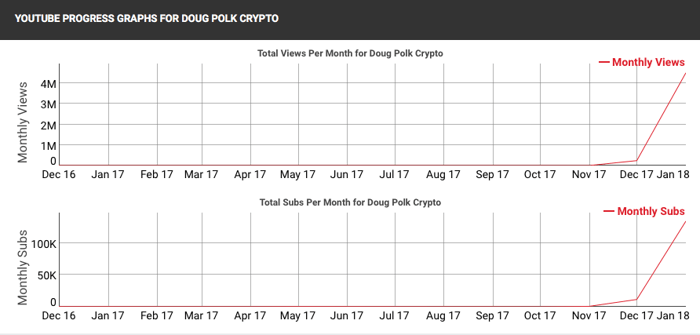 His estimated yearly earnings are pretty comparable at $9.5K - $152.6K, but it is clear that there's more room for growth with the cryptocurrency market, understandably.
Here's a comparison of the two channels, side-by-side.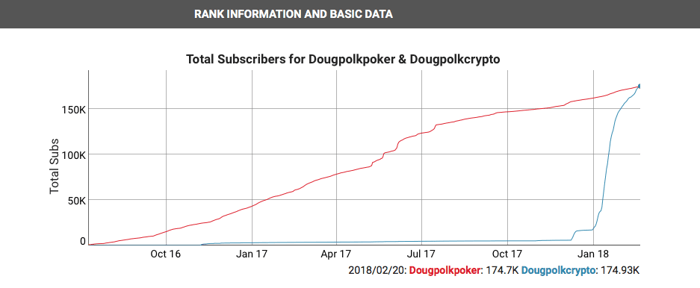 What does this mean for his poker channel? Only time will tell, but I can't imagine Polk closing up shop on poker just yet. Although, he admitted that there's more growth in crypto than in poker, you gotta believe that poker will stick with him forever because of the passion.
@BeemieAwards Crypto space is much larger than poker and also growing at a quicker rate.

— Doug Polk (@DougPolkPoker)
It will be interesting to see how Polk's involvement in the poker world including his production of poker content changes, or not, as he continues to grow his crypto channel in the coming months.