Chidwick Wins Back-to-Back at US Poker Open, Scoops $25k Mixed Event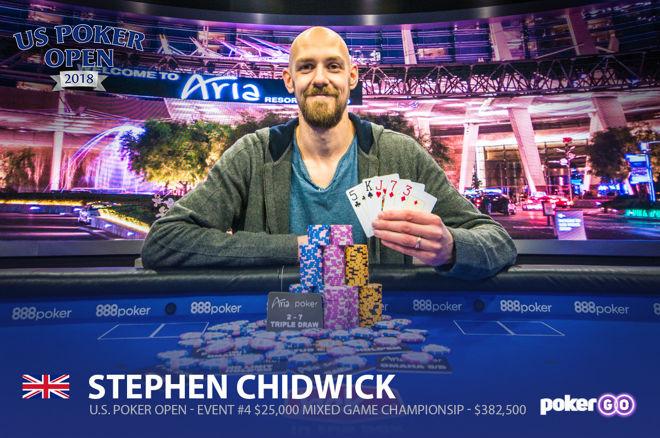 A few weeks ago during a regular high roller event, a bunch of the world's most prolific players got into a debate between hands. They were trying to find out who the unluckiest player in the high buy-in fields was. Stephen Chidwick was one of their first picks.
Chidwick: "I'm just running on caffeine and adrenaline right now."
Well-rounded in all types of games both live and online, Chidwick is arguably one of the most talented players from Europe. He has won over $10 million in live tournaments, but it's almost unbelievable that a player of his caliber is yet to win a bracelet.
While Chidwick may have been running worse than he "deserves," he's doing more than fine at the inaugural US Poker Open. His skills met with a lucky charm in the Aria Resort and Casino, and the 28-year-old seasoned pro has been dominating the series in spectacular fashion.
Chidwick reached a remarkable feat tonight, taking down the $25,000 Mixed Game Championship for $382,500. A great achievement on its own, but there's more to the story. Chidwick had to enter the tournament late because of a simple reason; he was busy winning the previous one, the $25,000 No Limit Hold'em. Chidwick has come out on top in two consecutive events, cashing for over $800,000 combined.
US Poker Open - $25k Mixed Event results:
| Place | Player | Country | Prize |
| --- | --- | --- | --- |
| 1 | Stephen Chidwick | United Kingdom | $382,500 |
| 2 | Chris Vitch | United States | $247,500 |
| 3 | Isaac Haxton | United States | $168,750 |
| 4 | Benjamin Pollak | United States | $112,500 |
| 5 | Dan Shak | United States | $90,000 |
| 6 | Phil Hellmuth | United States | $67,500 |
| | | | |
| 7 | Daniel Negreanu | Canada | $56,250 |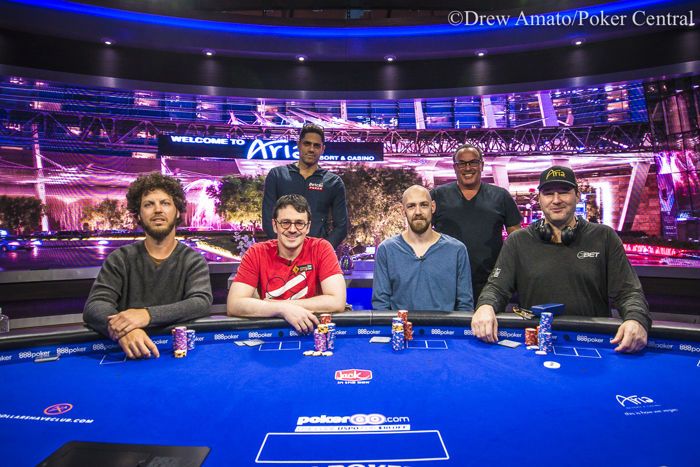 It takes a tremendous amount of focus to play on the final table for such a massive amount of money, let alone doing it two days in a row. Sneak inside the 13-hour Day 1 of the Mixed Event, and it becomes evident that it has been one big grind for Chidwick.
"I'm just running on caffeine and adrenaline right now," he said after emerging victorious again. "I'm pretty happy how I played today."
Chidwick outlasted a 45-entry field, an impressive turnout for a high buy-in Eight-Game tournament. "I really enjoyed the atmosphere, it was a very fun experience," he said.
Both of his successful runs saw Chidwick mount a come back from being short stacked. It wasn't the case just for him but a characteristic for a grueling three-handed battle on the final table.
The tournament was down to three players before the first break. Phil Hellmuth wasn't able to spin his way up, losing to Chris Vitch in a hand of Stud. Hellmuth got it in with a flush draw and overcards to Vitch's pair of eights, but he bricked the remaining streets and walked away in sixth place.
Hellmuth: "I'm playing so good right now, it's a pleasure to be at this level."
Hellmuth was disappointed to leave early. "I'm playing so good right now, it's a pleasure to be at this level," he said before complimenting Chris Vitch for his outstanding play on Day 1 where he "couldn't see him lose a pot."
Isaac Haxton then eliminated Dan Shak in two hands of Razz and dispatched Benjamin Pollak in Stud Hi-Lo shortly after that.
Haxton held the chip lead at that point with Vitch to his right and Chidwick to his left. The three-handed play was the most exciting stage of the tournament. All players were fighting in huge pots, but there were no eliminations for over three hours. Chips were flying to the middle mainly in Stud games, but even the other games brought some very interesting collisions of some of the sharpest brains in the business. What they all had in common was that the short stack always ended up the beneficiary.
The lead was swinging mainly between Vitch and Haxton, but Chidwick wasn't far behind. Vitch, renowned for his mixed games skills, may lack the No-Limit experience of his opponents but he played aggressively, trading a few big pots with Haxton.
Then it looked that Chidwick would have to settle for bronze after plummeting most of his stack in Limit Hold'em, running with kings into the trip tens of Vitch. Chidwick, however, bounced from fewer than three big bets brilliantly. He doubled twice and won two other significant pots to climb all the way to the top in the blink of an eye.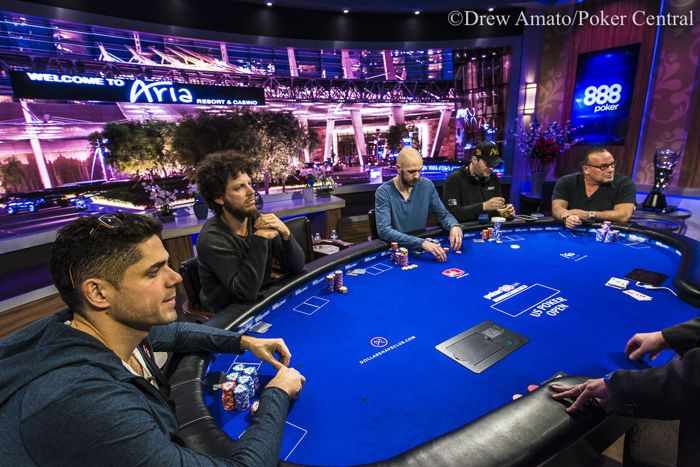 The same story repeated, with Vitch now playing the main character. He was downed to two big bets but doubled right away and soon worked his way up in Stud. Some orbits late, it was Haxton's turn to show his bouncebackability. Unfortunately for him, he wasn't meant to rebound from the nub, and Chidwick finished him off in Stud Hi-lo, hitting a straight and a low.
The heads-up started with Chidwick and Vitch virtually tied in chips. The swings from three-handed play carried on in the heads-up match. Chidwick built a chip lead only to double his rival in a massive Pot-Limit Omaha hand that saw Vitch flop a set against the top pair and flush draw of Chidwick. Vitch held, but Chidwick immediately doubled back when he got it in with a superior flush draw that connected on the turn.
Vitch: "I think any of the three of us could win today."
Chidwick then finished the round of PLO with another flush-over-flush, taking a massive bite of Vitch's stack. Vitch was once again on the ropes, and while he doubled once, Chidwick finally tackled him in 2-7 Triple Draw.
They were all-in after the second draw, both drawing for one card. Vitch was in better shape with a six being the highest among his four cards while Chidwick drew with jack-high. Chidwick picked up only a king, but that was enough to scoop the final hand of the tournament as Vitch paired his six.
"I think we really battled three-handed today. I think any of the three of us could win today," Vitch said.
Chidwick was crowned champion once again and extended his lead for the US Poker Open Trophy. Vitch now sits in second place after collecting $247,500 today.
Current 2018 US Poker Open Standings
| Position | Player | Country | Total earnings |
| --- | --- | --- | --- |
| 1 | Stephen Chidwick | United Kingdom | $810,900 |
| 2 | Chris Vitch | United States | $247,500 |
| 3 | Keith Tilston | United States | $242,000 |
| 4 | Daniel Negreanu | Canada | $221,250 |
| 5 | Justin Bonomo | United States | $190,400 |