Imad Derwiche Gains Valuable Experience Facing Incredibly Tough Table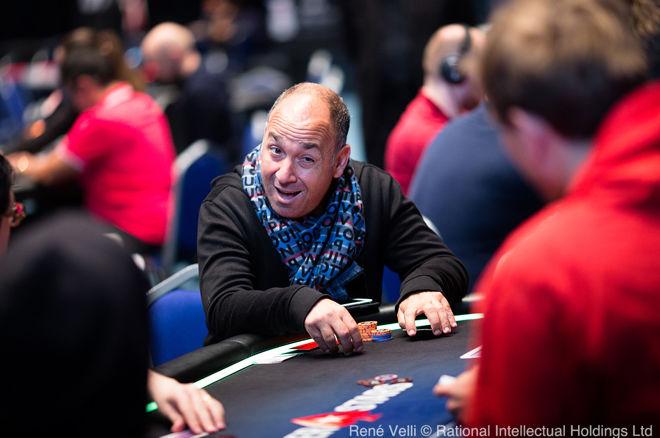 Timothy Adams bagged the chip lead at the end of Day 1 in the €10,300 No-Limit Hold'em at the 2018 PokerStars and Monte-Carlo©Casino EPT. A reporter asked him about his experience grinding through a lineup of the same players all day, and Adams dropped a relatively innocuous quote that nonetheless seemed startlingly relevant for himself and six other players on Day 2.
"There are favorable table draws and there are not-so-favorable table draws," he said. "Of course, you'd want a favorable table draw."
The reason this quote sprang to mind on Day 2 was because Adams and some of his competitors had drawn a table extremely far on the not-so-favorable side of the spectrum. Take stock of the following lineup, which would not look out of place in a $100K, that PokerNews recorded as Level 12 wound to a close. Also, note that Steve O'Dwyer just busted in the currently empty #8 seat shortly before.
| Seat | Player | Seat | Player |
| --- | --- | --- | --- |
| 1 | Stephen Chidwick | 5 | Justin Bonomo |
| 2 | Timothy Adams | 6 | Imad Derwiche |
| 3 | Ryan Riess | 7 | Adrian Mateos |
| 4 | Sam Greenwood | 8 | --empty-- |
That's six of the best no-limit players in the world who need no introduction. Their total winnings amount to about $75 million — the "low" man is Timothy Adams with a "measly" $8.5 million.
Oh, and there's Imad Derwiche, too.
Derwiche laughed at his predicament, well aware of the situation and completely self-effacing.
"I am the fish of this table."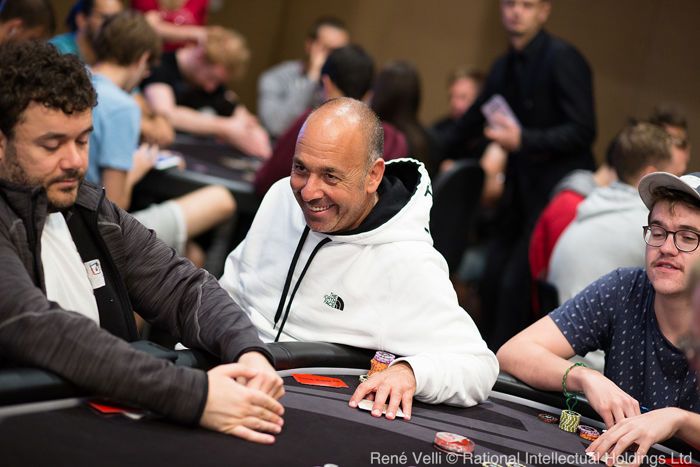 But, it's a line Derwiche has used before, and in a situation that showed he might not be so fishy as he proclaims. Last year, here in Monte Carlo, Derwiche made it to three-handed play in the €10,300 Pot-Limit Omaha High Roller, facing off with Sampo Ryynanen and Sylvain Loosli.
"Two professionals and a fish," he announced at the time.
Derwiche showed he might have some shark in him, though, as he emerged victorious for €174,600. It wasn't his first big score here, either. He's showed he can play a little two-card as well, coming runner-up to Charlie Carrel in the €25K High Roller here in 2015 for €750,000.
Overall, Derwiche has done alright for himself with $1.6 million in cashes, and his attitude about facing off with as tough a table as you'll find might be a hint as to why the so-called fish might not be chum after all. Far from worried or intimidated, he expressed excitement.
"It's incredible," he said. "It's fantastic. You learn every day. They are technically better than me. But, I am fighting."
"It's fantastic. You learn every day. They are technically better than me. But, I am fighting."
That ability to fight, and have a chance, distinguishes poker from so many other sports, games, and other competitive pursuits, Derwiche pointed out. Sure, anyone can step onto a tennis court and try to swing a racket at a Roger Federer serve. Anyone can pair up with Rory McIlroy and try to ape his shot after he tees off on a par five.
But the chances of hitting the ball back past Federer or matching McIlroy shot for shot are essentially nil. A person might still be able to say they're fighting, but it's really no fight at all. In poker, good timing and some luck can put lesser-skilled players on equal footing with even the world's best.
"Don't be afraid," Derwiche said simply, summing up his approach. "You can't be afraid. You have to be strong."
And indeed, Derwiche was holding his own. He had a stack of 120,000, just a bit below the average count, heading into the three-table redraw.
Whether he winds up with a successful finish or not, Derwiche looks like he's going to have to retire his go-to line soon if he keeps making runs in these events. Deception might be a part of poker, but at some point, the fish camouflage isn't going to fit anymore.
Finding a trustworthy room to play online poker can be a monumental burden. That's all the more true if you're just looking for a place to play poker for free. We've listed five of the best play-money poker sites to enjoy and help hone your skills.