Stanley Choi in Charge of PokerStars' LIVE Events in Asia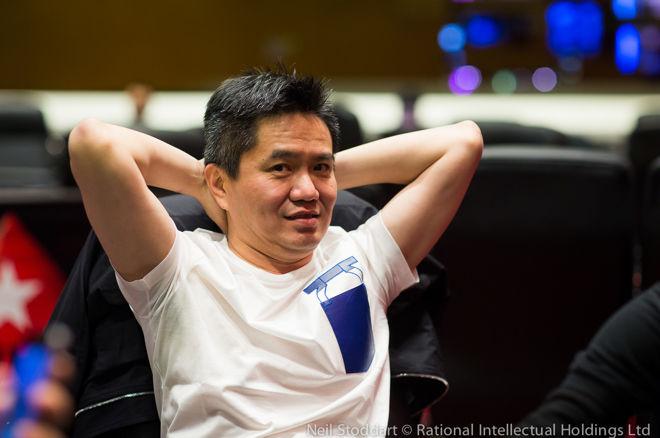 PokerStars owner The Stars Group has entered into an agreement with Hong Kong-based International Entertainment Corporation (IEC) to license the PokerStars brand for land-based live events and poker rooms across Asia. IEC, a publicly listed company, will hold the sole and exclusive rights to run PokerStars-branded events in certain Asian countries.
IEC, which changed ownership last year, is now run by poker-playing businessman Stanley Choi, a well-known face in the high-stakes poker world. Choi, based out of Hong Kong, has $7,458,267 in live tournament cashes. The biggest score of his poker career came in 2012 when he won the Macau High Stakes Challenge Super High Roller for HK$50,149,000 (US$6,465,574). In 2014, Choi played in the $1,000,000 Big One for One Drop at the World Series of Poker.
A Promised Solution
Talking to PokerNews, Choi expanded on this new venture.
"I can stand in the shoes of players because I'm a poker player myself."
"Stars is such a big brand, but when you look at Stars' financial figures, the revenue from Asia is relatively small," he said. "Given the global market segment, for the gaming sector, Asia is supposed to be one of the major sectors. So there was obviously something they could have done better in the Asian market.
"'Live events' is a very good platform for us to answer all the customers and players in Asia. We have the local know-how and local knowledge."
He thinks he can do so because he's a poker player himself: "I can stand in the shoes of players because I'm a poker player myself. I've played high rollers everywhere in the world: Macau, London, Vegas, et cetera. Because I've played such events, I know what customers want, and how customers feel."
PokerStars Poker Rooms in New Countries
Besides improving the poker offering itself, Choi indicates he's going to expand on the current live offering as well.
"My promise to Stars is to add one more event per year and one more poker room per year in addition to the assets they already have," he said.
"My promise to Stars is to add one more event per year and one more poker room per year."
Currently, PokerStars has four major events in their own poker room in Macau with the ACOP, Macau Poker Cup, APPT, and Macau Millions. In the PokerStars LIVE poker room in Manila, Megastack exists as the biggest event. Choi intends to add events in both locations and also wants to create a PokerStars LIVE in Japan's capital of Tokyo.
Japan stands out in that list, as playing live poker for real money is illegal in the country. Still, Choi sees the potential.
"I've been there many times, and they are just obsessed with the game without having to play for a reward," he said.
For the room he's planning in Tokyo, Choi will be working closely with a local partner, one that already has ties with the company as PokerStars used to sponsor their biggest event.
There are more countries on Choi's wish list as well.
"Besides Macau, we are also exploring Korea," he said. "That will be our next target. There's a big casino there with 3,000 rooms that's opened up last month. There's another one opening in Vietnam, opening in 2019, that I'm looking at.
"So there are a lot of options in Asia, and we're looking at several opportunities in several Asian countries."
Chinese Crackdown on Social Poker Apps
Last month, the Chinese government announced a ban on social poker apps in mainland China, something the industry, including PokerNews), dubbed the Chinese Black Friday. Choi doesn't see it as a major obstacle, though.
"I'm not seeing that as a risk or a crisis, I see it as an opportunity."
"I'm not seeing that as a risk or a crisis, I see it as an opportunity," he said.
Real money poker for mainland Chinese has never been the focus of PokerStars, Choi says.
"I'm targeting the crowd outside of China," he said "There are a lot of Asian countries that we can do, and a lot of Chinese do not live in China. It's not legal in China and, as a listed company, we won't be able to do anything that's not legitimate.
"I won't worry about it. The opportunity is that they [China] have a big poker community, but they play locally."
PokerStars LIVE Macau Room Moving
It's been undisputed that poker has gained popularity in China. PokerStars opened its poker room in Macau as a result of it, with mainland Chinese visitors taking to the small autonomous territory on the western side of the Pearl River estuary to play legal live poker. PokerStars' live poker room opened in 2008 in the Grand Waldo Hotel and Casino. In 2009, it moved to the Grand Lisboa. In 2013, another move followed, this time to City of Dreams. At the beginning of the month, PokerStars announced its partnership with City of Dreams had ended.
Choi wasn't able to share any details on where the room is going next but confirmed he's in the late stage of negotiations with a new partner.
"I'm positive to have a substitute for City of Dreams soon."
"We are very, very close," he said. "Because it's not finalized yet, I can only say that I'm positive to have a substitute for City of Dreams soon."
In an article published on ggrasia.com, City of Dreams chairman Lawrence Ho Yau Lung said the decision to end the partnership with PokerStars was made because the collaboration was not profitable.
Choi explained the comment, comparing the profitability of poker tables to casino games:
"The money generated from one poker table cannot be compared to any blackjack, baccarat, or roulette table. The rake you generate from one poker table is very small when you compare it to what a slot machine or baccarat table makes you. So the casino doesn't feel it's a viable business for them."
Given that inescapable truth, Choi said he's aiming for a smaller size when he reopens the PokerStars-branded room. While the poker room in City of Dreams had dozens of tables, Choi is looking to close a deal for a poker room more in the region of eight to 10 tables.
When big events like the APPT or Macau Poker Cup return — and they will return, Choi says — they'll just add extra tables in surrounding space.
Choi also believes he has data on his side when talking to prospective hosts.
"The poker community can give traffic to the casino," he said. "Each of the poker players comes with 1.5 to 2 companions, and they have to spend money on the hotel, food, drinking, and the side benefit is they play blackjack and roulette. We have some good figures on that, so I'm not pessimistic in talking to the casinos."
WSOP
Choi is now in charge, but he's still a poker player at heart. With his new role comes a burden, though: he's not allowed to play at PokerStars LIVE events anymore. Choi indicated he has already asked for an exemption of that rule for himself but for now, he's too busy to play poker himself anyway.
Choi doesn't plan to attend WSOP, which starts a week from now, as a summer grind would take up way too much valuable time. That's why he sticks to high rollers, but he's sitting out this summer, even with the presence of another $1 million buy-in on the schedule.
"It's just too time-consuming to travel there," he said.
Bigger and Better
PokerStars has had a presence in Asia for over a decade now, and with it comes a staff with a ton of experience. Choi said he intends to keep the majority of the staff intact through the transition.
"The events will be bigger and better!"
But, he's looking for more experienced staff to add as well, because Choi said poker in the region will continue to prosper under his watch.
"The players don't need to worry," he said. "The events will be bigger and better!"
The Stars Group owns a majority shareholding in iBusMedia
Photos courtesy of Neil Stoddart and Danny Maxwell