Fox Riding the Wave; Bags Day 1 Lead in WSOP's $100,000 High Roller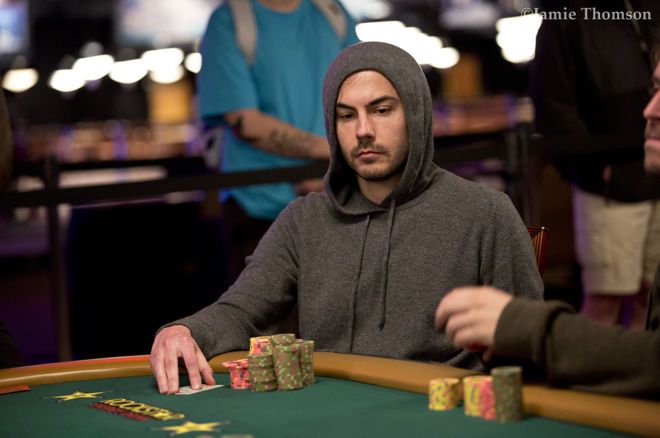 It was just a couple of days ago that Elio Fox locked up his second World Series of Poker bracelet by winning the inaugural super turbo bounty event at the 2018 World Series of Poker. It just might be the start of a heater as Fox bagged up a stack of 2,881,000 after the first day of Event #5: $100,000 No-Limit Hold'em High Roller, good enough to hold the chip lead at the end of play.
Most of Fox's chips came from a massive confrontation with Dario Sammartino. In the hand, Fox got it in with top-pair and top kicker against Sammartino's overpair. The turn was a brick, but the river gave Fox two pair and pushed him over the 2 million chip mark well before anyone else in the tournament. He held on to those chips for the remainder of the day and bagged up the biggest stack of the tournament so far.
Day 1 brought out a total of 97 entries, of which 49 survived to make it through to Day 2. Nearly everyone who entered the tournament is a recognizable name. A few of the survivors who bagged up big stacks include Darren Elias (2,038,000), Bryn Kenney (1,971,000), Sergio Aido (1,493,000), Byron Kaverman (1,282,000), and Stephen Chidwick (1,276,000).
Another player to bag up a big stack at the end of Day 1 was Jan-Eric Schwippert who finished off the night by winning several pots to move to 2,582,000 for the second biggest stack in the tournament. Justin Bonomo also made it through to Day 2 and is looking to add to his already impressive resume of high roller finishes this year with another big one at the WSOP. He'll bring 1,046,000 into Day 2.
For every player who survived though, one fell. Day 1 saw the likes of Alex Foxen, Antonio Esfandiari, Jonathan Duhamel, Dan Shak, Anthony Zinno, Erik Seidel, Chris Hunichen, Nick Schulman, and Daniel Negreanu all bust, just to name a few. Negreanu fired two bullets on Day 1 but failed to find any traction. Near the end of the last level, Negreanu got it in in a coinflip situation against Johannes Becker, but Becker turned a pair and Negreanu was eliminated.
As that was Negreanu's second bullet he will be unable to re-enter the tournament on Day 2, but other players can still re-enter once more if they haven't already. Registration for the event will remain open until the start of level 12 so there is plenty of time to see some new faces join the field.
Action resumes on Saturday, May 2 at 2 p.m. local time and players will continue by playing 10 more 60-minute levels. As an additional note, in a deviation from the structure sheet, players will be given a total of six time extensions on Day 2, as opposed to the four given on Day 1. Play will begin with blinds of 8,000/16,000 and a big blind ante of 16,000 as well.
WSOP $100,000 Live Updates can be found in the PokerNews Live Reporting hub.
Event #5: $100,000 No-Limit Hold'em High Roller Day 2 Seat Draw
| Table | Seat | Player | Country | Chip Count | Big Blinds |
| --- | --- | --- | --- | --- | --- |
| 428 | 1 | David Peters | United States | 591,000 | 37 |
| 428 | 3 | Ryan Riess | United States | 974,000 | 61 |
| 428 | 4 | John Andress | United States | 413,000 | 26 |
| 428 | 5 | Stephen Chidwick | United Kingdom | 1,276,000 | 80 |
| 428 | 7 | Nick Petrangelo | United States | 650,000 | 41 |
| 428 | 8 | Ben Tollerene | United States | 340,000 | 21 |
| | | | | | |
| 429 | 2 | Brandon Steven | United States | 235,000 | 15 |
| 429 | 4 | Stefan Schillhabel | Germany | 595,000 | 37 |
| 429 | 5 | Dominik Nitsche | Germany | 261,000 | 16 |
| 429 | 6 | Brian Rast | United States | 1,186,000 | 74 |
| 429 | 7 | Igor Kurganov | Russia | 675,000 | 42 |
| 429 | 8 | Elio Fox | United States | 2,881,000 | 180 |
| | | | | | |
| 430 | 1 | Fedor Holz | Germany | 938,000 | 59 |
| 430 | 2 | Matthias Eibinger | Austria | 1,560,000 | 98 |
| 430 | 3 | Aymon Hata | United Kingdom | 1,162,000 | 73 |
| 430 | 4 | Jason Koon | United States | 1,053,000 | 66 |
| 430 | 7 | Andreas Eiler | Germany | 1,857,000 | 116 |
| 430 | 8 | Christoph Vogelsang | Germany | 885,000 | 55 |
| | | | | | |
| 431 | 1 | Koray Aldemir | Germany | 855,000 | 53 |
| 431 | 2 | Mikita Badziakouski | Belarus | 823,000 | 51 |
| 431 | 4 | Rainer Kempe | Germany | 623,000 | 39 |
| 431 | 5 | Jason Mercier | United States | 679,000 | 42 |
| 431 | 6 | Manig Loeser | Germany | 1,078,000 | 67 |
| 431 | 8 | Paul Volpe | United States | 625,000 | 39 |
| | | | | | |
| 436 | 1 | Bryn Kenney | United States | 1,971,000 | 123 |
| 436 | 4 | Jonathan Little | United States | 899,000 | 56 |
| 436 | 5 | Sergio Aido | Spain | 1,493,000 | 93 |
| 436 | 6 | Jake Schindler | United States | 740,000 | 46 |
| 436 | 7 | Jan-Eric Schwippert | Germany | 2,582,000 | 161 |
| 436 | 8 | Michael Kamran | United States | 2,018,000 | 126 |
| | | | | | |
| 437 | 1 | Johannes Becker | Germany | 1,471,000 | 92 |
| 437 | 3 | Darren Elias | United States | 2,038,000 | 127 |
| 437 | 5 | Justin Bonomo | United States | 1,046,000 | 65 |
| 437 | 6 | Tobias Ziegler | Germany | 119,000 | 7 |
| 437 | 7 | Chris Moore | United States | 390,000 | 24 |
| 437 | 8 | Keith Tilston | United States | 600,000 | 38 |
| | | | | | |
| 438 | 1 | Noah Schwartz | United States | 368,000 | 23 |
| 438 | 2 | Isaac Haxton | United States | 489,000 | 31 |
| 438 | 3 | Brian Green | United States | 435,000 | 27 |
| 438 | 6 | Tom Marchese | United States | 467,000 | 29 |
| 438 | 7 | Talal Shakerchi | United Kingdom | 469,000 | 29 |
| 438 | 8 | Cary Katz | United States | 699,000 | 44 |
| | | | | | |
| 439 | 1 | Michael Rosenfeld | United States | 1,716,000 | 107 |
| 439 | 2 | Byron Kaverman | United States | 1,282,000 | 80 |
| 439 | 3 | Adrian Mateos | Spain | 772,000 | 48 |
| 439 | 4 | David Einhorn | United States | 655,000 | 41 |
| 439 | 5 | Seth Davies | United States | 775,000 | 48 |
| 439 | 6 | Tomer Daniel | United States | 1,063,000 | 66 |
| 439 | 7 | Christian Christner | Germany | 1,276,000 | 80 |