Moment of the Week: Joe Cada's Bluff Propels Him to the Final Table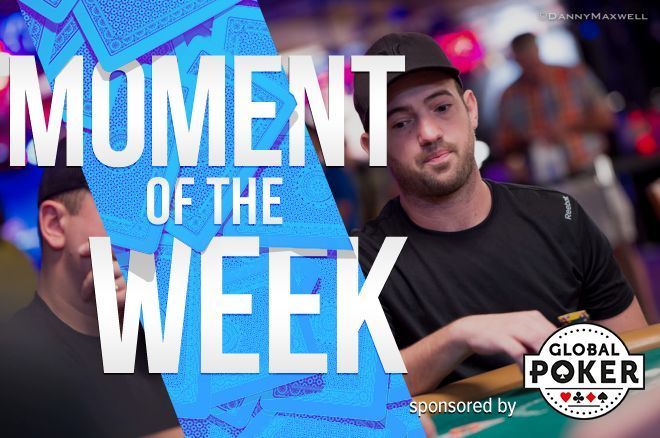 The 2009 World Series of Poker Main Event champ Joe Cada has had an eventful summer. He shipped Event #3: $3,000 NLHE Shootout for $226,218 and his third bracelet. He also put his father, Jerry Cada, into the $1,000 Super Seniors Championship. Jerry had recently suffered a stroke and spent over a month in a coma. During his recovery, Joe taught his dad poker basics before hopping into the Main Event.
Cada spent much of the tournament grinding an average stack and navigating a minefield of 7,874 players, many of whom didn't recognize him. One opponent, after hearing Cada tell a story about the 2009 Main Event, asked how the tournament ended up.
Cada soon found himself in familiar surroundings: back in the Thunderdome near the final table bubble. Here, he pulled off an audacious bluff.
The Hand
With only 11 players remaining, Cada raised to 1,100,000 on the button with the
and 11.9 million chips in his stack. Australian pro Alex Lynskey called in the big blind with the
and 51.5 million chips behind.
Cada: "Now that the jabs have been thrown and we're six-handed it's all gravy."
The flop came
, Lynskey checked, and Cada bet 1,000,000. Lynskey called. On the
turn, Lynskey check-called another bet, this time for 2,600,000, and the
fell on the river.
Lynskey checked for the third time and studied Cada intently. The pot had suddenly ballooned to 10,100,000, and Cada only had 7,150,000 remaining.
"All in," Cada said.
Lynskey went deep into the tank for several minutes. Eventually, he decided to fold.
The hand, Cada told PokerNews, "was just situational. I was lucky enough for a jack or a queen to come off because that was the only way I was going to continue with the bluff. That board's my range. They're playing tight and I'm raising into the two chip leaders. There's no reason why I can't have a straight or two pair there. It's so hard to have any bluffs besides an ace, which I did but it's not often. It's just situational."
2013 Main Event champ Ryan Riess also chimed in with his opinion. "It's not a shove that I would do," he said, "But it's a brilliant shove. Joe should never be bluffing into the chip leader, betting seventy percent pot with two other short stacks on the final table bubble of the biggest tournament in the world. So it's a great shove against a thinking player like [Lynskey]. Against some of the other people at the table, they probably wouldn't fold."
You can watch the action in full here:
The bluff of the Main Event from @cada99! 2009 @WSOP champion has chips and is a few spots from the final table. Wa… https://t.co/YlULqxi3No

— Poker Central (@PokerCentral)
Seeking a Fourth Bracelet
Cada's bluff propelled him into sixth place entering the final table. Throughout Day 8, he nimbly maneuvered a middling stack and chipped up to 29,275,000 as three opponents were eliminated. With only six players left on Day 9, Cada is poised to cement his legacy among poker's all-time greats.
If he wins the Main Event, Cada would join the ranks of Johnny Moss, Doyle Brunson, Johnny Chan, and Stu Ungar as repeat winners. A fourth bracelet would also put him in a company that includes, among others, Michael "The Grinder" Mizrachi, Brian Rast, and Amarillo Slim.
"I think the pressure's off a lot now," Cada said. "I think there's a lot of pressure getting to the final table and then there's a lot of pressure at the start of the final table not knowing what's going to happen. Now that the jabs have been thrown and we're six-handed it's all gravy. If I go out next, I go out next. If I make a run, that would be sweet."