Father's Day: Joe Cada Supports Father Jerry in WSOP After Stroke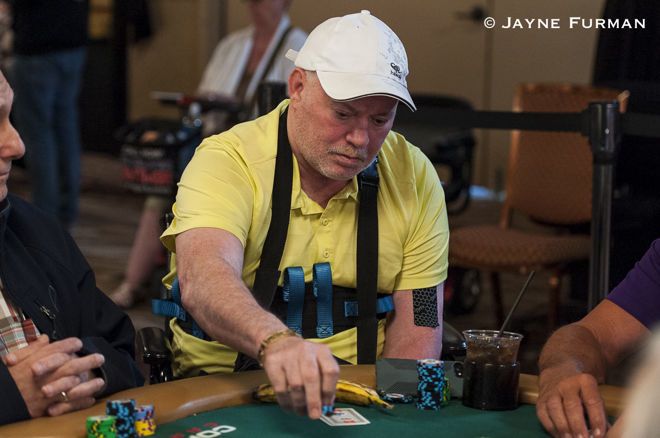 Sunday brought some nice Father's Day vibes to the WSOP, and there were certainly plenty of those in the Rio.
For Jerry Cada, just being in the Rio for the action was a good sign for the retired engineer. He'd never played in a poker tournament at a casino before the Seniors Championship a couple days ago. And now he was giving it a shot in the $1,000 Super Seniors Championship.
"He's come a long way. I'm really proud of him."
Win or lose, it was a big step after a recent stroke. Jerry struggles with movement and other life skills many of us take for granted. But his son Joe Cada, winner of the 2009 WSOP Main Event, says his father has made huge strides.
"He was in a coma for over a month," Joe says while he watched Jerry in the Amazon room.
Fittingly for Father's Day, Joe was on the rail cheering Jerry on, occasionally reading the community cards for him, and moving him in his wheelchair on breaks.
Joe's also been teaching him to play poker in recent months and says that his dad has caught on quickly. Jerry played a bit before the stroke but has been playing more since then as part of his recovery. Mobility may not be easy, but poker gives him something to focus on as he recuperates.
The recovery hasn't been easy, but it's a great Father's Day for Joe to see his dad in action. Sometimes poker is about more than just cards, chips, and even a bracelet. It's about competing and sharing the game with your father – a sentiment that surely resonates with many players in the Rio and around the world.
For Joe, it just meant a lot seeing his father playing poker and enjoying himself again.
"He's come a long way," he says. "I'm really proud of him."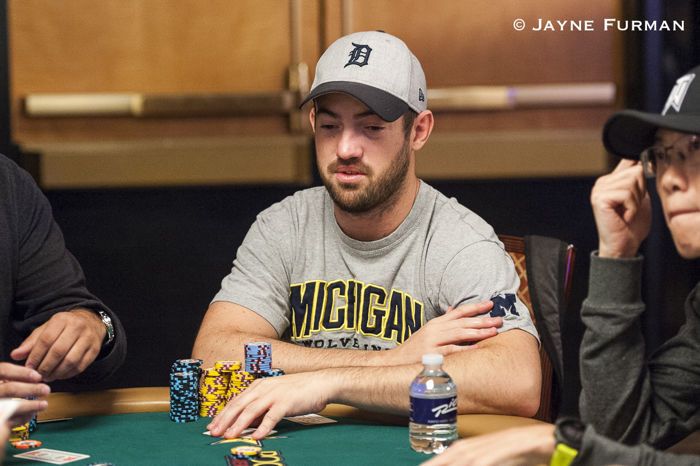 Sean Chaffin is a freelance writer in Crandall, Texas. His work appears in numerous websites and publications. Follow him on Twitter @PokerTraditions. He is also the host of the True Gambling Stories podcast, available on iTunes, Google Play, TuneIn Radio, Spotify, Stitcher, PokerNews.com, HoldemRadio.com, and TrueGamblingStories.com.