The Muck: "JNandez" & Doug Polk Drama Continues w/ Pair of New Videos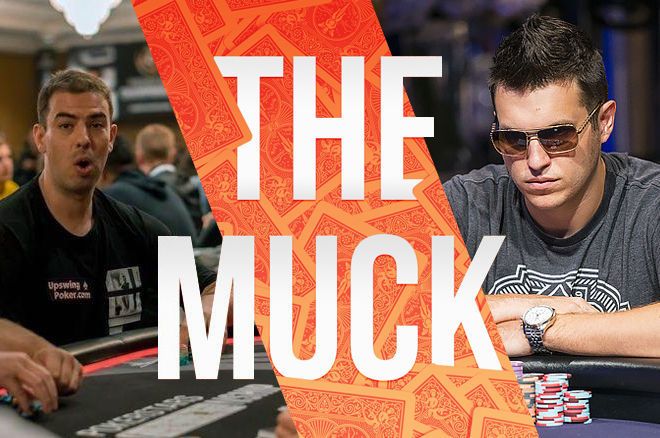 The drama between Fernando "JNandez" Habegger and Doug Polk, with Joey Ingram stuck in between, continued this past weekend with two news videos. The whole fiasco has turned into a "he said, he said" affair with each party blaming the other.
You might ask, "Who cares?" But with tens of thousands of views, there are clearly those who do.
Polk: "When Fernando makes baseless allegations against me … that is complete f***ing bullshit and I'm not going to stand for it."
In the first video, titled "The Truth About Doug Polk, Joey Ingram and my Relationship with Upswing Poker," Habegger talks about his foray into Upswing Poker via PLO Lab. Habegger, who resides in Switzerland, admitted he was a fanboy of Polk at the time and was willing to accept 25 percent of each $1,000 sale.
However, an affiliate deal with Ingram muddied the waters. According to Habegger, his affiliate concerns – which included "cannibalizing the customer" and cutting into others' profits – continued into the revamped PLO University. Habegger claimed to have traveled to Las Vegas in December to meet with Polk, Ingram and Ryan Fee.
"I'm very unhappy with the way the deal is settled and I'm unhappy with the way Upswing Poker has basically betrayed me in this situation," Habegger said he told Ingram during a meeting at the ARIA.
Other highlights from the video included:
Habegger felt "big timed" in his first meeting with Polk, which left a sour taste in his mouth.
Habegger recalls there being approximately $1,000,000 in sales for the PLO Lab.
A contract stipulated a three-month notice for either party to terminate, which Habegger says he initiated in a heated call.
Habegger wanted to inform customers immediately and said Upswing wanted to wait until they found a replacement. Both parties agreed to wait a week but Habegger claimed Polk released a highly-critical video the next day.
After customer refunds resulting from the split, Habegger said the company claimed to owe him just $1,200. Habegger believed he was owed $90,000. Habegger considered legal action but opted against it given geographic constraints, being located outside the United States, etc.
Habegger revealed that Upswing purchased the European domain for competitor RunItOncePoker.
Polk Responds
Not one to sit idle by, Polk released a response video titled "Let's Talk About The Facts Regarding Upswing Poker and JNandez."
"Upswing Poker has fairly compensated JNandez for all the work he has done for the site and we're going to prove that," Polk began. Indeed, he proceeded to share the contract, bank statements, PayPal screenshots, and archived Skype conversations. Polk literally did the math on the stream for transparency's sake.
"The numbers add up. I really have no idea where he's getting this $90K or $100K estimate from," said Polk, who also highlighted portions of the contract prohibiting Habegger from talking about Upswing business like he did in his video.
Other things Polk revealed, either in the video in the comments to it, included:
Ingram made far less as an affiliate than Habegger did from PLO courses at Upswing.
WCOOP Super High Roller champ "Bencb" reached out to Polk stating that he was going to personally sue him after alleging Upswing's Tournament Masterclass copied Raise Your Edge's Tournament Masterclass. "Still waiting on that one," Polk wrote.
Upswing is exploring legal options against Habegger and has forwarded copies of the videos to their lawyers.
In regards to Upswing buying up a competitor's domain, Polk wrote: "We bought a wide variety of URL's when we launched our business. This is a fairly standard business practice."
Habegger was working on his own site/business while under contract with Upswing Poker.
Polk admitted that Habegger did a good job on his products during his time with Upswing.
"In summary, I care a lot about my business because I'm proud of what I've built. I've worked really hard over the last few years for Upswing to be what it is and to try and build that company. I also care a lot about the customers at Upswing and I care about the audience of people that watch my videos, and so when Fernando makes baseless allegations against me … that is complete f***ing bullshit and I'm not going to stand for it."
Here's a look at Polk's response video:
What are your thoughts on the whole situation?
Everybody needs an account at one of these online poker rooms! They're the biggest, the best, and we get you the best poker bonuses. Check out our online poker section for details on all the online poker rooms around.