Asi Moshe Wins Second Career WSOP Bracelet in WSOPE 6-Handed Deepstack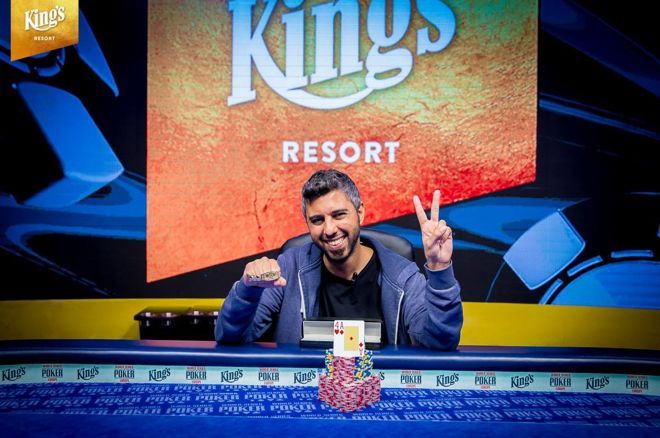 It's two for two for Israel at the 2018 World Series of Poker Europe. Asi Moshe did what Tamir Segal did the previous day: won a WSOP gold bracelet. Moshe conquered a 221-player field in Event #2: €1,650 No-Limit Hold'em 6-Handed Deepstack to win €82,280. It was the Israeli's second career gold after winning his first WSOP bracelet four years ago.
"The secret of Israel? I have no idea, but two for two is pretty sick."
Delivering two bracelet winners in two days is a remarkable feat for the small middle-eastern country, one that's been making quite the waves in the tournament scene over the past few years. Moshe won Israel's twelfth bracelet overall and joins Rafi Amit as a two-time bracelet winner in his country.
"The secret of Israel? I have no idea, but two for two is pretty sick. Sick is an overused word in poker but it is sick!" Moshe heartily laughed after his victory.
Moshi started the day from pole position and didn't lose the chip lead at a single point. On his way to the bracelet, Moshe defeated Robert Schulz heads up after a 90-minute heads-up battle. James Bullimore finished in third place, Giuliano Bendinelli finished fourth, Van Tiep Nguyen ended in fifth and Viktor Katzenberger finished sixth overall.
2018 WSOPE €1,650 NLH 6-Handed Deepstack Final Table Results
| Place | Player | Country | Prize in € | Prize in $ |
| --- | --- | --- | --- | --- |
| 1 | Asi Moshe | Israel | €82,280 | $95,365 |
| 2 | Robert Schulz | Germany | €50,842 | $58,927 |
| 3 | James Bullimore | United Kingdom | €33,149 | $38,420 |
| 4 | Giuliano Bendinelli | Italy | €22,210 | $25,742 |
| 5 | Van Tiep Nguyen | Czech Republic | €15,303 | $17,736 |
| 6 | Viktor Katzenberger | Hungary | €10,852 | $12,579 |
Prize in $ via XE.com
Since winning his first bracelet four years ago, Moshe has proven he isn't a one-hit wonder, racking up over $2 million in lifetime winnings over the course of a few years. However, until today, the second bracelet proved elusive for the man from Tel Aviv, who had two near-misses earlier. Today, that chase came to an end as he could finally attach the second piece of jewelry around his wrist.
"It's a validation. I've been waiting for this one quite a while."
"I can't even describe how much this means to me," Moshe said. "There are a lot of bracelet winners, but the two-time bracelet winners club is much more exclusive. It's a validation. I've been waiting for this one quite a while," he said, smiling widely.
Four years ago, the first thing Moshi said he'd do after his victory was buy something nice for his girlfriend. His then-girlfriend has since become his wife, and she's gifted him with a daughter as well. They were the first thing on his mind after his victory, and instead of grinding out a full schedule at the WSOPE, Moshe will be traveling home in a few days instead to meet up with them.
"I want to see my wife, that I love very much, and my daughter," he smiled, and he will do so as part of an exclusive new club.
Final day of WSOPE €1,650 No-Limit Hold'em 6-Handed Deepstack
At 3 p.m., the six remaining finalists returned for the final table of the second bracelet event of the 2018 WSOPE. An hour in, the first big clash of the final table, between Moshe and Katzenberger, proved pivotal for Moshe's eventual win. Katzenberger had raised with eight-seven of clubs and had called a three-bet from Moshe in position. Moshe had pocket jacks but got outflopped on an eight-seven-six flop that contained two hearts.
Moshe decided to check and Katzenberger shoved it in for two times the size of the pot. The Israeli proceeded to spend five minutes in the tank before calling it off. Katzenberger had the better hand on the flop but a jack on the turn gave Moshe the winner and he soared towards a big lead, which he never relinquished. It was a hand that was fully in Moshe's thoughts afterwards.
"I was hoping to see a draw or an overpair like nines or tens. I saw something I didn't want to see but it worked out okay."
"Probably, in a different stage of the tournament, I would call this faster. In this stage, I was very close to folding," Moshe admitted. "Maybe I made a pretty big mistake there; I realize this is final table, I realize people don't want to bust. Usually, when people shove two times the pot, it's like a draw."
Moshe had the jack of hearts in his hand, which blocked some of Katzenberger's possible heart combos. However, holding the jack of hearts in his hand wouldn't play that big of a role into his making the eventual call.
"If I had aces, it would be a lot more significant," Moshe explained. "If I have the ace of hearts, he doesn't have the nut flush draw, then it changes everything. With the jack, I block some flush draws, but on the other hand, I can improve with the backdoor flush draw.
"I tried to figure out his range: I didn't think he'd play a set like that. I was hoping to see a draw or an overpair like nines or tens. I saw something I didn't want to see but it worked out okay," he chuckled.
With the dangerous cash gamer to his left gone and four times the stack of his nearest challenger James Bullimore, Moshe had the tournament in a stranglehold. After Van Tiep Nguyen (5th - €15,303) and Giuliani Bendinelli (4th - €22,210) busted out in subsequent hands, it was down to Moshe, Bullimore and Robert Schulz.
The two came close to Moshe's stack, and at some point, the three were locked almost dead even. Soon after, Moshe created distance for himself again when he flopped a set of treys against Schulz, who held flush and straight draws on the turn but missed on the river. Moshe then proceeded to take out Bullimore when he rivered a flush against Bullimore's turned straight. Bullimore faced an all-in shove on the river and ultimately called it off with the worst of it.
Heads up, Moshe started with a nearly 5:1 lead, and despite Schulz doubling back twice, Moshe wasn't afraid to miss another shot at a WSOP bracelet.
"Was I afraid? Not really. Don't get me wrong, I don't want to sound cocky and it could happen, but my heads-up game is alright. I play a lot online; I know what I'm doing. I tried to adjust my strategy to the big blind ante, which changes a lot heads-up. I felt I could grind it out if needed."
Grinding it out was what Moshe did, and after 90 minutes of heads up, he decided it with ace-four. Moshe shoved on the button. Schulz called all in for twelve big blinds with king-eight but the better hand held up to gift Moshe with what he's been chasing for years: a second career WSOP bracelet.
Continue following the WSOPE at King's Casino in Rozvadov as the PokerNews live reporting team brings live coverage throughout the series.
A former professional poker player with a background in sports marketing and journalism. Yori has been a part of PokerNews since 2016 and manages the content team.