Off the Felt: Jelly Bean Dance With Laak & Family Time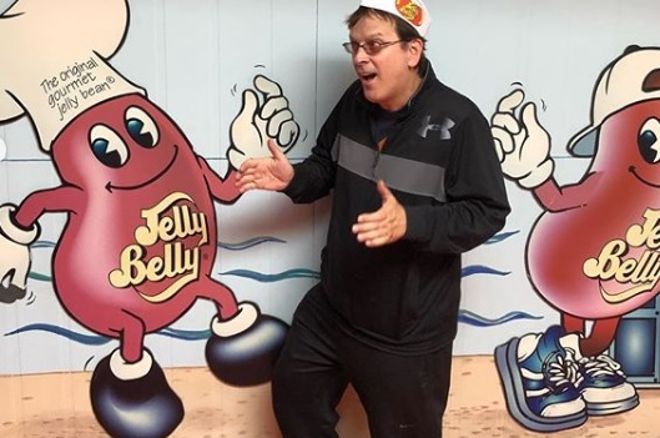 In one of the previous editions of Off the Felt, we saw Patrik Antonius recovering from his surgery. The Finnish high stakes regular is now back on track and had his first workout after the surgery. Phil Laak had some other plans and visited the Jelly Belly Candy Company, while others spent time with family.
After more than seven months without posting on his Instagram, Phil Laak is back! And what a comeback it is: Laak posted some hilarious pictures doing the Jelly Bean dance moves while he visited the Jelly Belly Candy Company:
Laak also spent some time enjoying the beautiful weather in Napa Valley with Jennifer Tilly:
Another poker power couple is tying the knot! Congrats, you two.
Two weeks ago, Patrik Antonius posted an update on his Instagram about his successful surgery by Dr Ulrike Muschaweck. His recovery is going pretty well and this week he returned to the gym for his first real workout, #backontrack!
Antonius isn't the only one who spent time in the gym: Jamie Kerstetter has been working out a lot since August in training for her upcoming mile run against Lily Kiletto on Sunday. She already lost 9.4lbs so she's is already winning with this bet!
Tony Dunst did a fantastic job of showing the truth about Instagram. Grabbing these "Instagram worthy" photos is tough business, and sometimes you fail.
Jason Mercier isn't spending as much time at the poker table as he did years ago. But he got a good reason for it because he is spending a lot of time with his son Marco who turned 1 earlier this week:
Bill Perkins has been a father for many more years and posted a beautiful picture with his daughter:
And then we have Liv Boeree and Igor Kurganov, who posted some beautiful pictures from a photoshoot after a wedding ceremony:
OK. So these two aren't blood related but they do bust their ass with their vlogs and streams - so they are part of the Twitch family. What a duo!
Glamour Shots
Last week, Sam Abernathy hit us with a stylish shot of her in leather pants. This week, I swear, she must be auditioning for something because these photos are too good.
Just when we think we've had enough of Liv Boeree, she shares gems like these. I mean, I don't know what she's wearing or what's going on but it looks cool. It's that simple - Liv Boeree is cool.
The Honorable Mentions
Happy Birthday, bro!
Is it winter already?
Saving the best for last. More Dwan, please!