Poker Crusher Roman "Romeopro33" Romanovsky on XL Eclipse Win, Charity, and Exit Plan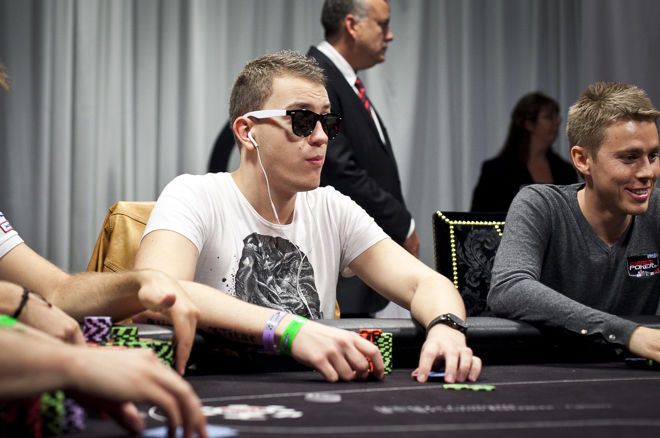 Last weekend, 888poker wrapped up its 34-event XL Eclipse series, which catered to 28,438 entrants and awarded $2,716,699 in prize money. In the $1,050 buy-in, $1 million GTD Main Event, Ukraine's Roman "Romeopro33" Romanovsky topped a field of 997 entries to win the title and $187,500 first-place prize. This weekend, he added some more titles to his already impressive resume.
"It felt really great," Romanovsky recently told PokerNews. "I had a bet going against the 'Swedish Mafia,' they were actually in the top 18 as well. The bet was: who will win more money during the three weeks of PokerStars WCOOP, partypoker Powerfest, and the XL Eclipse series. The two biggest scores for them were excluded one each, and one from me because my scores get doubled because I was playing against two of them. The XL Eclipse Main Event win turned out to be the biggest for me so unfortunately, it didn't count in our bet. I lost the bet but still managed to end the three weeks with a good profit."
The Swedish Mafia Romanovsky referred to, was the duo of Niklas "tutten7" Åstedt and Simon "Isildur1337x" Mattsson. Both those players made deep runs with the former placing 16th place for $7,000 and the latter finishing as runner-up for $135,000.
Romanovsky on donating to charity: "It's just better to take the EV of a set period of tournaments over a set period of time."
Romanovsky and Mattsson ended up duking it out in heads-up play, which lasted almost three blind levels. The two exchanged the chip lead several times before Mattsson shoved with queen-eight only to run smack dab into Romanovsky's aces.
"I won like five or six all-ins while Simon was busting everyone from the final table," Romanovsky explained in this week's Hold'em with Holloway strategy article right here on PokerNews. "I just managed to hold until heads-up. I was playing relatively tight at the final table. In the end, his last shove with queen-eight was pretty bad against a limp 13 big blinds deep. A check is much better. I had aces and limped the small blind. Other than that, he played okay. I didn't play amazingly this final table either; I just ran better."
An Eye on Charity
In late 2016, Romanovsky revealed a charity marathon in which he planned to donate 66.7% of his profit to charity. Originally, his goal was to win $600,000 and donate $400K of it to charity. He's not only met that goal but has nearly doubled it.
"It's around $1.1 million in profit," Romanovsky told PokerNews.
He also revealed his intention to retire from poker in the near future: "I'm still considering a few options and plan to decide by November when my career will end. There's no doubt I will end my poker career after I finish the charity marathon. By now I figured that setting money goals is not the best way to do it. Because of variance, you can just get way too lucky or way too unlucky. So, it's just better to take the EV of a set period of tournaments over a set period of time."
"I still haven't decided how it's going to work, but I'm confident the latest I'll play would be December 31, 2020."
He continued: "There are two options to play to, until the end of 2019 or 2020. I still haven't decided how it's going to work, but I'm confident the latest I'll play would be December 31, 2020, maybe it's going to be earlier. Right now, I'm planning to grind 2019 and maybe 2020, probably the biggest number of tournaments I've ever played. I'm pretty sure it's going to be worth it. I could possibly achieve most total cashes all-time and highest profit all-time in the world of online tournaments, so it's pretty cool. The biggest motivator is it could end up like $3 million in total, $2 million of which would go to the charity."
So, what does an online poker pro plan to do when he steps away from the game?
"I'm going to work on self-education. I'm going to spend a lot of time learning a lot of different things starting with rationality and how to use my charitable resources to bring about the best possible amount of good to the world. I need to investigate a lot of potential options to make it possible. After that, I'm going to spend a lot of time on mathematics, statistics, and economics, probably some psychology. I'll then use all that to try and make the world better, maybe help with climate change, artificial intelligence, or both."
Aside from online poker, Romanovsky has also amassed $429,940 in the live realm, though he hasn't notched a live score since 2013. His biggest cash to date was $189,776 for winning the 2012 EPT8/FPS2 Deauville €2,200 NLH event.
You can follow him on Twitter @RomanRomanovsky.
Everybody needs an account at one of these online poker rooms! They're the biggest, the best, and we get you the best poker bonuses. Check out our online poker section for details on all the online poker rooms around.