PokerStars to Debut Fusion, Game Marrying PLO and Hold'em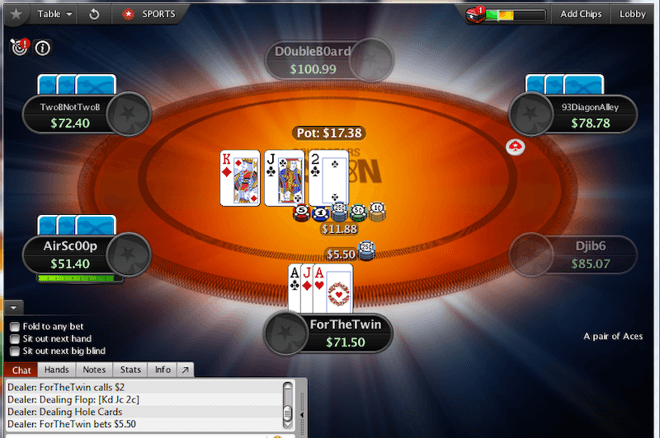 Texas hold'em and pot-limit Omaha are the two most popular poker games in the world. PokerStars has decided to combine the two formats for its latest invention, PokerStars Fusion.
Revealed on Tuesday on the PokerStars Blog, PokerStars Fusion has been in the works for some time, first reported on in May by Poker Industry PRO.
After being pushed to the side for awhile in favor of Unfold, which arrived in August, Fusion will finally now make its debut on PokerStars.
The Basics of Fusion
As PRO guessed, Fusion will be a hybrid of two different games, PLO and NLHE.
Initially, the guess was that the format would be something like the old Irish Poker on Full Tilt, which began Omaha-style with four cards and saw players toss away two after the flop. That guess was nearly spot on, but instead of starting like Omaha and morphing into hold'em, this game starts like hold'em and morphs into Omaha.
Played pot-limit and six-max, Fusion begins with each player receiving two cards. A normal hold'em round of betting follows, and then a flop arrives.
"Fusion mixes two well-loved formats together giving an exciting twist to the game."
This is where the game begins to alter, as each player receives a third card at that point. Action continues, and everyone left after the turn receives another card, completing the hole cards into a four-card Omaha hand.
At that point, the game becomes regular PLO, with players required to use two cards from their hands to make a five-card hand at showdown.
"Every street adds a layer of super-charged theory," wrote Stephen Bartley on the PokerStars Blog. "Every new hole card multiplies the possibilities."
In the released photos of the game, most players had between 50 and 80 big blinds in front of them. The game may be following the lead of previous PokerStars creations by allowing players to buy in up to 80 big blinds. Stakes begin as low as $0.02/$0.05 and the game hits the main client on Wednesday.
The Latest Innovation Attempt by PokerStars
PokerStars has been attempting to make waves with a series of new poker innovations. First came Split Hold'em, which was a double-board variant similar to those played at many home games.
Then followed Showtime, which saw folded players' cards revealed for a pile of added information benefiting the rest of the players.
After that, the aforementioned Unfold debuted. That game allowed players who had folded a chance at a side pot if they wanted to "unfold" their hands.
Now, it's time for Fusion. Previous games have had trial runs of about six weeks. Most likely, Fusion will follow a similar course as PokerStars continues to evaluate how the gaming public receives these new offerings.
"We want to give our players games that they have never played before and bring a unique offering to the table," said Severin Rasset, director of poker innovation and operations for The Stars Group. "Fusion mixes two well-loved formats together giving an exciting twist to the game. We eagerly await player feedback and look forward to seeing everyone joining the tables, and giving Fusion a try."
The Stars Group owns a majority shareholding in iBus Media.