Best Poker Rooms in the World: U.S. Edition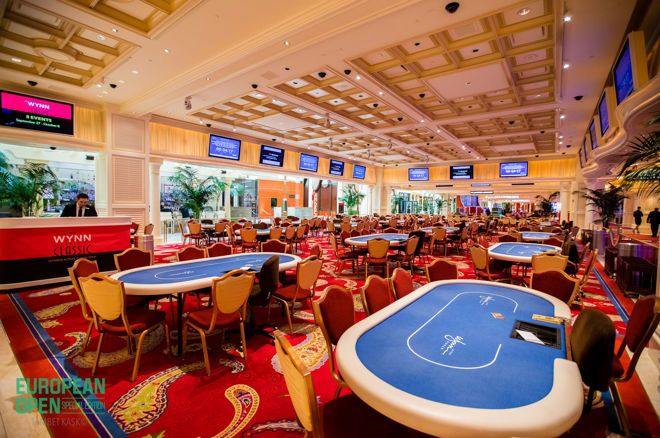 Poker is a global game. While it's usually heralded as a true American pastime, poker is in fact played all over the world and by no means any longer just a thing for cowboys in saloons in Texas. From Vegas to Nottingham and from Macau to Melbourne, the game this website is dedicated to crosses boundaries like few others.
But where to play? What makes for the best poker room? As long as the competition is good (or bad, if you will), players will come. But there's more to it when deciding what makes for the best poker rooms in the world right now. It's the service, the games on offer, the rake charged, and in some cases even the parking.
Getting to one final answer to the question "which poker room is the world's best?" is tough. But PokerNews has a staff of writers who work and play all over the world, giving them as good a perspective as any. Having seen a long list of rooms, they know what to look for and what stands out. These selections are by no means meant as an exhaustive list of the best, but it's a start for anyone traveling around, looking for the next good game stateside.
Mo Nuwwarah: The Wynn/Encore
The day I turned 21, I walked into Horseshoe Council Bluffs to play my first session of live casino poker, and I've hardly slowed down in the 10-plus years since. My job live reporting poker tournaments has allowed me to experience dozens of poker tournaments around the world first-hand, including playing more post-work sessions than I'd like to admit to my bosses. I've played in grungy, smoke-filled boats sitting on rivers outside grimy Midwestern towns and glitzy European establishments where a sandwich costs about a quarter of a buy-in for the small-stakes game.
Throughout all my hundreds of sessions of live poker, one venue stands out as my favorite: the Wynn/Encore poker room.
The first time I ever played a session there, I was immediately struck by two things: it sported a higher-class vibe than the dingier rooms I'd been playing at on the strip, and it had deep-pocketed clientele to match. Even the small-stakes game in which I sat sported several very deep stacks and the players splashed around without much care for money. I loved it right away.
I've played in grungy, smoke-filled boats sitting on rivers outside grimy Midwestern towns and glitzy European establishments where a sandwich costs about a quarter of a buy-in for the small-stakes game.
My first deep tournament run there secured the place as my go-to in Vegas. I already knew it sported great cash game action, and I decided to play a $400 daily there in June 2016 on a day off from working the World Series of Poker. I'd eventually finish 22nd, a bitter result after an awful beat and a lost flip cost me a chip-leading stack in short order. I walked away disappointed but also certain I'd be giving the Wynn plenty more action. That tournament had it all: a great one-day structure, the ability to win over $15,000 in one day, a soft field, and a fantastic staff.
Since that time, the poker room has moved over to sister property Encore. The prize pools have only gotten bigger, as it's now possible to win upwards of $40,000 in the $550 dailies, and the same efficient and experienced staff keeps things flowing smoothly from start to finish. If you're looking for a great one-day tournament, you still can't beat it. And for bigger events, their $1Ks and the $1,650 Main of their summer series boast huge prize pools easily awarding six-figure prizes.
Cash game players also have a great list of options. No-limit action runs as small as $1/$3 and goes up to $25/$50 and bigger. Pot-limit Omaha players have access to games not only in the summer but the rest of the year as well, as Joe Ingram often showcases on his popular Instagram. Stakes $5/$5 and bigger even get to play eight-handed.
Enticing action, a clean and well-lit environment, fast drink service, huge value tournaments, cash games big and small, and one of the most efficient crews of staff and dealers you'll find in any poker room. To me, the Wynn/Encore poker room has it all, and it's my pick for the top room out there.
Wynn/Encore Poker Room Summary
| | |
| --- | --- |
| Address: | 3131 S Las Vegas Blvd |
| | Las Vegas, NV 89109, United States |
| Guest relations manager | Kelly Hurst |
| Phone | 702-770-7654 |
| Website: | WynnPoker.com |
| Social Media | twitter.com/WynnPoker |
| | facebook.com/WynnPoker/ |
| | instagram.com/WynnPoker/ |
| | |
| Number of tables: | 28 + 30-40 more in summer |
| Smoking | No |
| Meal Comps | $1.50/hour |
| Poker Room Rate | $129 + fees and taxes/$199 weekends |
| Phone-in List | 702-770-7654 (one hour) |
| Automatic Shufflers | Yes |
| Massage Service | Yes — $2/minute |
| Cocktail Service | Yes |
| Food Service | Yes |
| Jackpot | None |
---
Chad Holloway: FireKeepers Casino
In a day and age where many casinos are shuttering their poker rooms, FireKeepers Casino in Battle Creek, Mich., recently doubled the size of theirs from 13 to 26. I've been to casinos all across the United States and FireKeepers is a hidden gem, a rare tribal venue with Las Vegas flair.
One of the reasons FireKeepers has been so successful is that they don't treat poker as a neglected stepchild. Instead, they appreciate poker players and realize what they bring to the casino, a mentality spearheaded by director of poker operations Kelley Bailey.
One of Bailey's biggest accomplishments is fostering some of the Midwest's biggest poker tournaments. Back in 2013, she brought in the Mid-States Poker Tour (MSPT) for an $1,100 Main Event. That first tournament drew a respectable 272 entries.
Five years later, through a devotion to satellites and buying into the process of naturally growing a poker community, her and her team are consistently offering $1,000,000 prize pools! That's seven-figure prize pools for a $1,100 buy-in in the middle of nowhere, Michigan.
This past May, the MSPT FireKeepers drew a record 1,287 entries, which made it not only the largest poker tournament in Michigan history, but one of the biggest ever held in the Midwest. In 2019, they may very well surpass it as they're offering a $1,000,000 GTD.
FireKeepers continues to bring in the MSPT twice a year, but they also hold their own tournaments including a $400 monthly that brings in players from nearby states. Toss in both no-limit hold'em and pot-limit Omaha cash games, and there aren't many better places to play in the Midwest.
FireKeepers Casino isn't afraid to take risks, and they've been paying off big time when it comes to poker. Toss in the amenities and customer service they offer players, and it's definitely one of my favorite poker rooms in the United States (plus I love their $1/minute massages).
FireKeepers Casino Poker Room Summary
| | |
| --- | --- |
| Address: | 11177 East Michigan Ave, Battle Creek, Michigan 49014 |
| Guest relations manager | Kelley Bailey |
| Phone | (877) 352-8777 |
| Website: | FireKeepersCasino.com |
| Social Media | twitter.com/FireKeepers |
| | facebook.com/FireKeepers |
| | |
| Number of tables: | 26 |
| Smoking | No |
| Meal Comps | $1/hour |
| Poker Room Rate | Y |
| Phone-in List | Yes (up to one hour) |
| Automatic Shufflers | Yes |
| Massage Service | Yes |
| Cocktail Service | Yes |
| Food Service | Yes |
| Jackpot | Bad Beat Jackpot, full house pyramid board and Hot Hand progressives for Quads, Straight and Royal Flushes (beginning 1/7/19) |
---
Martin Harris: Harrah's Cherokee
The fact that I have spent so much of my working life over the last decade-plus inside of casinos reporting from poker tournaments is something of an irony for me.
For one, I'm no great gambler, much preferring the skill-versus-chance balance of poker to betting on dice rolls and spins of roulette wheels. Also, anyone who knows me — especially those who have spent any time with me inside of a casino — knows I happen to have an incredibly poor sense of direction. I like to think I have other talents, but there's something in my brain that prevents me from being able to remember how to get back somewhere if I've turned even two corners.
Thus do I often have to laugh at the dark humor of my having found it necessary to be inside of casinos so often — places where the architectural design often deliberately causes visitors to become disoriented by labyrinth-like layouts with many twists and turns, mirrored walls and flashing lights, and less than obvious routes to exits.
Despite my dizziness (and ditsy-ness), I enjoy being in casinos, especially poker rooms and sportsbooks. The closest one to where I live is Harrah's Cherokee located just about as far west as you can get in my home state of North Carolina. In addition to poker, the casino offers a variety of games that contain a skill component due to the nature of the compact with the Cherokee tribe. There's a conference center, a 3,000-seat event center for concerts, several restaurants, bars, and shops, a bowling alley with an arcade, and more to occupy visitors.
It's still a lengthy journey up into the mountains for me to get there, although the drive can be quite picturesque at certain times of the year. If you look at a map of the Southeast, you'll see Cherokee, N.C., is located in close proximity to four other states — Tennessee, South Carolina, Georgia, and Mississippi — which means it serves as a kind of "home casino" for many, even those who live hundreds of miles away.
As far as poker goes, when the room first opened a few years ago it was comprised of just a few live tables and those "digital" tables you might have seen, but now it's all live poker, with the 20 tables often busy during the week and consistently full on the weekends. In fact, there are current plans to expand the poker room to accommodate even more tables, given how packed things get. The folks who run the room bring lots of experience from a variety of different places across the country, and together have successfully built it up into a favorite destination for many.
The $1/$2 and $2/$5 NLHE games are constantly running, $5/$5 PLO games run almost all the time as well, with some $1/$2 PLO also often spread. They offer $4/$8 LHE, too, but only occasionally can get a table going. They have a couple of low buy-in tournaments every weeknight and some larger buy-in "deep stack" tourneys on the weekends, too, all of which are quite popular.
Harrah's Cherokee has also become a favorite stop for the World Series of Poker Circuit, hosting the series multiple times per year as well as having been the site for the WSOP Circuit Global Casino Championship, most recently last August. For the WSOP-C they fill the event center with poker tables to accommodate the usually large fields comprised mostly of those coming from the surrounding states to play.
All of which is to say, Harrah's Cherokee is worth that trip up into the mountains. And while it might be a long and winding road getting there, thank goodness for me, I have GPS.
Harrah's Cherokee Casino Poker Room Summary
| | |
| --- | --- |
| Address: | 777 Casino Drive, Cherokee, North Carolina 28719 |
| Poker room manager | Jason Jones |
| Phone | (828) 497-8284 |
| Website: | HarrahsCherokee.com |
| Social Media | twitter.com/HarrahsCherokee |
| | facebook.com/HarrahsCherokee |
| | |
| Number of tables: | 20 |
| Smoking | No |
| Meal Comps | $0.70/hour |
| Poker Room Rate | During WSOP-C |
| Phone-in List | Yes (up to one-hour-and-a-half) |
| Automatic Shufflers | Yes |
| Massage Service | Yes |
| Cocktail Service | Yes |
| Food Service | Yes |
| Jackpot | No |
---