Three Great Live Reported Hands: Gus Hansen and a Double Dose of Ivey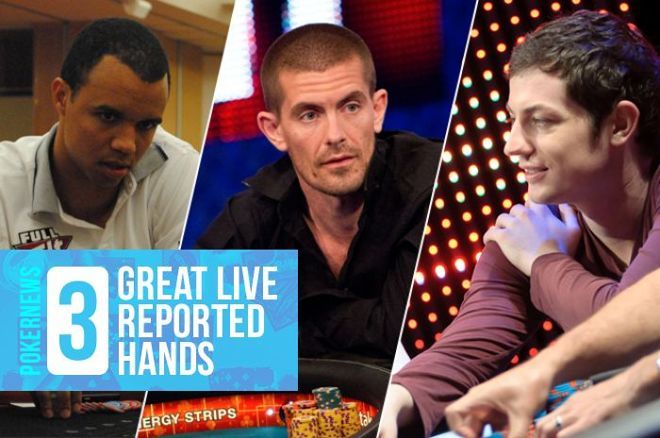 This is Volume 7 of an ongoing series in which PokerNews will look back on some of the most memorable hands recorded in the long history of live reporting on this site. To read more about the concept and which hands make the cut, check out Volume 1.
---
Australian Rules...Poker?
| | |
| --- | --- |
| Original title: | Durrrr's Straddle Woes |
| Date: | 01-24-2011 |
| Reporter: | Unknown |
| Tournament | Aussie Millions Million Dollar Cash Game |
| Players involved: | Tom Dwan, Phil Ivey, Wang Qiang |
While PokerNews is best known for its tournament coverage when it comes to live reporting, reporters have gotten the occasional chance to do coverage for cash games big and small. It was cash games of the former variety under the watchful eye of the PokerNews team at Aussie Millions in 2011, $500/$1,000 with a $100 ante to be exact.
As is common in any number of cash games around the world — particularly high-stakes games — the players opted to try to goose the action by getting some straddles going. Patrik Antonius put in a straddle to $2,000, Phil Ivey double-straddled to $4,000 and Tom Dwan put in another straddle to $8,000.
Since the game was eight-handed, that meant action was to the button after two folds. Wang Qiang called from there. Action folded to Ivey, and he called as well, but Dwan was stopped dead in his tracks when he tried to raise.
Unfortunately for Dwan, Australian rules limit the number of live straddles to one, so Ivey and Dwan hadn't straddled at all, they had just blind raised. That meant the flop was coming whether Dwan wanted to see it or not, and despite his protests,
arrived.
Dwan opted to continue his show of strength, but his $16,000 bet didn't get through anyone as it stayed three ways to the
turn. Dwan bet $38,000 this time, and while he rid himself of Qiang, Ivey stuck around for the
river. Ivey checked a final time and Dwan gave it up, with Ivey taking showdown and a pot worth about $150,000 with
for jacks and sevens.
A rueful Dwan was left regretting the missed opportunity caused by the little-known Australian poker rulebook.
"I really wanted to shove preflop with my air," he said. "I really wanted to shove with my air."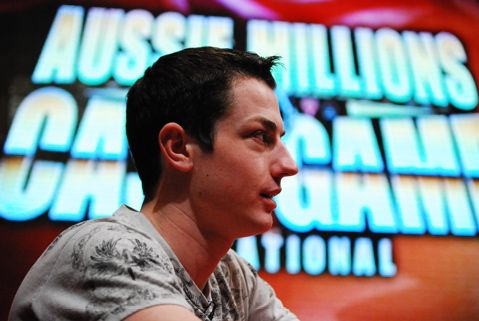 ---
Ivey, Mizrachi Battle in $25K
| | |
| --- | --- |
| Original title: | Ivey Busted by Mizrachi |
| Date: | 08-19-2010 |
| Reporter: | Donnie Peters |
| Tournament | 2010 Full Tilt Poker Merit Cyprus Classic $25K High Roller Freezeout |
| Players involved: | Phil Ivey, Michael Mizrachi |
Another Ivey hand continues this volume of Three Great Live Reported Hands, this time one from a few months before the Aussie Millions cash game hand.
In 2010, Full Tilt Poker sponsored the Merit Cyprus Classic, and two of its top sponsored pros went head to head when Ivey clashed with Michael Mizrachi, fresh off locking up a seat in the November Nine.
Early on Day 2, with about two-thirds of the field remaining, Ivey and Mizrachi saw a
flop. Mizrachi bet 1,000 and Ivey made it 4,000. Mizrachi called and they saw a
turn. Mizrachi again bet 1,000, with Ivey again raising, this time to 10,000. Mizrachi came back with 30,000 and Ivey called. Mizrachi set Ivey in dark for his last 60,000.
After the
hit, Ivey called off his remaining chips, but his cards went into the muck without being shown after Mizrachi turned over
for bottom set.
Unfortunately for "Grinder," he wouldn't parlay it into a final table appearance in what he told PokerNews was his first high roller.
---
Hansen Gets a Dream Runout
| | |
| --- | --- |
| Original title: | Hansen Moves on to Round of 32 |
| Date: | 06-01-2011 |
| Reporter: | Josh Cahlik |
| Tournament | 2011 WSOP $25,000 Heads-Up No-Limit Hold'em Championship |
| Players involved: | Gus Hansen, Greg Brooks |
Back in 2011, the poker economy was certainly in a different spot. Rather than focus on catering to lower-stakes players, as the WSOP has clearly done in an effort to give them more chips and more affordable events, the WSOP held — for the first and last time — a $25,000 Heads-Up Championship.
Gus Hansen was a far more consistent presence at the tournament felt in those days, and he was among the 128 entries into the event, winning a first-round match with Jason Mercier. He faced off in the round of 32 with Greg Brooks, who had bested Sam Stein.
The two players were about 100,000 deep at 2,000/4,000 when they saw a
flop for the minimum. First to act, Hansen bet 3,000. Brooks made it 8,000 and Hansen called, seeing a
turn. Both players checked to the
river.
Hansen made a sizable bet of 16,100 and Brooks raised to 53,300, most of his remaining chips. Hansen set him in for just under 30,000 more.
Brooks needed some thinking time at that point, but after a few minutes of thought, he decided he couldn't get away. Hansen showed him
for kings full, and Brooks showed he had been the victim of a brutal runout as he had turned a boat with
.
Hansen's good luck would continue as he'd go on to win two more matches en route to a semifinal appearance, where he was stopped by eventual champion Jake Cody for a payout of $283,966.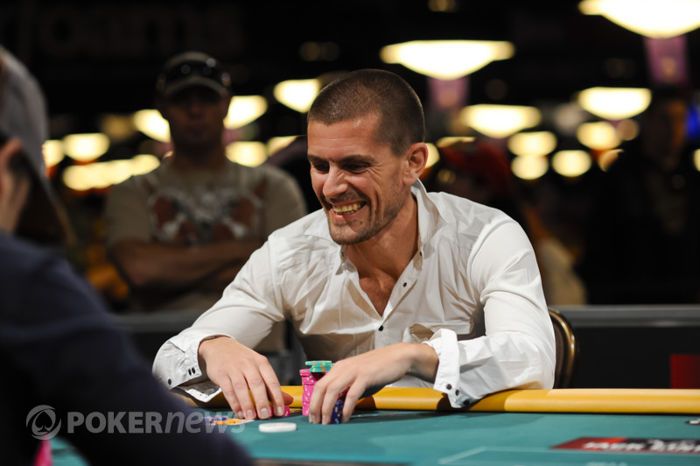 ---