Three Great Live Reported Hands: A Bubble, a Tat, and Negreanu's Read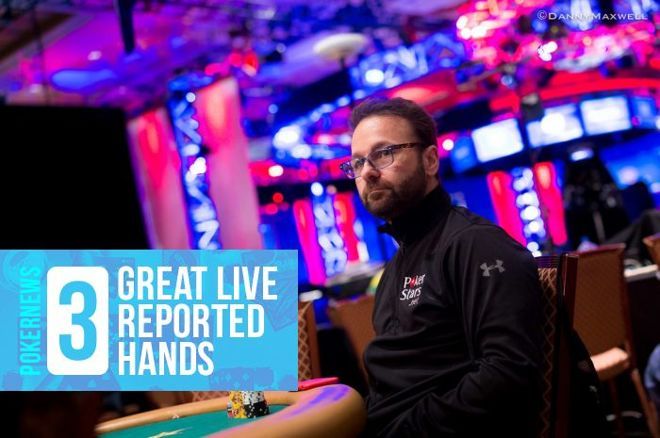 This is Volume 3 of an ongoing series in which PokerNews looks back on some of the most memorable hands recorded in the long history of live reporting on this site. To read more about the concept and which hands make the cut, check out Volume 1.
---
The bubble is a special, nerve-wracking time in a poker tournament. Short stacks hang on for dear life or throw caution into the wind as they try to avoid being the last person to walk away empty-handed. Big stacks rake in pots at will and occasionally engage in battles of will and fortitude against other big stacks who know what they're up to.
And there's no bubble quite like that of the World Series of Poker Main Event. The magnitude of it, with hundreds of players involved, combined with the fact that so many players dream only of min-cashing, means it's in a category of its own.
With 748 players left in the 2010 Main Event, the tournament was on the stone bubble at 2,500/5,000/500. Ismail Erkenov opened for 10,000 from the hijack and Tim McDonald, two seats over on the button, had only 67,500 total. He reraised to 30,000 and Erkenov called.
The flop came
, and Erkenov checked. McDonald shoved all in, and Erkenov was in there with a quick call.
"Nice hand," McDonald said, knowing he was in horrible shape with
.
Indeed, Erkenov had flopped the nuts with
. McDonald asked the dealer if two queens could be found, but only one arrived, the
on the river after the
turn left McDonald with zero equity.
Once it was confirmed that nobody else had gone bust, McDonald officially bubbled. At most tournaments, that's a very bad thing, but at the WSOP Main Event, the silver lining is the $10,000 seat into the following year's Main Event. Tournament director Jack Effel awarded McDonald his seat, and the Main Event rolled on into the money.
McDonald did not cash in the 2011 WSOP Main Event; the event eventually won by Pius Heinz.
---
| | |
| --- | --- |
| Original title: | Only in France |
| Date: | 10-16-2011 |
| Reporter: | Donnie Peters |
| Tournament | 2011 WSOP Europe Main Event |
| Players involved: | Andrew Hinrichsen, Daniel Walker, Lionel Cohen, Thierry Gogniat |
Everyone who has been around poker for more than a few minutes has seen their share of poker tattoos. Some think they're cringe-worthy, some think they're cool, but either way, there are plenty out there who feel a strong enough connection to the game to get something poker-related inked on their bodies.
But a tattoo coming into play during a poker hand? That's a rarity! But it did happen at the 2011 WSOP Europe Main Event, on Day 1b in an early level.
With blinds at 150/300, a hand began with an open to 750 by Andrew Hinrichsen, an Australian player coming off of a bracelet win earlier in the series. He found callers in Daniel Walker and both blinds: Thierry Gogniat and Lionel Cohen.
The flop came
, and Hinrichsen put in a continuation-bet of 1,500 after a couple of checks. Walker folded, and Gogniat made it 3,500 to go, chasing out Cohen. Hinrichsen went into the tank and began searching Gogniat for a read, and that's when the hand got weird.
Gogniat pulled open the top of his button-up shirt, revealing a tattoo on his chest with a poker hand:
. His favorite hand? Some hand of special significance that won him a memorable pot? He didn't say, but Hinrichsen chuckled and gave up the pot.
Did Gogniat's hand match his ink? Only he knows for sure, but he did reveal one card: the
.
---
| | |
| --- | --- |
| Original title: | Negreanu's Wizardry Continues |
| Date: | 07-07-2012 |
| Reporter: | Josh Cahlik |
| Tournament | $10,000 2-7 Single Draw |
| Players involved: | Daniel Negreanu, Bob Bright |
Some players are known for their aggression, some for their guts, some for their ability to play their best when it matters most. When it comes to Daniel Negreanu, he's always been best known for his amazing hand-reading skills. "Kid Poker" has shown an uncanny ability to call players' hole cards, but what he did at the 2012 WSOP $10,000 2-7 Single Draw was downright eerie.
The action in the hand was actually non-existent. Everyone simply folded to Bob Bright in the small blind, and he mucked right along to give Negreanu a walk in the big. Negreanu decided to try his shot at calling out Bright's cards, and he correctly figured there were plenty of big ones in there, giving him a start on his extremely educated guess.
"King," Negreanu first said, and indeed Bright flipped over a
.
"Queen," Negreanu continued, and Bright obliged with a
.
"Jack," was Negreanu's next guess and it proved right again as Bright showed a
.
"Nine."
Bright next turned over a
, leaving his final hole card on its face.
"Four," Negreanu finished, and amazingly enough, Bright did hold a
.
All onlookers and fellow players were suitably amazed, as Negreanu demonstrated either the ability to see through cards or tremendous guesswork. Presumably, it was the latter, as one who could do the former would have ended the tournament with a win instead of a min-cash in 13th.
---