Action Clock In a Cash Game? Live at the Bike is Trying it Out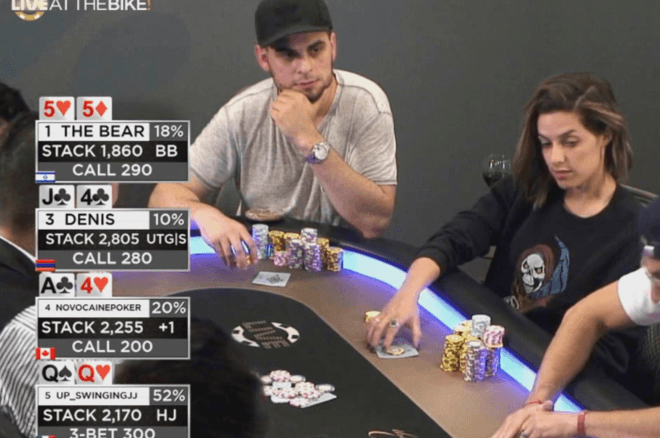 On Friday night, the Bicycle Casino will make poker history by becoming the first venue to debut an action clock in a live-streamed cash game. The Live at the Bike $100/$200 no-limit hold'em big blind ante game will feature a lineup that includes Garrett Adelstein, Nick Vertucci, Dan Zack and Gary Raina.
The poker world is anxious to see if an action clock, which gives players just 30 seconds to act and have become popular in tournament poker, can successfully be implemented in a cash game. As Joey Ingram said, "This might be a really big game changer for cash games if the action clock goes well."
He isn't the only poker personality to weigh in.
"Shot clocks in tournaments are fantastic, so I love the idea of trying them in cash games," said poker pro Phil Galfond. "I wonder if a clock would make an otherwise casual cash game feel too serious, but I think it's well worth exploring."
Feldman: "We'll adapt and update rules as needed to keep the best interest of the players in mind."
Johnnie Moreno, who is slated to commentate the game, is also looking forward to see how it goes. " I'm excited to see it. I think it will be great for the viewers. More hands equate to more potential action. I think the players will be fine. It may add a level of pressure to their decision-making process which could lead to some big mistakes. I'm hoping it becomes a mainstay on all televised productions."
Awad-winning poker vlogger Andrew Neeme chimed in by saying, "Absolutely love that they're trying it and really interested to see how well it works out in a cash game. I wouldn't mind it being even quicker, like 20 seconds. 30 seconds is much longer than the vast majority of decisions but it's a reasonable starting point. Somebody at one of my tables this week was relaying a story from a player who plays home games in South Korea and said they use a five-second decision clock. That sounds fun to me. I've played in a couple shot clock tournaments and have yet to use a single time bank chip."
For Kayla "Winopoker" Voogd, the action clock is great for entertainment purposes. "LATB is a show, it's edutainment. People don't want to watch tanking. They want to watch action. I think it'll be good for the show."
Pioneering the Cash Game Action Clock
The introduction of the action clock, which will be run by Protection Poker, is not something being forced on players. On the contrary, Live at The Bike producer and co-owner Ryan Feldman said players pushed for it.
"The players brought it up and I thought it would be pretty cool," he explained. "I went to our casino management to see if it was something that could be approved. The players really wanted it so I pushed it and got it done. Once it was approved, I went to Protection Poker and we made a contract and here we are."
He continued: "It will be a work in progress, we'll adapt and update rules as needed to keep the best interest of the players in mind. Right now, it will only be for Friday games. If it goes well, we will consider using it in other stream games. It is a different player base in this game as opposed to the smaller games and we want to make sure it is not something that will scare away players. It's something we are open to in the future. If it does go well, then down the road, it could be something that is used in the regular poker room as well."
Feldman believes the friendly environment on Live at the Bike should help avoid any issues. The goal is simply to encourage players to play faster. The plan is to give each player five one-minute chips to use during the first five hours of the stream. After that, they'll reload them with five more.
"We would love to be the industry pioneers for this in cash games, the trend setters essentially," Feldman concluded.
Executive Editor US, PokerNews Podcast co-host & 2013 WSOP Bracelet Winner.