Three Great Live Reported Hands: Books, Barks, and Bubbles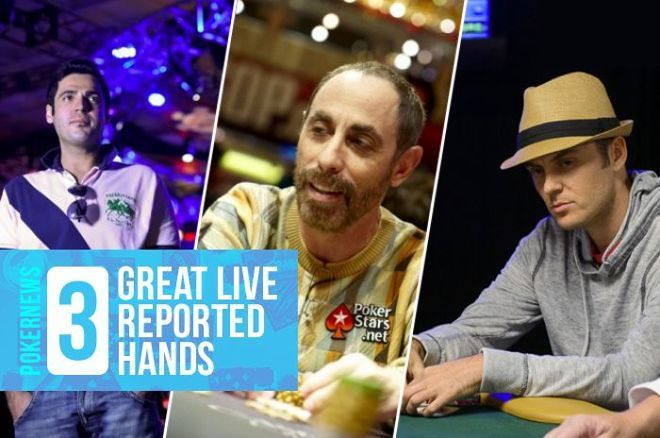 This is Volume 4 of an ongoing series in which PokerNews looks back on some of the most memorable hands recorded in the long history of live reporting on this site. To read more about the concept and which hands make the cut, check out Volume 1.
---
Last time in this space, we highlighted the bubble hand from the 2010 World Series of Poker Main Event. This week, we'll do one year later and look at the bubble from the 2011 Main Event. Just like in 2010, pocket queens would once again play a role.
Per WSOP policy, Kashani received a seat into the following year's Main Event.
There were 694 players remaining in the tournament at Level 16 (2,500/5,000/500). Joseph Cheong, coming off of a third-place finish in the Main Event the year before for $4.1 million, saw a flop with opponent Reza Kashani that came
.
Kashani decided to shove all of his chips in but Cheong was waiting for that very move since he held
for a set. Kashani had just
for top pair and a gutshot, needing to find a ten for a straight or running cards for some other form of improvement.
After an
arrived, the
river gave Cheong quads to end things in style and send hundreds of players into raucous celebration knowing they'd made the money.
It wasn't all bad for Kashani, though. Per WSOP policy, he received a seat into the following year's Main Event.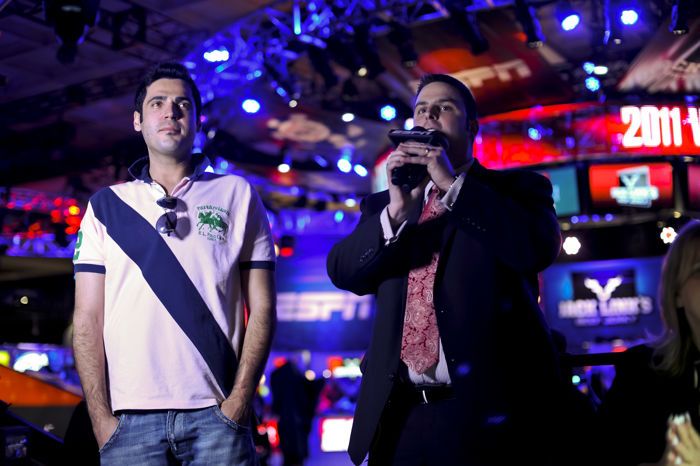 ---
Barry Greenstein is well-known throughout the poker world for his generosity, giving millions of dollars over the years to charities. He's also known for his generosity to his vanquishing opponents, giving them copies of his book "Ace on the River" after they send him to the rail.
In the 2010 WSOP Europe Main Event, just 23 players remained and they were all in the money at 3,000/6,000/500 — yes, such a level existed back then. Greenstein was among them but had one of the shortest stacks with around 120,000.
However, he did find a great spot to get those chips in when Daniel Steinberg opened for 15,000 under the gun and Greenstein picked up
in the big blind, making it 45,000. Holding
, Steinberg set him in and Greenstein quickly called with the blades.
Grim news arrived for the "Robin Hood of Poker" as
flopped to give Steinberg a big lead with a set. The
and
completed the board to send Greenstein packing just before players bagged up before the end of the night.
"Not after the way you played that hand."
When Greenstein whipped out his book to sign it and hand it over, Steinberg hit him with a special request.
"I hate to ask because of what just happened, but could you write something to my grandparents saying that their grandson is a very good poker player and he'll make a lot of money playing some day?" Steinberg asked.
The irony of Steinberg making such a request after putting a nasty beat on Greenstein wasn't lost on the rest of the players at the table, who got a good laugh out of it.
"Not after the way you played that hand," Greg Mueller joked.
Steinberg did make a lot of money, $407,915 to be exact, playing live poker. A career-best £156,530 (~$241,000) would come from an eventual sixth-place finish in this event.
---
Natural8 is fast becoming a major player in Asia and Europe, offering poker, casino and sports. It prides itself as the best poker room on the GGNetwork, as well as the best online poker in Asia, where poker is booming. New players can enjoy a free $8 bonus for depositing at least $10, a 100% deposit bonus up to $1,688, and $500 weekly first depositors freerolls.
---
| | |
| --- | --- |
| Original title: | Pot A-Borted |
| Date: | 07-10-2010 |
| Reporter: | Unknown |
| Tournament | WSOP 2010 $10,000 Main Event |
| Players involved: | Ted Bort, Prahlad Friedman |
Prahlad Friedman got involved in one of the most infamous disputes to ever occur at a poker table when he and Jeff Lisandro nearly came to blows over "antegate," wherein Friedman — falsely, as it turned out — accused Lisandro of failing to ante deep in the 2006 WSOP Main Event.
It's not the only time Friedman found himself at the center of controversy in poker's biggest event. In 2010, on Day 2b, Friedman got entangled in a pot with Ted Bort that saw the players build a pot of about 80,000 after Friedman called 10,000 on the flop and 25,000 on the turn.
The board read
on the end and Bort committed to a shove that would set Friedman in for the size of the pot.
"I'll take the call," Bort declared.
"You got all hands beat, huh?" Friedman responded. "You can beat all hands."
"He said call! Between two and one, he said call. Everybody heard it!"
"I got you beat."
"Maybe you just got a pair of jacks."
That's when Bort, nicknamed "The Bark," went into his signature routine and let out some dog-like bellows.
Friedman tanked for a few minutes until Bort called a clock. The tournament director put Friedman on the clock and counted down his final seconds before announcing the hand dead. Ostensibly, that was the end of the hand, except Bort claimed he heard Friedman verbalize a call. Video, available below, seemed to confirm it.
"He said call!" Bort exclaimed. "Between two and one, he said call. Everybody heard it!"
Bort, along with another player at the table, Mike Mustafa, demanded a higher ruling when the TD didn't enforce a call. A conference ensued but the ruling of a dead hand was confirmed. Left unhappy and with his demand to see the tape unsatisfied, Bort could only bark in frustration.
Both Ted Bort and Prahlad Friedman failed to cash in the 2010 WSOP Main Event.
---