Three Great Live Reported Hands: Pepper Spray at the WSOP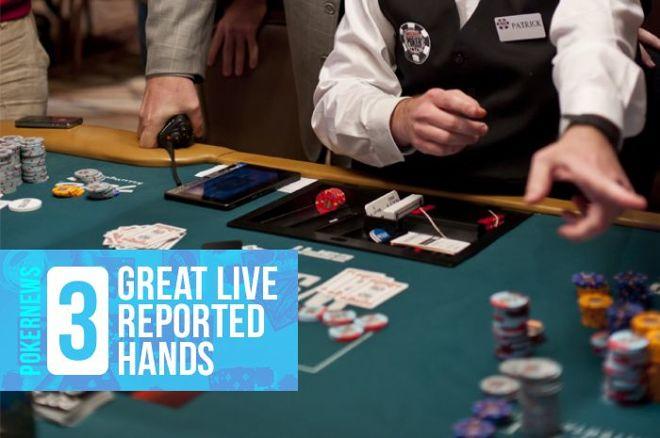 Poker has a storied, if hazy, history dating back decades and even centuries if one wants to explore tales from the Old West and other legendary times, as PokerNews' own Martin Harris has done with his "Poker & Pop Culture" series.
For those interested, Harris has even announced a book, planned for 2019. However, there's a different sort of history in poker as well, the history of hands played.
Working as a live reporter at a poker tournament like the World Series of Poker or the World Poker Tour is certainly a unique job that can have fun, light-hearted aspects to it. However, there is a slightly serious undercurrent to it in one sense: live reporting exists and endures as a documentation of a slice of poker history.
Right here on PokerNews, for example, readers can look back and comb through updates from tournaments as far back as the 2007 WSOP. It can be fun and nostalgic to dive into poker's past and relive moments big and small.
In that vein, PokerNews presents a new, recurring series: "Three Great Live Reported Hands." Thanks to a handy tool called Google Analytics, we can look at which hands in the PokerNews live reporting database have sparked the most engagement and traffic. Here, we'll present those hands back to our readers, recalling the most momentous and controversial hands that occurred with a PokerNews tournament reporter standing at the ready, furiously scribbling down details before the washing of the deck.
Although there are hundreds of hands from which to choose, there's only one natural starting point...No. 1.
---
The WSOP Main Event might be the only tournament in the world that gets more attention from fans and players than the $50,000 Poker Players Championship. Along with a heaping pile of first-place money, the winning player can truly stake a claim as one of the world's best, having beaten an elite field in a slow-structured tournament that features a variety of poker games.
So, when a massively controversial hand went down in the 2012 PPC, everyone was abuzz and it created the most talked-about hand PokerNews has ever recorded.
It created the most talked-about hand PokerNews has ever recorded.
What shaped up a six-way limped pot late on Day 2 in the pot-limit Omaha round got serious when big blind Nikolai Yakovenko popped it up to 12,400. All of the limpers began calling in turn before Shaun Deeb opted to shove all in on the button for 68,800. The small blind mucked and Yakovenko announced all in.
Two limpers mucked but Abe Mosseri had limped aces. He asked for a count of Yakovenko's whole stack, but Yakovenko pointed out he had more than a pot-sized raise. Still, Mosseri got a full count of 407,300.
He went into a tank that Peters estimated to be 10 to 15 minutes. A crowd gathered and buzz began building. Folks openly discussed the hand, to which Yakovenko and Deeb took exception. Mosseri even announced his aces, and finally Yakovenko called a clock.
Mosseri wasn't pleased and claimed it was the first time anyone had clocked him, but he eventually did say call.
Mosseri:

Deeb:

Yakovenko:
Mosseri's aces were on the ugly side with three to a suit, but he had decided he couldn't fold them. The aces had by far the best of it with nearly 50 percent equity, but a board of
meant Deeb took the main pot with a flush while Mosseri doubled through Yakovenko in the side pot. Big hand in a big event. Exciting stuff.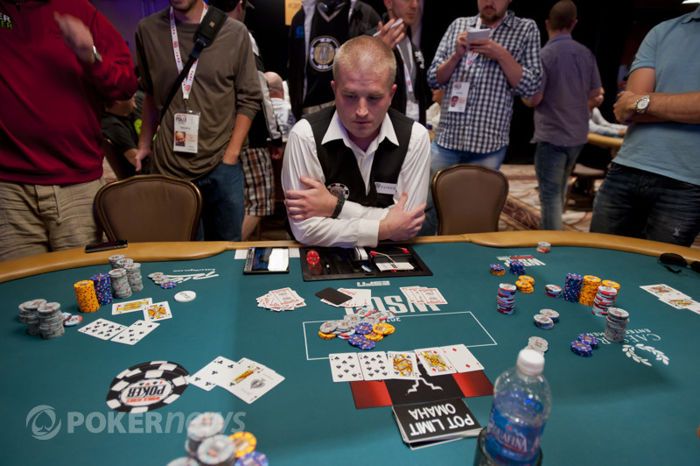 Except, that wasn't the end of it. Remember how Yakovenko announced all in? Well, going all in is only allowed in PLO if a player has less than the size of the pot. Not the case for Yakovenko, who started the hand a little over 400,000. Deeb had tripled up, there was no doubt about that, but Mosseri had only said call of what had legally been a pot-sized reraise. How much was the side pot?
Yakovenko contended he was only committed for a pot-sized bet beyond Deeb's raise. Yakovenko had reraised to 246,000, the players and staff determined. Mosseri still had 150,000 more behind that.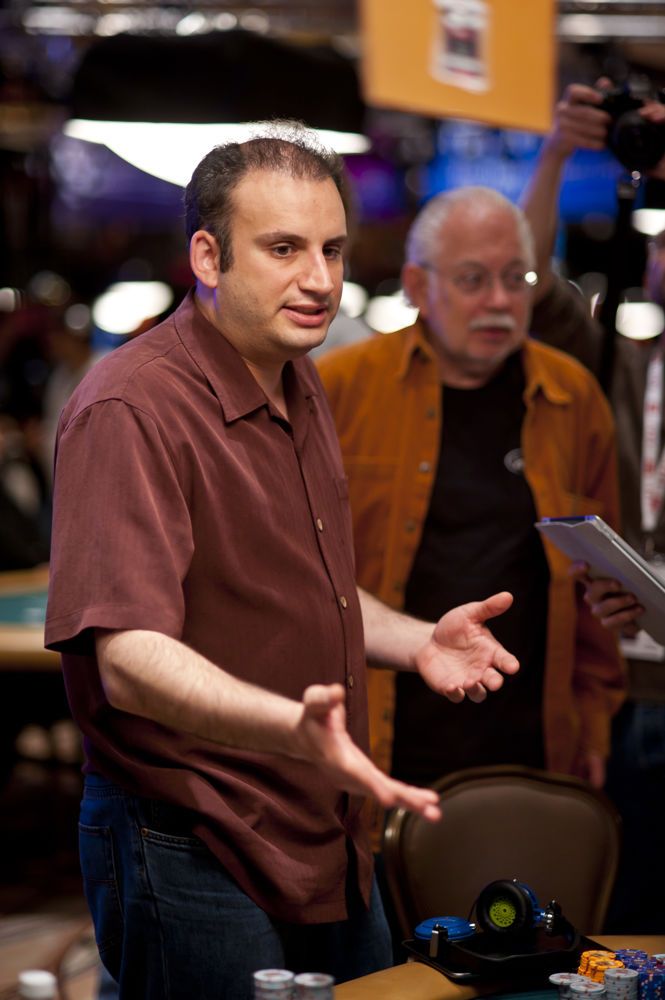 Initially, a supervisor ruled the turn and river needed to be redealt as action was still pending between Yakovenko and Mosseri. This caused an uproar with Deeb understandably distressed as his hand would be in danger of losing. He said he wasn't accepting the ruling and WSOP Tournament Director Jack Effel needed to be called in.
Effel did not show, but a higher-up supervisor came in. He ruled accepted action and everyone was all in, so Yakovenko had to double Mosseri up for over 300,000.
This didn't sit well with Yakovenko, who pointed out that he said initially he wasn't actually all in when Mosseri asked for a count. Further adding venom to the situation was a report that Yakovenko had slowrolled Mosseri earlier in the tournament, putting the two at odds from jump street.
The whole affair took about 45 minutes by Peters' estimation. By the time it was over, players were asking for time to be added to the clock as play was nearly done for the day, but tournament staff wound up nixing that and forcing everyone to bag, capping off the most well-trafficked hand in PokerNews history.
---
| | |
| --- | --- |
| Original title: | Pepper Spray Incident |
| Date: | 07-13-2012 |
| Reporter: | Josh Cahlik |
| Tournament | WSOP 2012 $10,000 Main Event |
| Players involved: | Lee Childs |
Whew, that was a long one. With that in mind, this one will be a bit briefer. In fact, it's not a hand at all but a situation that cropped up during that same 2012 WSOP, this time in the Main Event.
"A guy had what he thought was a pen and it sprayed pepper spray in the air."
The money bubble had just burst, and everyone was looking to exhale and get back to playing normal poker. However, it would be inhaling that would get a four-table section of Amazon Room in trouble.
Everything seemed calm enough, at least as calm as poker in the most pressure-packed tournament in the game can be, when a ruckus occurred with a group of players bursting from their seats and exploding into a fit of coughing.
Turned out, a player had found what he thought was a pen in the parking lot and began clicking it absent-mindedly. Only, it wasn't a pen, it was pepper spray.
"A guy at my table raked in a pot and then all of a sudden jumped up from the table and started coughing like crazy," Lee Childs told PokerNews' Cahlik. "Then I felt a tickle in my throat and started coughing. Turns out a guy had what he thought was a pen and it sprayed pepper spray in the air."
Fits of coughing continued sporadically in the aftermath as pepper spray wafted through the air.
---
| | |
| --- | --- |
| Original title: | PLOmaggedon |
| Date: | 06-26-2011 |
| Reporter: | Elissa Harwood |
| Tournament | WSOP 2011 $10,000 Pot-Limit Omaha Championship |
| Players involved: | Dario Alioto, Emil Patel, David Ewing, Aaron Schaff, Ivan Freitez |
Getting back to the PLO theme, this hand came from the 2011 $10,000 Pot-Limit Omaha Championship.
Devilfish: "There's a cash game later, guys. And you're all invited."
At 1,000/2,000, Italian PLO aficionado Dario Alioto made it 5,200 to go. High-stakes PLO crusher Emil Patel called, as did Aaron Schaff in the hijack. David Ewing tried jamming for 29,800 in the cutoff but was a bit over the allowable amount of 29,000. Ivan Freitez cold-called in the small blind, Alioto called, and Patel shoved all in for 140,000.
Schaff called off for 105,000, Ewing put in his last crumbs, and Freitez shipped in his 158,400. Alioto covered everyone and called for a five-way all-in pot. Here's how it shook out in order of stack sizes:
Ewing:

Schaff:

Patel:

Freitez:

Alioto:
Patel had the best of it but was still less than 30 percent to win in the crapshoot. The board came down
, so Schaff made a flush to sweep up the main pot and send Ewing packing. Freitez's set was second-best and good for a knockout of Patel and a victory in the last side pot against Alioto.
Finally, the reporting from Harwood ended on a humorous note as David "Devilfish" Ulliott wandered over from another table.
"There's a cash game later, guys," he said. "And you're all invited."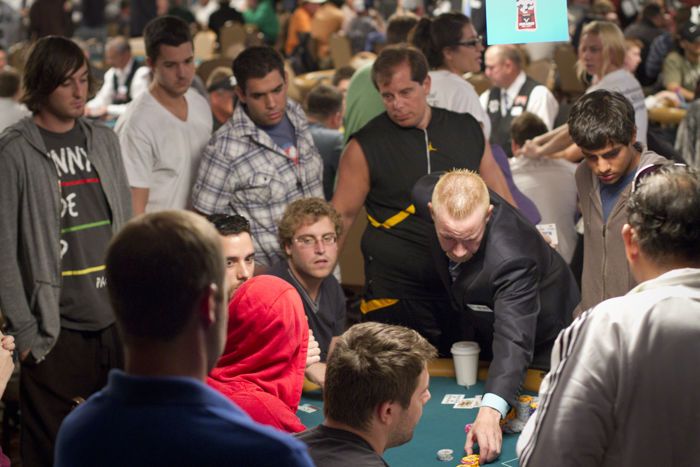 ---