Phil Hellmuth Remembers Mike "Wisco" Murray, Who Unexpectedly Passed Away at Age 37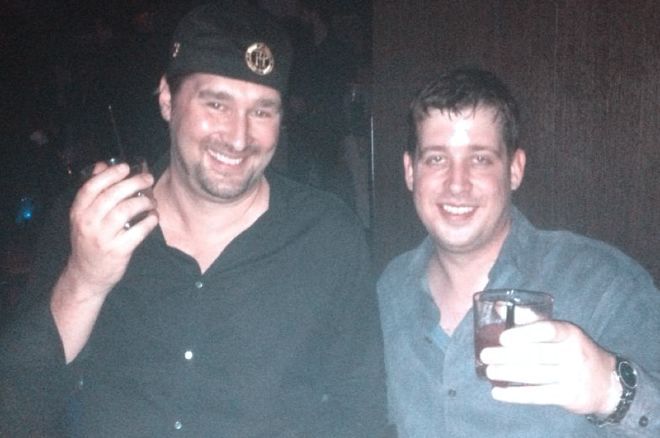 Table Of Contents
On Monday, the poker world received the sad news that Mike "Wisco" Murray passed away at the age of 37.
The loss of Wisco, born April 24, 1981, sent shockwaves through the poker community as players like Jared Hamby, Toni Nardi, Alex Outhred, and even Phil Hellmuth expressed their disbelief.
R.I.P. Mike "Wisco" Murray - a talented young man, and a gentle soul. We lost him way too soon...

— phil_hellmuth (@phil_hellmuth)
Wisco's Impact on the Poker World
In his obituary, Wisco's family remembered the man who had touched so many.
"He had a lovely and carefree childhood in Monona, excelling in music. He was lucky enough to have his dad coach his soccer throughout his childhood, which sparked his love for the sport. He graduated from Monona Grove High School in 1999, and soon after moved to Portland, Ore., to study at the Emil Fries Piano School and under the tutelage of renowned Chopin virtuoso, Joanna Hodges. Although classical piano was his true calling, his brilliance in all things math became evident when he began to 'study' poker."
According to PocketFives, Wisco won more than $1 million playing online under the screenname "WiscoMurray." That included a high score of $92,750 for winning the Full Tilt Poker $1K Monday on January 21, 2008.
In the live realm, Wisco amassed $135,444 in live tournament earnings including a career-best $64,616 for finishing second in a 2007 Venetian DeepStack Extravaganza II $1,000 NLH event.
Off the felt, Wisco also used his poker experience to assist in charity endeavors including Hellmuth's Hold'em for Hospice.
The Perils of Addiction
The obituary also offered an honest look at Wisco's struggle with addiction.
"He struggled with depression and addiction for 12 years. On Dec. 4, 2018, Michael began his recovery journey. He was three days shy of receiving his 90-day chip when he relapsed. We will never know why … In the true spirit of Michael Murray, his last acts were to take blankets and food to a homeless encampment. Then he called his mama to apologize for taking all the chicken and biscuits from the fridge and to tell her how much he loved her. An hour later he used heroin for the last time. Opiate and heroin addiction have become a scourge upon our nation. We'd hoped that demon would be slain before it took our son. We offer our prayers and hope to all those who still suffer."
Hellmuth Remembers His Friend
PokerNews reached out to Hellmuth, who shared some thoughts on his friend:
I had faith in Mike "Wisco" Murray. Wisco was a great nickname as he was Wisconsin through-and-through: nice, smart, loyal, and despite his early online poker successes, not too cocky. Wisco was a talented guy and a gentle soul, and I had so much faith in him that I hired him (for a couple of years) to help me with some of my business interests.

A few years ago, Wisco came to the Kentucky Derby with me. My event was on Thursday night, and was filled with celebrities. The whole weekend we were lucky enough to be rolling around in my friend's super stretch limo with a big rock star from REM. There was a lot of laughing, fun, and bonding.

Late Friday night – after the amazing black-tie Mint Julep Party wrapped – we went to a sawdust bar where we knew they had an amazing band. We led the charge! And a bunch of rock stars, television stars, and a CNN anchor happily followed us. Just imagine our group, in our black-tie tuxedos and beautiful dresses, at a rundown bar with peanuts on the floor. Of course, our rock stars went up on this small stage as well to sing and play guitar and bass. Somehow, Wisco was right in there in the middle of it all. In fact, by then Wisco was already escorting the lovely "Miss Kentucky" around, which he continued to do for the rest of the weekend.

And Wisco was the perfect foil for Mark "P0ker H0" Kroon. They needled each other mercilessly, both on-and-off the air (they hosted a national radio show together for a time), and both on-and-off the poker tables. But it was a relationship based on love, and respect; and if Wisco or P0ker H0 ever needed anything, then they were there for each other. Recently the two of them reconnected in a big way, and I know that no one, outside of family, is in more pain than P0ker H0. Farewell, and Rest in Peace Wisco.
Funeral Arrangements
Wisco is survived by his parents, John and Mary Murray (Bill Odegaard); his siblings, Ruth, Christopher, and Molly (Tyrel) Zich.
Funeral services will be held at Gunderson Fitchburg Funeral and Cremation Care, 2950 Chapel Valley Rd, Fitchburg, at 2 p.m. on Saturday, March 9, 2019. Visitation will be held at the funeral home from 10 a.m. until the time of the service on Saturday. Wisco will be laid to rest at Blue Mounds Cemetery at a later date. Online condolences may be made at www.gundersonfh.com.
Executive Editor US, PokerNews Podcast co-host & 2013 WSOP Bracelet Winner.