Phillip Pope Wins, Maurice Hawkins Third in WSOPC Tulsa Hard Rock Main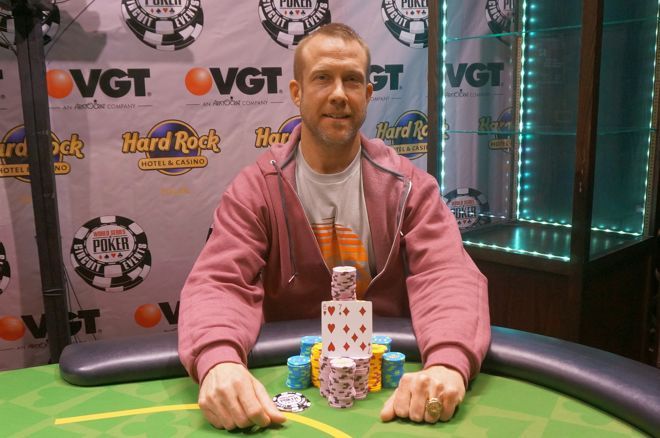 Table Of Contents
Maurice Hawkins put together a spirited bid to tie the World Series of Poker Circuit record with his 12th ring, but his attempt to win an amazing fifth Circuit main fell short when he finished third at WSOPC Tulsa Hard Rock.
Instead, it was Phillip Pope who got past Hawkins and then Kou Vang heads up to win $215,000 and a seat in the $1 million guaranteed Global Casino Championship. It's the first Circuit ring for the Texas amateur, who had about $80,000 in tournament cashes.
"I can't believe I'm here," he said to Circuit reporters after the win.
WSOPC Tulsa Main Event Final Table Official Results
| Place | Player | Hometown | Prize |
| --- | --- | --- | --- |
| 1 | Phillip Pope | Dallas, Texas | $215,000* |
| 2 | Kou Vang | Saint Paul, Minnesota | $132,930 |
| 3 | Maurice Hawkins | West Palm Beach, Florida | $97,110 |
| 4 | Trey Brabham | McComb, Mississippi | $71,990 |
| 5 | Barbara Sargent | Fort Worth, Texas | $54,140 |
| 6 | Viet Vo | Pearland, Texas | $41,300 |
| 7 | Jason White | Mannford, Oklahoma | $31,950 |
| 8 | Heatham Foty | Houston, Texas | $25,070 |
| 9 | Mark Newcombe | -- | $19,950 |
*Also won seat into $1 million Global Casino Championship
The event promised a $1 million guarantee, and unfortunately for organizers, it fell a decent bit short as the 533 entries left it just a little over $800,000 before factoring in rake. Some players who got in on the free dough with 55 paid included Michael Sanders, DJ Alexander, Chris Conrad, Kevin Eyster, Justin Gardenhire and former champ Will Berry.
Hawkins held a sizable chip lead going into the final table, with Pope on one of the shortest stacks and under 30 big blinds. However, Pope would get a boost when, according to the live updates, he picked up ace-king and picked off a reshove by Heatham Foty, holding king-ten.
That sent Foty packing in eighth and Kou Vang would bust Jason White in seventh to set up a six-player final day with Hawkins still leading.
Day 3 Action
Pope scored the first elimination on the last day to get himself rolling. He opened pocket eights and recent WSOPC Rio champ Viet Vo shoved on him with sevens and didn't improve.
Barbara Sargent managed several doubles but still fell in fifth to Trey Brabham.
Four-handed, Vang's strong run near the top of the counts took a big hit. First, he lost nines versus the tens of Brabham in a large preflop all-in spot. Then, Vang opened with sixes and flopped a set on
. Unfortunately for him, Pope would get lucky when they got stacks in, hitting a flush with
on the river to leave Vang on six big blinds.
Vang would run it back with some doubles and big hands, though, and Brabham would wind up going out fourth on a bad beat, getting pocket tens in preflop against Vang's eights. An eight appeared on the flop, busting a distraught Brabham.
Hawkins' downfall came next as he paid off Pope when the latter hit trip queens and Hawkins had flopped second pair of nines. Unable to get away from a river bet, Hawkins was left with crumbs and busted in third, leaving Vang with a chance to complete his comeback, albeit from a deficit of about 60 big blinds to 40.
It wasn't to be, though, as they got it in after a raising war on
. Vang shipped it with
but his draw wouldn't fill against the
as the turn was a
and the river a
to send the pot and the tournament to Pope.
Hawkins Wins Casino Champ
Despite his close call on winning the Main Event, Hawkins did manage to secure a seat in the $1 million Global Casino Championship anyway. That's because he had three other final table runs, all resulting in fifth place or better, to tally 122.5 points and narrowly best the 120 of $400 Single-Day ring winner Andre Allen.
Here's a look at the full results from the open ring events in Tulsa:
WSOPC Tulsa Hard Rock Ring Winners
| Event | Winner | Hometown | Prize |
| --- | --- | --- | --- |
| $400 Monster Stack | Josh Wilder | Oklahoma City, Oklahoma | $25,650 |
| $400 Big Blind Ante | Trung Pham | Temple, Texas | $13,901 |
| $400 NLHE | Michael Carter | Oklahoma City, Oklahoma | $86,250 |
| $400 Single-Day | Raghu Gudala | Richfield, Minnesota | $16,906 |
| $400 Double Stack | Dan Lowery | Peter Pender, Arkansas | $17,657 |
| $250 Big Blind Ante | Kristi Hamrick | Tulsa, Oklahoma | $14,906 |
| $400 Six-Max | John Reynolds | Tulsa, Oklahoma | $17,335 |
| $400 Double Stack | David Avina | Murrieta, California | $23,602 |
| $400 Pot-Limit Omaha | Michael Perrone | Chicago, Illinois | $12,937 |
| $250 Single-Day | Mark Barrientos | Wichita, Kansas | $11,348 |
| $400 Single-Day | Andre Allen | Grandview, Missouri | $17,070 |
| $3,250 High Roller | Mazen Abdallah | -- | $31,500 |