Jesse May Looks Back on Premier League Poker Season IV (Part One)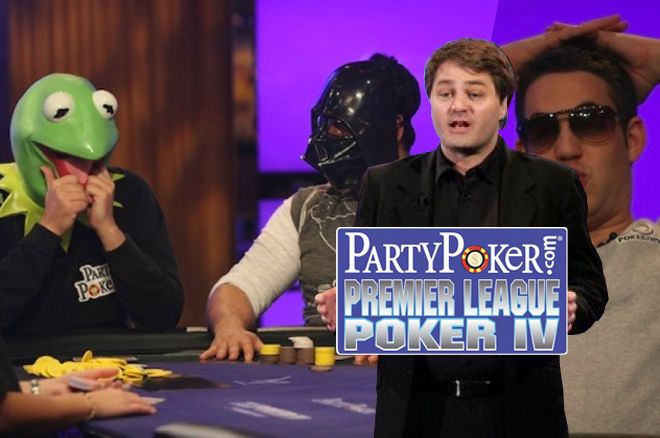 The fourth season of the partypoker-sponsored Premier League put the unique televised tournament format on the map, and captured the imagination of players and fans alike in 2010. For the series commentator, legendary host Jesse May, the devil really was in the detail.
"There were a lot of special things about that Premier League season," May told PokerNews. "The first three were all held in the U.K. It was supposed to be a combination of the best in poker and also the biggest TV stars in poker. We wanted the best poker and the best TV."
Premier League Season IV Steps Up the Game
The first three seasons had become dominated by Phil Hellmuth's running battle with the late Dave "Devilfish" Ulliott, although Tony G stole the scene each time he was on screen. But for the fourth season, partypoker wanted to step it up. They moved it to the U.S., the M Hotel in Las Vegas, for what would be the only time in the league's six editions between 2007 and 2013.
They maintained the premise of a league format that demanded players pay attention to the points system to give themselves the best chance of winning. According to May, the vision for the league really came to fruition in season IV, a season that was even live reported by PokerNews.
"Game theory was an aspect of the Premier League which was something we'd been trying to build into the series from the start," says May. "The last couple of hands in the last heat before the final was the first time in the Premier League where the points were so complicated and the money up top was so huge that it really became all about the game theory.
"It was quite a production at the M Hotel," May recalled. "We wanted to get Hellmuth and Negreanu and some other big stars. The buy-in jumped in a big way and there was money paid back in each heat."
There was a method to money being paid out before the final, something that wasn't commonly done in other league formats.
"The theory was that even if you did poorly, you were going to get at least some money back. As it turned out, a couple of people, including Phil Hellmuth, were absolutely crushed."
Colorful Cast of Characters
It was a stellar field. The returning champion was the colorful character J.C. Tran, with Ukrainian Yevgeniy Timoshenko also in the line-up.
"Timoshenko was very well respected at the time, I was a huge fan of Yevgeniy's. But for me, that entire series was about Luke Schwartz. That was his coming out party."
Schwartz, storming around the set in a bicep-hugging t-shirt, crushing dreams with one curl of his lip, was a British Brando at the felt in those days. May thought he was fantastic, and not just for ratings.
"Even though 'Full Flush' has made a name for himself, he's seriously underachieved in terms of what his potential was and I'm sure he'd admit that himself. In one of the early heats, he made a four-bet shove with 6-4 off-suit and it felt legendary at the time."
Schwartz earned respect from each table he was on, from almost every player. He struck up a rivalry with David Benyamine that lasted throughout the series, but others like Daniel 'Kid Poker' Negreanu held him in high esteem.
"Negreanu and he had a great relationship; Daniel had a lot of respect for him. Schwartz also got on well with Roland [De Wolfe], and Phil Laak loved him."
May often shared the mic that season with Ike Haxton, who is known more for his own high-stakes prowess than commentary work but provided plenty of insights on the action.
"Listening back to my commentary with me and Ike, he probably should have been playing in the Premier League! But he wasn't, he was doing commentary. You could hear us trying to figure out the permutations and how that should affect the strategy."
Game Theory of the League Format
The game theory side of the league format meant that some players found themselves in unfamiliar territory, having only played poker as a straight-bat game before that. May and Haxton began to split the players who had figured it out, those who "got it" and those who didn't.
"Scott Seiver, who joined in Season Five, was just one of those guys who understood the whole game theory - as far as how your ranges change depending on how many points you needed - more than anyone."
Seiver wasn't alone in showing aptitude to the game theory side of accumulating points rather than chips throughout the series.
"Roland de Wolfe was the same way. Negreanu was always a studier, he would have spent eight hours the night before doing stuff. Then you had people like Hellmuth. He just did not get it."
If De Wolfe and Negreanu adapted to the game theory, The Poker Brat was the polar opposite. He wasn't the only one.
"Jungleman [Daniel Cates], who I love, and who became a huge guy for us in later seasons: I remember he was once in a spot three-handed where he had to fold 100% of hands to one player and he had to call 100% of hands to another player. He picked up ace-king and snap-called the player who he was supposed to fold 100% of hands to."
There was no standing on ceremony for those around the table who saw his mistake.
"He was young and it was his first time around, but that was the kind of stuff we wanted to get into the Premier League. Premier League Season Four was the first time we managed to do that."
It wasn't only the players who were forced to try to work out the nuances of the new poker format.
"I was so out of my depth. We were sitting there looking at charts. It was clear who were really quick thinkers, and those who although they were great at poker, weren't quite ready to adapt."
Season Four had gotten off to a terrific start, with the heats providing huge drama and excitement for viewers. But who would come out on top in what became a very personal battle between two polar opposites at the felt? Find out in Part Two of Jesse May's look back at Premier League Poker Season Four.