The Muck: Social Media Star Catherine "catrific" Valdes Kicked Out of WSOP Circuit Event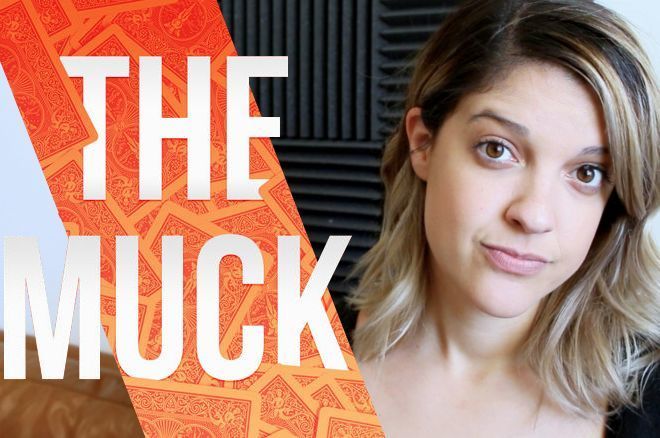 Some poker drama unfolded over the weekend at the World Series of Poker Circuit Bally's in Las Vegas. It was there that social media starlet Catherine Valdes, AKA "catrific" – she has more than 245K Instagram followers, 199K Twitter followers, and 666K YouTube subscribers – decided to play a $400 no-limit hold'em event and accidentally found herself competing in the $1,700 Main Event.
Rumors circulated that someone had been kicked out of the tournament, and Valdes confirmed it was her in a since-removed video titled Why I Was Kicked Out of WSOP she posted to YouTube. In it, she explains that she is relatively inexperienced when it comes to tournament poker and that when she took her registration slip for a $400 buy-in event to the table she was handed 30,000 in chips.
Something's Amiss
"I was confused because I remember reading earlier that I was supposed to start with 15,000 … I thought maybe there was a typo, maybe I read something wrong," she explained, even saying she asked if it was correct before sitting down. She admits something didn't seem right but she took her assigned seat nonetheless.
An hour or so after being seated, Valdes realized she was for sure in the wrong tournament. By that point, she had a lot of chips, had busted a player, and claimed to be ignorant of what to do.
"In my head, I'm thinking, 'Well, I guess I could go tell somebody but if I tell somebody it's going to cause all this chaos,'" she explained.
She added: "I don't really think they can do anything about it; It'll mess up the integrity of the tournament."
"I thought maybe there was a typo, maybe I read something wrong."
Another hour passed before a floor Valdes referred to as "Michael" came over to speak with her. Officials had realized their error and took issue when Valdes admitted she knew she was in the wrong tournament. As she tells it, she was scolded in an unprofessional manner that truly upset her.
Her chips were taken out of play and she was offered the chance to play the $400 tournament she had originally registered for, which by that time was deep in its structure. Eventually, she was able to speak to some other higher-ups, who treated her more kindly.
Valdes admitted that, in retrospect, she could've handled things differently, but she also took issue with how she was treated by the original WSOP official. She pointed out that while it won't turn her away from the game, if she was a newbie, it'd have discouraged her from ever playing again.
The Poker World Has Mixed Reactions
Not surprisingly, catrific's social media fans with little poker knowledge sympathized with her plight. However, experienced poker players didn't seem to be as forgiving.
"There is definitely some blame on the staff for the initial error, majority of the blame for sure falls on you after you realized the error though," Fergal Brophy (@fergrberger) wrote on Twitter. "You ran an angle that would benefit you and harm other players. Regardless of your rationale for this, it was the wrong thing to do."
Bill Perkins: "The instant you realize you are in the wrong tournament you stop, get up & notify staff."
WSOP bracelet winner Ryan Laplante also chimed in on Twitter: "Moment you realize you are in wrong tourney it's on you to notify some1 and to have it fixed. Staying in after that fact is taking equity from any1 you win pots from, as you weren't supposed to be in the tourney. How would you feel busting to some1 who paid 40$ to play a $400? Being new to industry can excuse it to small degree, but should be clear by now how bad it is to stay in after you found out you weren't supposed to be in."
Brandon "oncommand" Meyers offered his two cents: "Once you realized you were in the wrong tournament you should immediately tell staff. Don't act like a victim. You knowingly continued to play in a tournament you didn't pay for."
Ralph Massey certainly didn't hold anything back:
It's one thing to attempt freerolling the main for $400 which is scummy enough but to then play the victim? She got… https://t.co/qPdAPL2QjX

— ralph massey (@TheSilverStash)
Bill Perkins, who earlier this year selected Valdes as one of 10 hosts for his popular Thirst Lounge, was also critical: "The instant you realize you are in the wrong Tournament you stop, get up & notify staff. That's clear. Why you didn't or more specifically, did your chip stack influence your behavior will never be known. How nice/mean director was/wasn't is irrelevant drama."
Other poker pros believe Valdes was in the wrong, but exhibited a little more empathy in their responses.
"Definitely (as you've realised) have to speak up ASAP, but this seems like a classic case of loud people not understanding how anxious people think," tweeted Charlie Carrel. "You're a great storyteller, by the way."
David "ODB" Baker, fresh off a seven-figure World Poker Tour win, weighed in via a Twitter conversation with Valdes and Perkins.
@bp22 @catrific @WSOP Compassion is an effective teaching tool as well. I'd suggest she makes another video tomorro… https://t.co/I2ofjxBuoz

— David Baker (@audavidb)
Finally, Chris Kruk had this to say: "I'm sympathetic to your position and could totally have made the same mistake when I was new. As you noted, once you recognize you're in the wrong tourney it's on you to notify someone. They obviously have to kick you out regardless of whether or not you knew."
WSOP Responds
PokerNews reached out to Seth Palansky, WSOP's Vice President of Corporate Communications, and while he declined to comment on this particular case, he did point out that anyone trying to capitalize on similar errors would be engaging in a fruitless endeavor.
"There are a lot of teachable moments in an occurrence such as this," he said. "It certainly appears there are breakdowns in procedures that need to be addressed and rectified on operations end. Players should know one important fact though that holds true regardless of unique circumstances of any particular situation. It is impossible to cash in an event you didn't register for. The computer system won't allow it. Despite what a player thinks is the right way to handle a particular situation, rules are absolutely clear you can't take home prize money in an event you were never registered for, regardless of where the negligence occurred. So, it is always the best decision to alert staff immediately once it is known you are playing in the wrong event."
Not the First Time Something Like This Has Happened
Prior to this incident, the most high-profile case of a player being seated in the wrong tournament occurred back in 2015 when a player registered for a $125 ARIA nightly and was mistakenly put into a $25,000 High Roller. He played for hours and even busted players like Tom Marchese, Jason Mercier and Jake Schindler.
It's not known if that player knew he was in the wrong tournament, but what is known are the consequences. The error was eventually caught after discovering a prize pool discrepancy and his chips were taken out of play. Not only that, the player was barred from all MGM properties.
Charlie Carrel: "...This seems like a classic case of loud people not understanding how anxious people think."
It was a controversial ruling with many forum members suggesting the Aria should have either canceled the tournament, issued refunds, or ate the difference.
"I didn't see it firsthand, but other players told me basically security came and said they would like a word," eventual winner Max Silver told PokerNews at the time. "Apparently he seemed to already know what was up. He seemed like he was ready to go. They then removed his chips from the table and he was gone."
He added: "I don't necessarily know his intention in the first place, but he had to of known once he sat down. There was no way he couldn't have worked it out, but I guess when you're playing a $125 buy-in, which is pretty small, and you're suddenly given a chance to a huge freeroll, there's a pretty big upside to staying on, so I understand why he did it."
Image from @catrific Twitter.
Executive Editor US, PokerNews Podcast co-host & 2013 WSOP Bracelet Winner.