DraftKings Team to Storm WSOP Casino Employee Event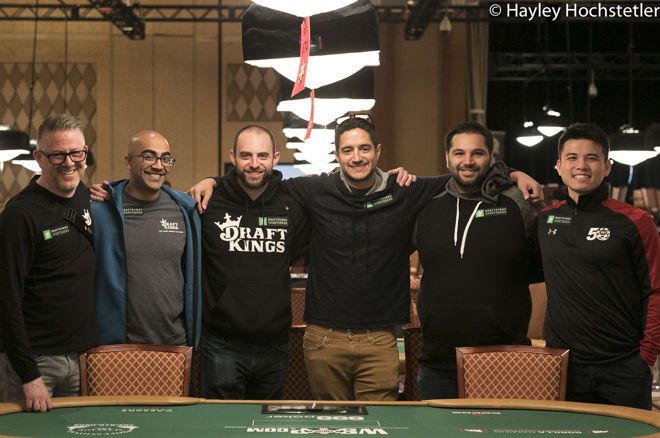 The 50th Annual World Series of Poker (WSOP) kicks off today with the $500 buy-in Event #1: Casino Employees Event. The tournament is open to those who either work in casinos or in the gaming industry and thanks to their sportsbook in New Jersey, DraftKings personnel are permitted to play.
They'll be well represented in their first year of eligibility as a team of six players that traveled from the East Coast to compete for the summer's first bracelet. PokerNews caught up with each DraftKings employee – one of which is already a WSOP bracelet winner – talk about the opening event of the 2019 WSOP.
Jonathan Aguiar
Age: 35
Position: Senior Advisor for High Stakes Gaming
Jonathan Aguiar is no stranger to poker, though it's been a while since he's been at the felt. By his own count, the Casino Employee Event will be just his third tournament in the last three years. That's because he's been focused on his career with DraftKings, which he pursued full time after giving up poker back in 2013.
"I'm focusing on making DraftKings Casino and Sportsbook the best place to play for those looking for the most action," said Aguiar. "I used to play a little poker back in the day but these days I'm more likely to be golfing."
"I used to play a little poker back in the day but these days I'm more likely to be golfing."
It wasn't always that way for Aguiar, who has more than $1.6 million in lifetime earnings. That includes a career-best $336,661 for winning the 2012 WSOP Europe Event #5: €10,000 Mixed Max for his first and thus far only gold bracelet. Not too shabby for a guy who learned the game from a pair of nicknamed Canadians.
"Back in 2002, as a freshman in college, I lived across the hall from a pair of 22-year-old Canadian junior hockey age-outs that went by 'Luck' and 'Carpy,'" Aguiar explained. "They were able to buy beer and hosted games in their room. One day Carpy showed me the old pokerroom.com flash poker site where you could get a free $5 to sign up and that was that."
While Aguiar is the odds-on favorite to do the best among the DraftKings team, he did offer a guess as to who he thinks will go the deepest.
"Probably Sumanth because he's a giant nit and going to make Day 2 with three big blinds."
---
Asad Abdullah
Age: 25
Position: Software Engineer
Having worked at DraftKings for a little under a year and a half, the Casino Employees event will be Asad Abdullah's first-ever WSOP tournament.
"I'm pretty excited to play in the Casino Employee event," said Abdullah, who graduated from California State University Northridge with a bachelors in Computer Science. "I do frequently play $1-$2 NLHE and occasionally $2-$5 NLHE, mostly at Chaser's Poker Room in New Hampshire and Twin River Casino in Rhode Island. I will also venture a little further out and play at Foxwoods on occasion. I also plan on spending a good amount of time at the Encore in Boston once it opens up."
According to Abdullah, who enjoys both board and video games, he first learned poker with some childhood friends.
"We didn't really play for money, just tried to see who could build up the biggest stack," he explained. "I started actually learning and understanding poker strategy about a year ago … I read a bunch of books, joined some training sites and really started to understand poker from a strategic point of view, all while discussing what I'd learned with [the DraftKings team]."
So aside from himself, which DraftKings team member does he expect to last the longest?
"This is a tough question. I think I'd have to go with Steve Rose," he said. "He is a very solid player and has the patience and discipline to make a deep run in this event."
---
Teng Zheng
Age: 24
Position: Business Data Analyst
Born in China, Teng Zheng came to the United States when he was just four years old. He grew up in Philadelphia – he's a huge Sixers fan – and would go on to attend Harvard University.
"I was first exposed to poker at a college retreat trip," said Zheng, who enjoys watching/playing basketball and going out in New York City. "I remember having top pair, getting it all in on the flop versus aces and sucking out. Shortly after that I read some online resources/books and started grinding a bit online at micro-stakes."
"Asad has been running hot online lately so hopefully his luck continues!"
He continued: "I started playing a lot of home games my senior year of college, and my first casino experience was two years ago at Mohegan Sun. I remember being super nervous but ended up positive that night. I'm primarily a $1/$2 and $2/$5 cash game player and haven't played a WSOP event before so I'm really excited."
As for who among the six-strong team he thinks would win a last longer, two players jump to mind.
"I think Steve Rose will last the longest because he plays very disciplined and usually doesn't get out of line. That being said, Asad has been running hot online lately so hopefully his luck continues!"
---
Stephen Rose
Age: 30
Position: Senior Product Analyst
One year ago, Stephen Rose joined DraftKings as a senior product analyst who focuses on their casino product inside their sportsbook app.
"I mostly spend my time analyzing the effects that product changes have on our casino performance, and making predictions about the impacts that future product changes will have," he explained.
Rose grew up and went to high school in Worcester, Massachusetts and attended Worcester Polytechnic Institute (WPI) where he completed a B.S. in Aerospace Engineering, as well as an M.S. in Mechanical Engineering.
A competitive swimmer for 14 years, Rose is an avid water skier and enjoys wakeboarding.
"My main hobby right now is Underwater Hockey, which I play twice a week and will be attending the National Championships in Orlando in June," he said. "I'm also a scuba PADI Divemaster which is a professional rating, but sadly I haven't been diving in over a year."
So, where does poker fit in? It all started with his card-loving family and then during his college years from 2006-10, he played low stakes online as well as some cheap dealer's choice games with college friends. He'd soon find himself playing in the Eastern Poker Tour league, at Mohegan Sun and Foxwoods in Connecticut, and now will be competing in his first-ever WSOP event.
"I have never really been a tournament player," he admitted. "I have been out for the WSOP before, but I mainly spent my time at the cash games with a few small side tournaments sprinkled in."
While he once played poker for a living, he now finds working for DraftKings has actually had a positive impact on his game.
"Honestly my game has probably gotten a little better since I left it as a pro, now that the emotional weight of needing to win to make a living has been lifted," he said. "I will probably play a lot more once the Encore Boston Harbor opens up in June."
While he hopes he'll be the last player standing among the DraftKings team, he's not underestimating his coworkers.
"Of the six of us playing, I'd have to put my money on Asad. He probably has the least lifetime poker experience out of all of us but at this point, he is by far the most passionate about learning the game. He is plowing through all of the learning material he can get his hands on and is very responsible with his bankroll. I don't see him blowing his stack early and think he has the best shot at winning a last-longer bet."
---
Steve McLoughlin
Age: 49
Position: Director of Community Team
Steve McLoughlin is no stranger to the WSOP and poker community; in fact, he's been a part of the world since 2001. At 49 years old, he's the oldest of the DraftKings crew and as he pointed out just a year away from eligibility for another WSOP tournament.
"Next year I qualify for the dreaded Seniors Event," he said. "Seniors events should be 60+, I'm still too young."
"Next year I qualify for the dreaded Seniors Event. Seniors events should be 60+, I'm still too young."
McLoughlin, who enjoys cooking and dining experiences, joined DraftKings a little over a year ago as Director of Community Team, which means he and his team lobby on behalf of player needs to enact positive change that benefit all players.
"Poker was the first peer-to-peer game that ever caught my attention, and the game that still captures a significant amount of my attention since 2001," said McLoughlin, who was a featured player on Poker Night in America during its first three seasons. "I read everything that was available and discovered the early version of 2+2 where I encountered posts from many of the future greats who were up and coming. In these early days I encountered many peers such as Greg Raymer, Ed Miller, Tom Dwan, Andrew Robel, Shaun Deeb, and my co-worker at DraftKings Jon Aguiar. They all got their start on the 2+2 forum."
Additionally, McLoughlin has worked in the poker industry after a career in music.
"Within the online gaming industry, I have held numerous roles including time in management at the Two Plus Two Forums and PokerTracker," he said. "I started my career in the music business as a recording engineer, working on what seems like a third of all hip-hop records that were recorded in NYC in the early 90s."
As for which team member he likes to go deep, McLoughlin is going with the software engineer.
"Asad is the player that impresses me the most. He is brand new to poker yet has learned so quickly."
---
Sumanth Reddy
Age: 32
Position: Data Science Engineer
Rounding out the DraftKings team is Sumanth Reddy, who graduated from Washington University in St. Louis with a degree in Economics.
"My very supportive family includes a younger sister and two parents who have long been horrified by my interest in poker," he said. "Rightly so of course, because it's a dumb luck game and I have no skill."
He continued: "It's debatable that I've ever truly learned to play poker. My first time looking at cards and throwing chips into a pot was in high school. It was at this time that I believed you should play any hand with a face card, and that it was truly possible to read a person's soul. Additionally, in your heart, some select people could know the perfect, winning decision, in every single hand."
Reddy has played the WSOP before where he says his claim to fame is successfully bluffing Phil Ivey.
"No one approved of how I played the hand in any way, but that's not important," he offered.
Like many others, Reddy thinks Asad is the DraftKings man to beat.
"He is easily one of the luckiest people I've ever met, shipping bad beat jackpots and winning on days that I don't. He hasn't been playing poker very long, so he will clearly be underestimated by his competition. This perfect storm of factors is why I believe he is the overwhelming favorite to win the entire tournament."
Executive Editor US, PokerNews Podcast co-host & 2013 WSOP Bracelet Winner.