Last to First: Wei Huang Playing with his Poker Idols in EPT Monte Carlo Main Event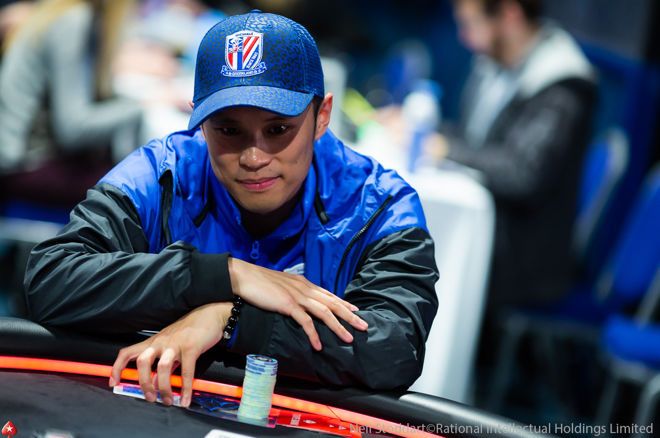 Table Of Contents
Dead last of 30 players coming into Day 4 of the EPT Monte Carlo €5,300 Main Event to chip leading within three levels — it's been a very lucky day for amateur poker player Wei Huang.
The 34-year-old amateur poker player from Shanghai, China is enjoying his very first trip to Europe, and picked a great time to run good.
"I'm a big fan of most of these players."
While he stays busy with his job as a finance controller for PepsiCo, Huang loves poker and plays for fun when he can. Sitting with the big-time pros late in the Main Event in Monaco, Huang is a little starstruck, but not letting it interfere with his game. In the late levels of the day, he's been seated with the likes of Ryan Riess, Sam Greenwood and Manig Loeser at the featured live-streamed table.
"It's amazing because when I look at them, they're like my idols. I'm a big fan of most of these players."
Last to First
Huang went from 130,000 chips to 5 million in around four hours of play, an amazing comeback from just 6.5 big blinds to start the day. He doubled up his first hand of the day shoving from the small blind with king-queen and making two pair against five-seven suited. Still short-stacked a bit later, he got it in again with ace-king and held versus the ace-jack of Melika Razavi to double again.
Next, he shoved over 20 big blinds with ace-king suited and flipped good against James Romero who had called with pocket nines — and suddenly the start-of-day short stack finally had some breathing room. His rise to chip leader from there came mostly at the expense of Razavi, who came into the day near the top of the counts.
"She was so unlucky," Huang said of their clashes.
In the first of two big hands they played, Huang raised with pocket queens in late position and Razavi defended the big blind. She then check-raised on a flop of
and Huang just called with top set.
"[Melika Razavi] was so unlucky."
On the
turn, she led out and Huang moved all in. Razavi tanked, using up all of her time banks before eventually letting the hand go. She told Huang she had a set of fives.
"It's a very nice fold with a set," Huang said of the hand.
About an hour later, Huang got the rest of Razavi's chips whenthey both flopped a flush in a five-way pot. Razavi led out with
and Huang just called with
on
and when she led again on the
turn, Huang moved all in. With no time banks left, Razavi had to make a fast decision, and she called off the rest to see she had just two outs.
Graduating from 'Honest Poker'
The finance controller for PepsiCo plays occasional home games with friends and also fires small local tournaments when he can. He also teaches amateurs the basics of the game in his hometown of Shanghai. You'll see him sporting the gear of his hometown futbol team of Shanghai Greenland Shenhua F.C. to support the team that he's followed for 25 years since he was a little kid watching with his Grandpa.
He got into poker about seven years ago with some colleagues who were interested in the game, and they learned together with whatever materials they could find on the internet.
"We played very honest," he recalled of those early home games. "If you bet, you had a hand. If you didn't have a hand, you would fold."
"If you bet, you had a hand. If you didn't have a hand, you would fold."
Two years ago, his game began to move to new levels when he met Mike Fu, who became his poker coach. His "teacher's teacher" is Yueqi "Rich" Zhu, one of the most successful live pros from China who also finished tenth in the WSOP Main Event last year, so Huang is in a strong line of mentorship.
If Huang can channel his line of mentors, or maybe his favorite player Erik Seidel, he could possibly make history by becoming the first player from China to win an EPT Main Event. He's in position to do so, currently co-leading the unofficial final table of nine from a field of 922 entries, guaranteed €60,000 with €827,700 up top.
Keep following PokerNews as the live reporting team continues bringing all the action from the EPT Monte Carlo Main Event until a champion is crowned on Saturday.