WSOP Bracelet Winner Rulah Divine Releases "Eye of the Grinder" Single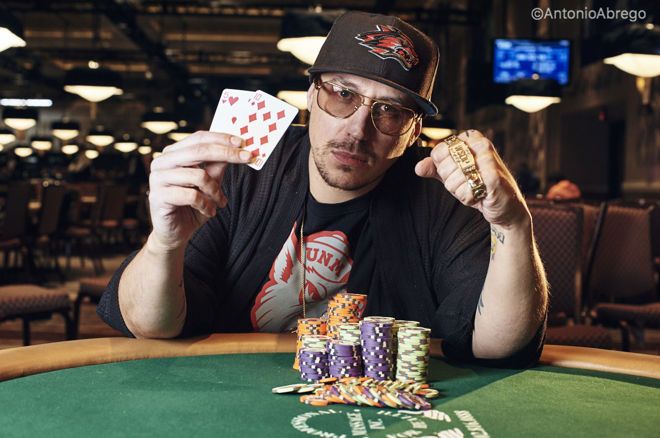 Table Of Contents
It's been a whirlwind couple of years for Rulah Divine. Two summers ago, he parlayed a $60 WSOP.com online qualifier seat into a $262,501 payday after topping a 1,750-player field to win the 2017 WSOP Event #63: $1,000 NLH.
Now, the gold bracelet winner and aspiring hip-hop artist is gearing up for this summer's WSOP by releasing a new poker-themed single – Eye of the Grinder.
A Passion for Poker
Born and raised in Albuquerque, New Mexico, Divine now lives in Las Vegas with his wife of 18 years, Brooklyn Greyhouse. Together they have boy/girl twins, Victorious and I'jaz.
"By 17, I was into hold'em and dreaming of a WSOP gold bracelet."
"I am an entrepreneur and poker player and also help with my wife's Adult Lifestyle company Greyhouse," Divine told PokerNews. "We host amazing adult-themed parties here in town. My newest project is my brand Raise Alwayz where I am going into poker life coaching, management, and diversity awareness in poker."
Poker has been a passion for Divine since he first learned to play at the tender age of six. That is when he'd sit at his grandfather's bar and play video poker.
"I would go home and simulate video poker with real cards, so my love for the game is deep-rooted," he explained. "I started playing for money at 12 in home games that would consist of mostly stud-based games and we played with quarters, nickels and dimes. By 17, I was into hold'em and dreaming of a WSOP gold bracelet."
Divine eventually found his way to online poker and would grind $10 sit-n-goes and small buy-in MTTs 70+ hours a week. In 2009, he relocated to Las Vegas and has not only been grinding on the felt but exploring his music aspirations as well.
A Love for Music
Divine has two big passions in life – poker and hip hop.
The latter has taken a backseat for the past five years so he could raise his children and focus on poker, but now that the kids are a bit older and he has a gold bracelet around his wrist, the timing was right to pick it up again.
"My wife and I were heavily involved in music in our 20s," Divine said. "We actually put out an album under our name Revolutionary Alien. I am a hip-hop fanatic and practiced being an Emcee just about as much I did poker. I lived my whole life grinding toward a break in whichever one came first."
"I lived my whole life grinding toward a break in whichever one came first."
With the help of his wife, who served as producer, "Eye of the Grinder" took on a life of its own.
"She is responsible for the incredible beat you hear in this song. She is an amazing talent," he said. "One day she was making a completely different beat and all of a sudden the chorus you hear on 'Eye of the Grinder' popped in my head. I wrote it down and set it down for a few days. A week later she goes into making a new beat and I came barging out of my home office and screamed, 'That's it!' I immediately sat down and wrote the first two verses with no hiccups whatsoever. The whole thing flowed out of me."
He continued: "I drew inspiration for this song through all my experience and adventures in poker. Nobody has really created a great poker song since Kenny dropped 'The Gambler' all those years ago. If anything, I feel like I've created the second-best poker song ever made out of respect for the legend. As a poker community we needed an anthem and I was more than happy to fulfill this need. Poker and hip-hop music are my two biggest passions and it was great to be able to merge them both together."
Worldwide Release
The song made its debut on Monday, May 13, and there are plans to compliment it with a music video to be filmed in Las Vegas during the WSOP.
"We are in talks with the Rio right now as far as getting shots for the video," Divine revealed. "We are waiting for the main stage to be built to proceed. We have some concepts in the works and would love for any pros who support the song to come through for the video."
In the meantime, Divine hopes the song will resonate with the poker community.
"This is the first song I ever made where I really cared what the target audience thought. Poker players needed a modern anthem and go-to song. I truly believe I delivered. Although I have won a WSOP bracelet I feel like this is my biggest contribution to the poker community and I do hope the players love it. "
Eye of the Grinder is available on all platforms now.