Miracle Man Mick Mullin Survives 25+ All Ins, Makes Day 4 of Seniors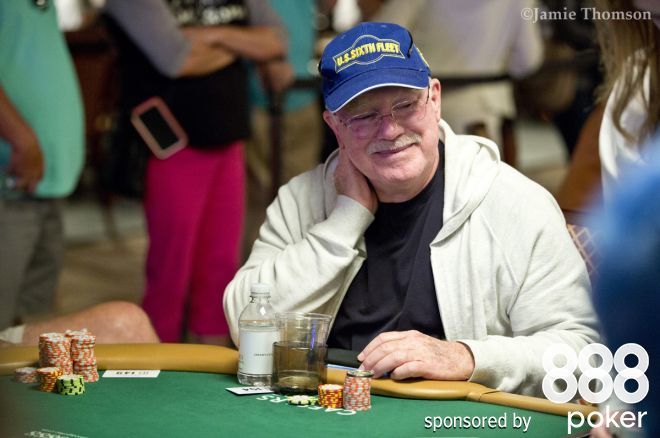 For some poker players, bagging three big blinds might be a downer.
After all, you've got to saddle up and return the next day, seemingly little chance of survival — particularly when the next hand will force two-thirds of your stack into the middle with the big blind ante. It feels like a scheduled execution, although at least instead of a rolling head, you get a roll in your hand when it's Day 4 and in the money.
Peter "Mick" Mullin doesn't subscribe to that line of thinking. To see him walking away after bagging in Event #32: $1,000 Seniors No-Limit Hold'em Championship, blue Navy retiree hat sitting comfortably atop his head and a wide grin splitting his face, one might think he finished with enough chips to fill two bags.
"Unbelievable, that's the only word," he said.
An Incredibly Lucky Journey
Short of an incredible display of big-stack dominance, any player who makes any sort of deep run in a poker tournament usually has to get lucky a few times. It's simply a fact of life when it comes to tournament poker.
Go all in preflop and be forced to show down often enough, and it usually means curtains at some point. Simple probability says as much. Even if a player got in the most dominating spots possible 25 times, he or she would be a favorite to go bust some time during that string of hands.
Mullin was keeping track but stopped counting at the 25th all in.
"If I had to guess, I've been all in 30 times," he said with a laugh. "At least 25 or 26."
"I've never had this kind of fortune before with that many all ins. It's incredible."
Some were documented in the PokerNews live reporting pages. Frequently, he showed down ace-king and watched the board roll out in his favor. Other times, he shoved blind and turned over the winning hand in multi-way pots while bewildered opponents checked it down, futilely hoping to bust him.
"I can't explain it to you," Mullin said. "I've never had this kind of fortune before with that many all ins. It's incredible. I'm just getting the right cards at the right times."
By the end of the night, the other players were laughing along with him and coming over from other tables to sweat him. At least one dubbed him "Miracle Man."
Loving the Seniors Experience
For recreational players at the World Series of Poker, the small buy-in events are haven for fun and a less serious atmosphere than those found in the bigger no-limit events in particular. Never has it been more clear that recreationals crave such an atmosphere than the 2019 WSOP, following the massive success of the Big Fifty.
The Seniors event in particular seems to foster a camaraderie between the players, something Mullin very much appreciates. The 73-year-old retiree — for the third and final time, he hopes — experienced it in a 2018 cash in the $1,000 Super Seniors, and he got hooked.
He only plays poker "once in awhile" back in Biloxi, preferring to save his time and money for trips to the Seniors and Super Seniors at WSOP.
"It's very special, it really is," Mullin said. "You don't see the outrageous bad behavior you see sometimes in other tournaments. I made like five new friends tonight sitting at that table."
Mullin bonded with some through shared experience serving in the military. With others, particularly French and Italian players, Mullin connected over knowledge of the locales picked up during service, travel and other life experiences.
"I'm having a lot of fun," he said.
A Fitting End to Day 3
While Mullin came into Day 3 with four big blinds and managed to grind throughout the day with seemingly no more than 10 at any point, it looked like his time had finally come on the last hand of the night, with 19 players left out of 5,916.
Mullin was about to be forced all in from the big blind on the next hand, so he jammed without looking from under the gun. He was called in three spots, with the players checking down a fairly dead board featuring a pair of deuces.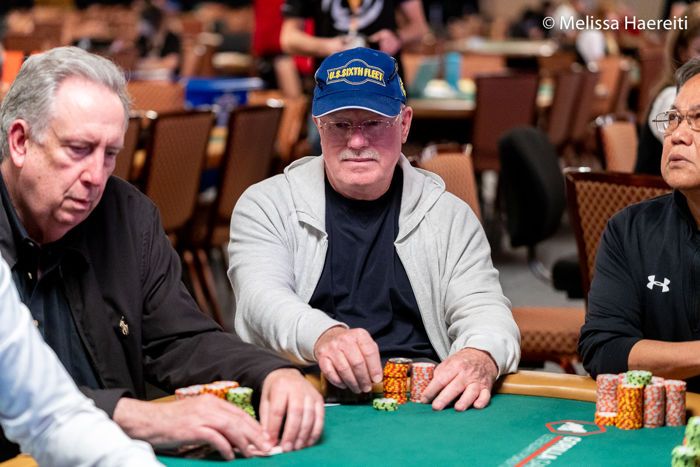 When nobody could muster a hand with any value on the showdown, Mullin tossed in king-deuce of spades and raked in a quadruple up, albeit one worth three big blinds.
"This is an unbelievable day," was all he could mutter to himself in amazement as the bags and and pens flopped onto the felt.
While there is still a long way to go and piles of chips to be won if Mullin is going to claim a bracelet in unlikely fashion, he's already made it through one day starting under five big blinds. His rail, which once started with just family back home following the blog, is growing every day as Mullin continues to chum it up with his fellow Seniors.
They'll surely have something to sweat right off the bat on Day 4.
"We'll see what happens," Mullin said. "If luck continues, I'll move up a pay jump and go from there. My goal is to get to the final table."
And if he doesn't?
"I'm very happy the way it turned out."