Scott Clements Has Eyes Set on WSOP POY; Reflects on Third Bracelet Win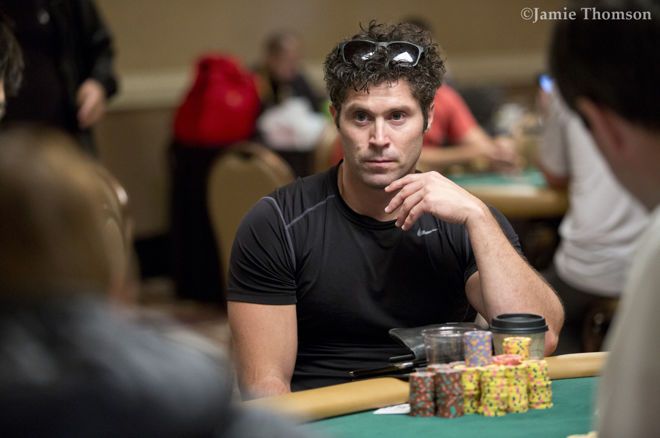 Table Of Contents
If you polled a room full of poker players on what the most important quality is for poker success, discipline would get its fair share of votes. Perhaps no one encompasses discipline quite like Scott Clements, who captured his third gold bracelet on Day 7 of the 2019 World Series of Poker by winning Event #10: $1,500 Dealers Choice for $144,957.
From his physique to his all-around poker game, Clements has obviously taken a great deal of care to keep himself primed.
"It felt really good," Clements tells PokerNews. "I ran pretty well at the final table. Getting that third bracelet after it being so long since the last one it definitely feels good and was a nice way to start the summer."
"I kind of got humbled by a bunch of seconds. I mean it took 12 years to win another bracelet."
It had been a dozen years since Clements had won WSOP gold. His first taste came back in 2006 when he took down Event #24: $3,000 Omaha Hi-Lo for $301,175. A year later he won the 2007 WSOP Event #23: $1,500 Pot-Limit Omaha for $194,206. In the decade since then, he's notched six runner-up finishes.
"In 2006-07 I was just on this upswing of winning everything," Clements explains. "I kind of got humbled by a bunch of seconds. I mean it took 12 years to win another bracelet. Definitely humbled. I don't think I smiled in any of my other pictures but I think I smiled in this one because it felt good. If I'd have gotten another second…"
He continues: "I think it would be more like, 'Oh my gosh, seven seconds in a row.' It would definitely had been annoying, but it is what it is. I probably exaggerate how bad it would've been. If I came in this time with a big chip lead and then lost, maybe I should spend some time working on heads-up [play]."
Different Man, Same Player
Clements, who sits atop Washington's all-time money list with more than $7.9 million (well ahead of Brandon Cantu, who is in second with $4.4 million), isn't the flashiest player, nor does he often grab the headlines, but he is the epitome of consistency.
Since 2006, the World Poker Tour champ has amassed six-figures in earnings each and every year, with a career-high $2.2 million in 2007. His lowest total since then was $140,788 in 2018, and thanks to his latest win he's already surpassed that halfway through 2019.
"I was going to play a lot and just hope to do the best I can, just like any year."
"I'm always going to put in volume, but some of the bigger stuff will depend on what I do," says Clements. "I'm not just going to fire $50ks or $25ks. I was going to play a lot and just hope to do the best I can, just like any year."
Clements, who is single with three kids ages five, six and eight – one bracelet for each of them he points out – has become a Las Vegas local over the past decade with the WSOP being his bread and butter.
"I do a little bit of WSOP.com online, which I enjoy," he responds when asked about playing outside the summer. "I have my kids a lot of the time and when I'm doing that they're my focus. When I'm not with them I play a few tournaments around here, and I go to Florida. The Seminole Hard Rock is just too good to miss. I don't really travel outside of that."
Eye on the WSOP POY
His recent victory puts Clements in the think of the 2019 WSOP Player of the Year race with 944.72 points, which currently places him 12th. Leading the way is Dan Zack with 1,754.40. Clements will need some more results this summer if he hopes to make a run at it, and he certainly hopes to do just that.
"I love this hot start. I'm hoping to keep it going and have a chance at Player of the Year," he says. "That's actually my biggest goal is to win POY at the WSOP. There's no chance I would win POY by any other avenue just because there are so many high rollers now that I don't play. This is the only one I could get as they have mixed games. I want to win WOSP POY before I retire. That's been my goal for a long time."
"I want to win WOSP POY before I retire. That's been my goal for a long time."
By taking down the Dealer's Choice bracelet Clement reaffirmed his mixed game prowess.
"I love playing all the mix games," he admits. "Everyone plays so quick. It's just a fun atmosphere. The whole final table was great. It was so much different than a lot of no-limit hold'em final tables where there's so much more tanking and staring. We were just having a good time and seeing where the chips would fall."
He elaborates: "I feel like badeucy and badacey are a lot like O8, you just try to freeroll on people. That's a big part of it. I felt like I learned a lot in this tournament as well. I felt I was ok but was still learning as I go, which every player should do. You don't really get to play those games in that many other places. If you're going to play them in cash games it's either going to be very small, can't find them, or very big. I've never played in those big games. At the World Series is where I learned."
For now, it's back to the grind for Clements, who'll be paying close attention to the POY leaderboard all while sipping his trademark glass of wine, Chateau Ste Michelle Cabernet Sauvignon Indian Wells being his favorite.
"They should be sponsoring me," he says with a smile. "I spend a lot with them."