WSOP Adds One More Bracelet Event to the 2019 Schedule, $50k Final Fifty High Roller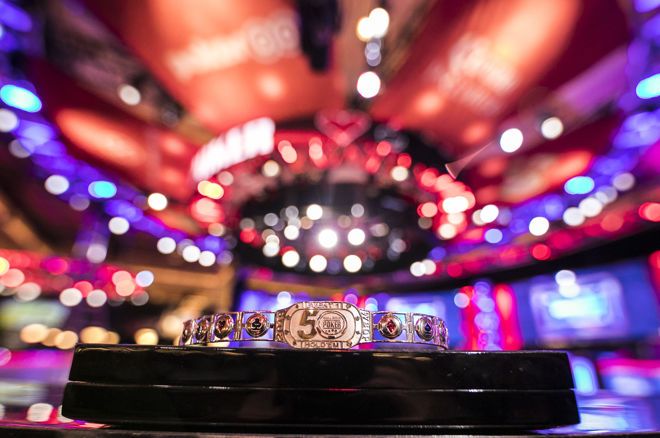 Table Of Contents
It's rare for the World Series of Poker to add events after the series has kicked off, but they've made an exception this year. The WSOP today announced the 90th bracelet event for the 50th annual WSOP, the $50,000 Final Fifty High Roller, which will kick off on July 8 and run for three days.
Asked about the reason for the late addition, WSOP executives cited player feedback.
"We got some feedback from players who thought [the initial $50k event] was too early in the series and they weren't around for it," said VP of Corporate Communications Seth Palansky. "We also goofed by not having a $25K High Roller NLH on the schedule this year, which was more feedback we received from players."
Fitting in the Final Fifty
The schedule being such a puzzle to piece together to maximize things like events, entries, prize pools and player satisfaction, the addition of another event two weeks into the series came as a surprise to many.
"It's tough at this stage to fit things in, but we found this slot on July 8 that we thought could satisfy everyone," Palansky said.
"We got some feedback from players who thought [the initial $50k event] was too early in the series and they weren't around for it."
What's not surprising is the continuation of the "Fifty" theme after the BIG 50 was such a huge success this year.
"We decided to make it a $50k instead of $25k to properly close out the 50 theme of the WSOP this year," said Palansky, who added: "The event is well positioned right before the $100k."
Final Fifty Tournament Details
Day 1 of the Final Fifty on July 8 will get started at 6 p.m. while the Day 2 restart is slated for 4 p.m. July 9. The final six are scheduled to return on July 10 at noon to play down to a winner. Note that the schedule is subject to change, and whether or not the final table will be live-streamed remains to be seen. Here's a look at some of the event details. Blinds start at 1,000/1,000 with a 1,000 ante and the full structure can be found from WSOP here.
$50,000 buy-in (2.8% withheld for entry fees, 1.2% withheld for dealers and staff)
Three-day event with Shot Clock
Unlimited Re-entry
Late registration available until start of Day 2
Starting chips: 300,000
40-minute blind levels
For high roller for next year, Palansky noted: "The anticipation is next year there will be a $25k NLH tournament on the schedule, likely replacing one of the $50k's from this year."
More Player of the Year Points
WSOP confirmed that the additional high roller will count towards Player of the Year points, which throws a bit of a wrench in the WSOP fantasy leagues that many players participate in. Daniel Negreanu took to Twitter to update people for the $25k Fantasy league he runs, first saying the event would count, and then opening it up for discussion when some team owners objected.
While arguments came in on both sides, Negreanu proposed an arbitration committee to decide. The three appointees for the final three-member committee include great poker thinkers Isaac Haxton, Phil Galfond and Jason Somerville.
We have 3 arbitrators who have agreed. They will get an email arguing both sides of the issue. They will vote and d… https://t.co/0hY1XIr4b7

— Daniel Negreanu (@RealKidPoker)
You can follow Twitter for more on the resolution of that issue.
Catch the action from every event on the 2019 World Series of Poker schedule as PokerNews brings live updates daily from the tournament floor.