Florencio Campomanes Wins 2019 APPT Manila Main Event ($214,700)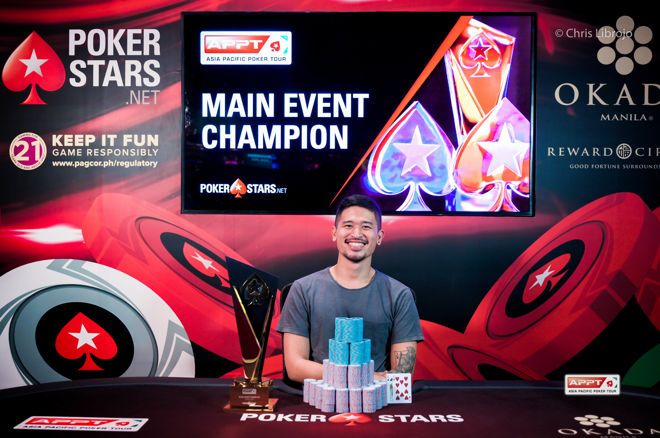 Almost 43 years since Ali knocked out Frazier, it looks like Manila is still capable of another 'Thrilla' as hometown hero Florencio Campomanes became the first Philippine champion on the Asia Pacific Poker Tour after a scintillating final table performance.
Coming into the final table as chip leader, he defeated Dutchman Thijs Hilberts heads-up to take down the Asia-Pacific Poker Tour (APPT) Manila Main Event and win ₱11,092,500 ($214,700) in prize money after a heads-up deal.
The 1,135-player Main Event was the culmination of a 10-day, 25-event festival that saw a total 5,740 players compete for a massive ₱210,185,984 (~$4,068,895) in prize money.
Runner-up Hilberts came into the final day as chip leader and takes home ₱10,000,000 ($193,555) for his second-place finish, adding to the eighth-place finish he recorded in the APPT Manila National one week ago.
Mike Takayama finished in third place, matching his result in the APPT Manila Super High Roller. He took home ₱4,830,500 ($93,561) and closed the gap to third-place John Tech on the Philippine all-time money list.
2019 Asia-Pacific Poker Tour Manila Main Event Final Table Results
| | | | | |
| --- | --- | --- | --- | --- |
| Place | Name | Country | Payout (PHP) | Payout (USD) |
| 1 | Florencio Campomanes | Philippines | ₱11,092,500* | $214,700 |
| 2 | Thijs Hilberts | Netherlands | ₱10,000,000* | $193,555 |
| 3 | Mike Takayama | Philippines | ₱4,830,500 | $93,561 |
| 4 | Xinyu Wang | China | ₱3,523,000 | $68,236 |
| 5 | Duc Trung Vu | Vietnam | ₱2,383,000 | $46,156 |
| 6 | Kei Shinagawa | Japan | ₱1,739,000 | $33,682 |
| 7 | Yaanning Wu | China | ₱1,481,500 | $28,695 |
| 8 | Sahil Chuttani | India | ₱1,288,000 | $24,947 |
| 9 | Jingzhi Wang | China | ₱1,097,075 | £21,249 |
Currency conversion via XE.com at the time of publication
*denotes heads-up deal
Campomanes is "all about winning the thing"
Campomanes, a 31-year old Manila native, has been playing poker professionally for 13 years but retired from the game recently to move into real estate with his partner.
"If I gave up a little edge, I really didn't care, it was all about winning the thing. I was trying for the win."
"It's a relief!" said an exhausted-looking Campomanes immediately after taking down his first major title. "It's taken me 13 years, this is my biggest result ever. Before this, it was third in Macau [APPT 9 Macau 2015] with fewer players but a bigger buy-in. I had no chance to win that one, I was basically short from 22 players and I managed to ladder till third by running like God and other people not knowing what to do and I just kept jumping, jumping, so…"
He paused to catch his breath. He said that in contrast today, the payouts were pretty flat and that his celebration was more about the trophy. In fact, he admitted he didn't mind giving up some equity in the eventual heads-up deal.
"If I gave up a little edge, I really didn't care, it was all about winning the thing. I was trying for the win."
So how does Campomanes feel about becoming the first-ever Filipino APPT Main Event Champion?
"I can sleep well tonight! Gil [Alim Poker Operations Manager Manila] and Lorie [Lagrosas PokerStars LIVE Manila Senior Operations Manager] were teasing me before the event saying 'When are you going to win in Manila? [laughs] so it feels great!"
Action of the Final Day
A field of 36 players returned for the final day, with Hilberts leading the way, but it wasn't long before Kei Shinagawa took the lead after winning a three-way all-in with pocket tens, cracking kings and queens in the process.
Campomanes wasn't far behind, but it was Takayama who lead the final three tables after he eliminated Yap Sen Wong. Takayama held aces, with Wong picking the wrong moment to shove into him on the river with just ace-high on a queen-high board. During the final two tables, Campomanes took over the lead by eliminating Tianhong Su, Hilberts then sent Kelvin Yu to the rail before Takayama did the same to Hao Chen as the field rapidly approached the final table.
The last elimination was Raymond Caabay, missing with a flush draw against Chuttani's top pair to bubble the final table.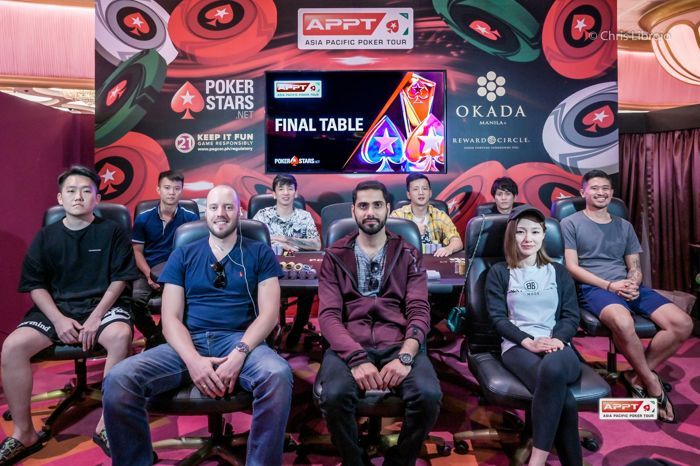 That last elimination moved Chuttani up to second in chips behind Campomanes, and perhaps spurred the Philippine into action, promptly making a straight flush on the first hand of the final table.
However, it was Chuttani who took over the chip lead after the elimination of Jingzhi Wang. Chuttani held pocket kings and was ahead of the pocket sixes of Wang. He was further ahead - Wang was drawing dead in fact - after the Indian flopped quads.
The action was relentless during the first level, as no sooner had Chuttani moved into the lead he handed over half his stack to Hilberts as the Dutchman rivered a flush against Chuttani's turned straight. This was the beginning of the end for Chuttani who fell against Takayama, his opponent eventually turning a pair after getting it in behind with ace-five against ace-ten.
"I was lucky to run good towards the beginning," said Campomanes. "There was this wild Indian guy [Sahil Chuttani] but, when he didn't manage to get that many chips and busted it was a basic final table; people trying to ladder up, which I tried to take advantage of. It worked out well."
Campomanes had quietly chipped up to almost ten million, with Hilberts and the rest of the final table clinging to his coattails. However, Hilberts sent Yaanning Wu to the rail in seventh to close the gap, and was second in chips as the players headed on a short dinner break.
Campomanes Dominating
When play resumed once more, the chips headed in one direction. Campomanes sent Shinagawa to the rail, winning a flip with ace-king against pocket tens, and Duc Trung Vu shortly thereafter, cracking queens with king-nine, to move within touching distance of half the chips in play.
Campomanes then made it three eliminations in a row, sending Xinyu Wang to the rail after flopping two pair against Wang's to pair. Hilberts did his best to battle back against the Philippine, and achieved some success, reducing the deficit to less than two million.
But as Takayama's stack dwindled, Campomanes was on hand to send him to the rail, taking almost a 2:1 chip lead into heads-up.
The pair agreed to a deal and played on for the trophy and the title of APPT Manila Main Event champion.
| Player | Prize (PHP) | Prize (USD) |
| --- | --- | --- |
| Florencio Campomanes | ₱11,092,500 | $214,700 |
| Thijs Hilberts | ₱10,000,000 | $193,555 |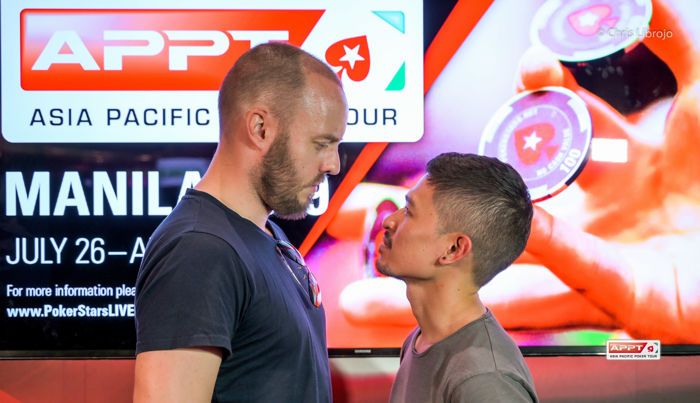 Any notion that this would be a nervous, cagey heads-up match was soon thrown out the window as Campomanes extended his chip lead, outkicking his opponent and then winning with king-high to leave Hilberts short.
"I've played with him before, but he didn't play as well as he did today," Campomanes said. "He got me messed up raising 4x pre-flop from the button so I was kind of confused on what range to use versus him.
However, with his back to the ropes, Hilberts managed to not only double up and stay alive but level the stacks. And suddenly, just like that, a flurry of pots found their way to Hilberts; a turned straight followed by a rivered flush like a left jab follows a right cross. It could be felt that the momentum was with the Dutchman and that victory was perhaps within his grasp.
"I was winning played pots but tried to gamble the once when I could afford it but it didn't work out. Then he was gaining momentum, and as most players know, especially us old school ones, like heads-up is really a momentum game so I was trying to take that away from him, trying to remain calm. Maybe it was just about time," Campomanes commented.
Campomanes did remain calm and quickly managed to double back, dodging flush outs to regain the chip lead. And suddenly it was the Philippine dealing the knockout blow, his rail in raptures as he turned a king to secure the victory.
That's it for the PokerNews live updates from the 2019 APPT Manila. The next PokerStars event is just around the corner, as Casino Barcelona in the ever-popular Spanish town will host the European Poker Tour from August 20 until September 1.
Will Shillibier is based in the United Kingdom. He started working for PokerNews as a freelance live reporter in 2015 and joined the full-time staff in 2019. He graduated from the University of Kent in 2017 with a B.A. in German. He also holds an NCTJ Diploma in Sports Journalism.