WSOP's Palansky: Series to Remain at Rio in 2020, Likely 2021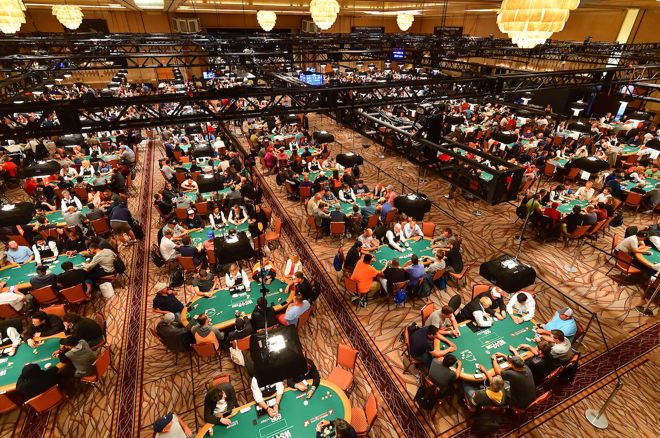 Table Of Contents
For months, company line out of the World Series of Poker has remained the same: contrary to persistent rumors, the WSOP will remain at the Rio Convention Center for 2020 and the foreseeable future.
In a tweet that got little attention last Friday, WSOP Vice President of Corporate Communications Seth Palansky doubled down on that sentiment. He called it "100%" that the WSOP would return to the Rio next year, which he further expanded upon in an interview with CardPlayer.
Not only will the Rio continue to host the WSOP next year, according to Palansky, but a move in 2021 remains unlikely.
"People should feel confident that the 2021 WSOP will be at the Rio as well," he said.
Rumors Swirling for Years
The continued existence of rumors about the WSOP making its first move in over a decade can be traced in large part to Sin City scuttlebutt source Vital Vegas. The popular Twitter account, which documents industry happenings and rumors in Las Vegas, proclaimed in August 2018 that the WSOP would move to the under-construction Caesars convention center when it opened.
Most recently, the somewhat mysterious source reported that a Rio sale is "finally being consummated."
If every rumor about the Rio being sold was true, it would have changed hands dozens of times in the past 10-plus years. However, things have intensified since Caesars' bankruptcy proceedings in 2015.
No Matter, Says Palansky
According to Palansky, even if the Rio is sold, it shouldn't make a difference. With contracts in place "years in advance," a new owner would be inheriting those contracts, and the WSOP would most likely remain at Rio.
"They can decide to allow something to happen or not and can decide to be embroiled in litigation or not," Palansky said. "We have agreements with the people operating the Rio, and therefore we feel confident."
That jives with a Vital Vegas tweet from January, which somewhat walked back their previous report. The latest rumors, they said, held that the WSOP might remain at the Rio three more years as part of the sale, with an option to extend for three further years.
"People should feel confident that the 2021 WSOP will be at the Rio as well."
While many players have grumbled about the Rio for years, there's no doubt some of Palansky's points ring true about the convenience of the location. The upsides and downsides of a move can be debated endlessly — and they have — but for the moment, Palansky said to book travel plans with confidence and expect the WSOP to continue operating at Rio as it has in full since 2006 and in large part since 2005.
"I've been here 12 years and there have always been rumors that the Rio is being sold," he said. "It doesn't matter. The Rio is our home and that's where we'll be. We're not looking to hold it elsewhere."