Evgenii Shibaldin Flips His Way to Platinum Pass at EPT Prague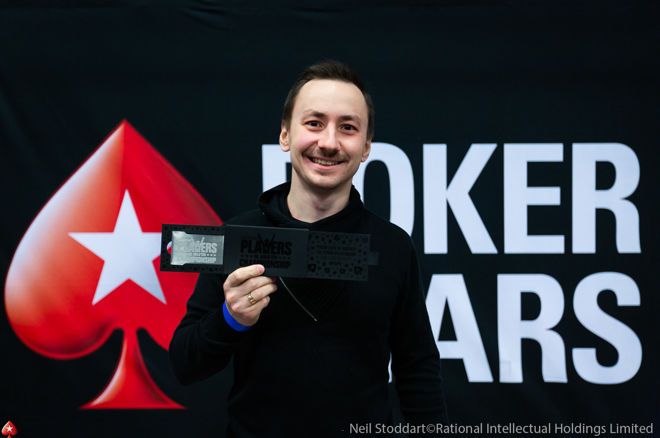 It's hard enough to get poker players to show up to a tournament on time these days, what with lengthy late-registration periods and deeper starting stacks becoming the norm.
To get them in the door half an hour early? That would take dangling a hell of a carrot, indeed.
PokerStars had just such a carrot, though, in the form of a $30,000 Platinum Pass. And at PokerStars EPT Prague Main Event, organizers set one aside for any online qualifier able to punch a ticket to Day 2 if he or she could survive a two-round flipout. A potential $30,000 value? That was worth waking up early and hustling down to the venue.
Two Hands of Crazy Pineapple
More than 60 online qualifiers advanced to Day 2, and they gathered bright and early — by poker standards, anyway — at 11:30 a.m. local time to take their shots at a Platinum Pass.
Plenty of recognizable players loitered among the crowd and took seats after tournament staff confirmed they'd indeed qualified online and bagged at least a chip. Players such as Dietrich Fast, Davidi Kitai and Steven van Zadelhoff all had hopes of becoming the next David Peters — star players nearly certain to attend the PSPC regardless but who binked a Pass anyway. Mihai Manole was trying to pull an unlikely double Prague pass pocketing.
Every table dealt out an initial hand of crazy pineapple, with dealers instructing players to pitch a card after the flop. Most of the players did so in relative silence, but one player wasn't shy about the outs he sought.
"Queen!" yelled Bhavin Khatri. "Seven!"
His open-ender came in on the turn and he moved on to the turn round with a "Come on baby!"
The superstars all failed to advance. The remaining players congregated at one table, and staff instructed players to reveal one card after the turn and save the final sweat for the river. Here's how everything looked heading to the final card, with
on the felt:
Platinum Pass Flipout Final Table
| Seat | Player | Home Country | Card |
| --- | --- | --- | --- |
| 1 | Bhavin Khatri | U.K. | |
| 2 | Aliaksei Dubrouski | Belarus | |
| 3 | Evgenii Shibaldin | Russia | |
| 4 | Ronan Sweeney | U.K. | |
| 5 | Luke Haward | U.K. | |
| 6 | Raymond Hilbert | Luxembourg | |
| 7 | Michal Janczarski | Poland | |
| 8 | Leanid Bachkou | Belarus | |
With three hearts on the board and a number of players showing a corresponding suit, things looked mighty interesting heading to the river:
. Khatri showed a king and briefly celebrated his top pair, but Evgenii Shibaldin revealed a
in the hole to go with his
for a flush. None of the other heart holders could muster a matching suit, so Shibaldin had won the Pass.
"That was a proper sweat, man," said Luke Haward, approvingly but a little mournfully. "Two pair on the flop...two pair on the flop...gee gee."
Neil Stoddart documented the happenings for PokerStars:
Evgenii Shibaldin
A 31-year-old Russian, Shibaldin said through a translator that he's been playing poker since he discovered it as a student in 2006. He hopped on PokerStars in 2008 but appears to have minimal live experience, with just one recorded cash worth under $2,000.
He said his trip started out with poor luck as he got sick right before the festival, but things have certainly taken a turn for the better.
"This is my first tournament with such buy-in and I am happy I will have a chance to play it," he said. "Can't wait already."