Kings of Tallinn Returns with a €500,000 Main Event on Feb. 17-23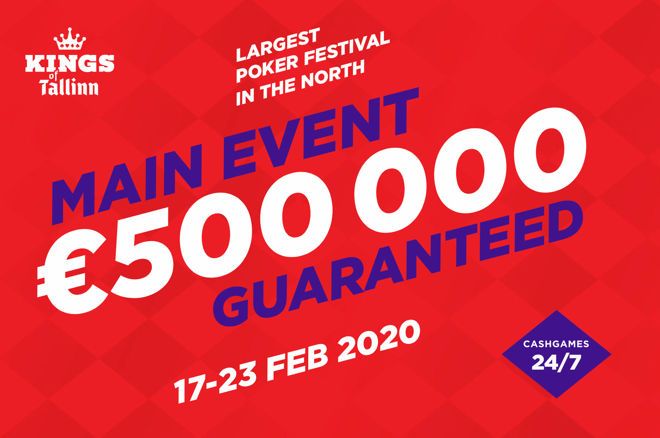 The Kings of Tallinn returns to the luxurious Hilton Tallinn Park and Olympic Park Casino for the sixth straight year with 40 action-packed tournaments across seven days from Feb. 17-23.
What is already known as the biggest poker festival in Northern Europe will be bigger than ever before with new partners and what promises to be the biggest Main Event to date. All of the tournaments are designed by famous tournament director Teresa Nousiainen using the latest TDA rules.
While there will be many recreational poker players attending the festival with the schedule offering something for everyone, there are some big names coming as well including Lithuanian businessman, poker player, politician and philanthropist Antanas "Tony G" Guoga. This means there will be some nosebleed cash game action alongside the lower stakes cash games running around the clock during the festival.
€500,000 Guaranteed Main Event
The highlight of the festival is the €1,100 Kings of Tallinn Main Event from Feb. 20-23. For the third straight year, the PokerNews Live Reporting Team will be on hand to report all of the Main Event action along with exclusive interviews and live videos.
For the first time, the Main Event features a €500,000 guarantee. This means the Main Event will be much bigger than before. Last year, the Main Event smashed a festival record with 375 entrants generating a €356,250 prize pool. Latvia's Vitalijs Zavorotnijs was crowned the champ and took down the €85,300 top prize.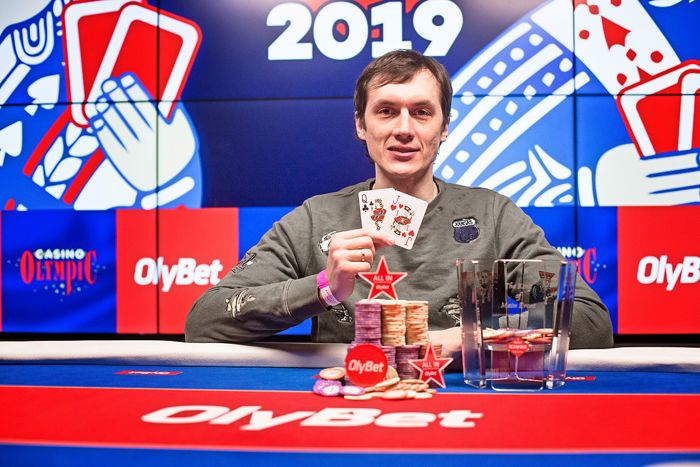 The Main Event is a deep-stacked affair with players starting each of the two opening flights on Feb. 20 with 30,000 in chips. The first opening flight features one-hour blind levels for the same structure featured in the remainder of the tournament while the second opening flight is turbo-charged with 20-minute blind levels.
Players will have plenty of opportunities to build a monster stack with unlimited re-entry permitted until the conclusion of the first blind level on Day 2 on Feb. 21. The tournament then continues for two more days on Feb. 22-23 until the sixth Kings of Tallinn Main Event winner claims the trophy.
Plenty of Satellites
While live satellites will be running at Olympic Casinos around Europe, there will also be no shortage of opportunities to win a package of the Kings of Tallinn Main Event through the many online partners.
In the past, the only way to secure a Kings of Tallinn package was through Olybet Poker, the flagship online poker room of Olympic Casino. That has all changed as qualifiers will not only run at Olybet Poker but also at many other partner sites including Coolbet Poker, 32Red Poker, Paf Poker, and Optibet Poker.
Feeder tournaments cost as low as €0.01, meaning that players can potentially win a chance to play for at least a share of €500,000 for less than the price of a stick of gum.
Schedule Highlights
In addition to the Main Event, each day during the festival features many side events in a variety of poker variants including no-limit hold'em, pot-limit Omaha, pot-limit Omaha h/l, pineapple open-face Chinese, Sviten Special, H.O.R.S.E, and Soko.
Some of the events are sponsored by the brands partnering with the festival including the Optibet €220 Super Deep Hold'em on Feb. 19, the Hendon Mob €220 Championship on Feb. 21-22, and Coolbet €440 Progressive Knockout Championship on Feb. 22-23.
One tournament that will attract some big names will be the Kings of Tallinn €3,000 High Roller on Feb. 22-23. Players in this event will be treated to a complimentary VIP dinner after Level 7.
Ladies have something to look forward to as well with the Queens Of Tallinn €60 Ladies-Only Event taking place on Feb. 22. The small buy-in features some value even if players don't cash as all women in the event are invited to an afternoon at the Hilton's luxurious spa on the house from 11 a.m. to 2 p.m. just before the event begins.
Early Bird Special
Have you ever heard of an early bird special for a poker tournament? This isn't something that happens all the time and if you are thinking of attending the Kings of Tallinn you shouldn't wait too long and here's why.
If you purchase the €1,650 Kings of Tallinn package before the end of December you will not only receive the €1,100 buy-in to the Main Event and four nights hotel accommodation at the Hilton Tallinn Park but also have your choice of two freebies. You can either choose to receive a free ticket to any €220 buy-in Kings of Tallinn side event or grab yourself an extra two nights hotel accommodation for free.
Likewise, if you decide to purchase a €1,100 Main Event ticket before the end of the year, you will be able to choose whether you want a €110 buy-in Kings of Tallinn side event ticket for free or a free night at the Hilton Tallinn Park.
This can make an excellent holiday present for yourself or one of your loved ones as this value is hard to pass up.
2020 Kings of Tallinn Schedule
| Date | Time (EET) | Event # | Event | Buy-in | Guarantee |
| --- | --- | --- | --- | --- | --- |
| Feb. 17 | 7 p.m. | 1 | Hit & Run Satellite to the Kings €550 | €60 | Three Seats |
| | 10 p.m. | 2 | Freebuy Satellite to Main Event | €0 + €50 rebuys and add-on | One Seat Added |
| Feb. 18 | 4 p.m. | 3 | Freebuy Satellite to the Kings €550 | €0 + €20 rebuys and add-on | Two Seats |
| | 5 p.m. | 4 | Kings €550 Day 1a | €550 | |
| | 7 p.m. | 5 | Celebrty Event | €110 | |
| | 9 p.m. | 6 | Satellite to Main Event | €60 | Three Seats |
| | 11 p.m. | 7 | Hyper Turbo Knockout | €220 | |
| Feb. 19 | 1 p.m. | 8 | Optibet Super Deep Hold'em | €220 | |
| | 5 p.m. | 4 | Kings €550 Day 1b | €550 | |
| | 7 p.m. | 9 | Mega Satellite to Main Event | €110 | Ten Seats |
| | 9 p.m. | 4 | Kings €550 Turbo Day 1c | €550 | |
| | 9 p.m. | 10 | 4 Card PLO Hi/Lo | €330 | |
| | 11 p.m. | 11 | Super Satellite to Main Event | €110 | Five Seats |
| Feb. 20 | 11:30 a.m. | 12 | Freebuy satellite to Main Event | €0 + €50 rebuys and add-on | Two Seats |
| | 12 p.m. | 13 | Kings of Tallinn Main Event Day 1a | €1,100 | €500,000 |
| | 2 p.m. | 14 | Hit & run satellite to Main Event | €120 | Three Seats |
| | 5 p.m. | 15 | Satellite to Main Event Day 1b | €60 | Three Seats |
| | 9 p.m. | 16 | 4 Card PLO Knockout | €1,100 | |
| | 9 p.m. | 17 | 4 Card PLO Knockout | €110 | |
| | 9 p.m. | 4 | Kings €550 Final Day | | |
| | 9 p.m. | 13 | Kings of Tallinn Main Event Turbo Day 1b | €1,100 | |
| | 11 p.m. | 18 | Hyper Turbo | €220 | |
| Feb. 21 | 12 p.m. | 13 | Kings of Tallinn Main Event Day 2 | €1,100 | |
| | 3 p.m. | 19 | Satellite to €3K Highroller | €110 | Three Seats |
| | 3 p.m. | 20 | Sviten Special | €220 | |
| | 5 p.m. | 21 | The Hendon Mob Championship Day 1 | €220 | |
| | 5 p.m. | 22 | Open Face Chinese Poker | €550 | |
| | 7 p.m. | 23 | Hyper Satellite to €3K High Roller | €60 | Two Seats |
| | 9 p.m. | 24 | Knockout | €1,100 | |
| | 9 p.m. | 25 | Bounty Special | €110 | |
| | 11 p.m. | 26 | 4 Card PLO Hyper Turbo | €110 | |
| Feb. 22 | 11:30 a.m. | 27 | Freebuy Satellite to Event #28 | €0 + €20 rebuys and add-on | Seven Seats |
| | 12 p.m. | 21 | The Hendon Mob Championship Day 2 | | |
| | 12 p.m. | 13 | Kings of Tallinn Main Event Day 3 | | |
| | 1 p.m. | 28 | Hyper Turbo Deep Satellite to €3K Highroller | €165 | Two Seats |
| | 1 p.m. | 29 | H.O.R.S.E. | €330 | |
| | 2 p.m. | 30 | Queens of Tallinn (Ladies Only) | €60 | |
| | 3 p.m. | 31 | Kings of Tallinn High Roller Day 1 | €3,000 | |
| | 3 p.m. | 32 | Olybet Special Day 1 | €110 | |
| | 5 p.m. | 33 | Soko - PL Five Card Stud | €110 | |
| | 7 p.m. | 34 | PL Omaha 4 & 5 Cards (ROE) Day 1 | €220 | |
| | 9 p.m. | 35 | Coolbet Progressive Knockout Championship Day 1 | €440 | |
| | 11 p.m. | 36 | Hyper Turbo Win The Button | €110 | |
| Feb. 23 | 12 p.m. | 37 | Estonian Poker 20 freezeout | | |
| | 12 p.m. | 13 | Kings of Tallinn Main Event Final Day | | |
| | 12 p.m. | 31 | Kings of Tallinn High Roller Final Day | | |
| | 12 p.m. | 32 | Olybet Special Final Day | | |
| | 12 p.m. | 34 | PL Omaha 4 & 5 Cards Final Day | | |
| | 12 p.m. | 35 | Coolbet Progressive Knockout Championship Final Day | | |
| | 3 p.m. | 38 | Hyper Turbo Version of Main Event | €110 | |
| | 5 p.m. | 39 | Super Hyper Turbo Freezeout | €110 | |
| | 8 p.m. | 40 | Estonian Poker Awards Gala | | |