Milen Stefanov Wins WPT Rock 'N' Roll Poker Open ($545,070)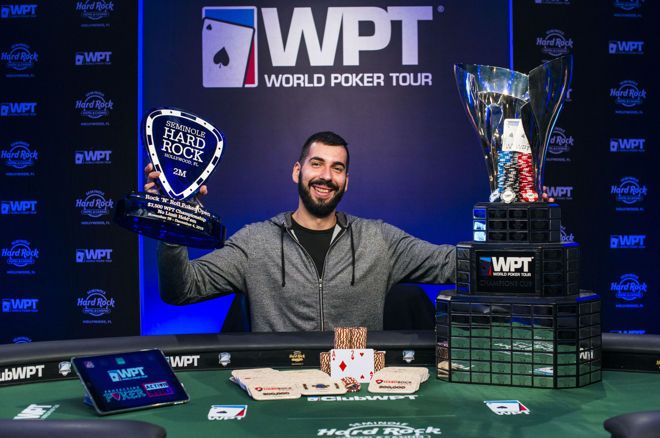 Table Of Contents
Milen Stefanov became the latest player with his name adorning a plaque on the World Poker Tour Champions Cup as he took down WPT Rock 'N' Roll Poker Open $3,500 Main Event on Wednesday night. The Bulgarian conquered a field of 988 to win a career-best $545,070.
"To be a champion finally of the WPT, it feels amazing," Stefanov told tournament reporters.
Official Final Table Results
| Place | Player | Home Country | Prize |
| --- | --- | --- | --- |
| 1 | Milen Stefanov | Bulgaria | $545,070* |
| 2 | Fabian Gumz | Germany | $353,380 |
| 3 | David Novosel | U.S.A. | $260,845 |
| 4 | Roman Korenev | Russia | $194,605 |
| 5 | Cesar Fuentes | Venezuela | $146,760 |
| 6 | Francis Anderson | U.S.A. | $111,895 |
*includes WPT Tournament of Champions seat
The 988 entries came across two starting days and represented an event record for the RRPO. The prize pool rocketed north of $3.1 million, and plenty of notable players were among the 124 paid places. They included Scott Clements, Anthony Zinno, Julien Martini, James Calderaro, Matt Glantz and Aaron Mermelstein.
According to the live updates, Stefanov had a very fortunate situation bring him a double late on the penultimate day. He got in with
against
and managed to find a heart four-flush on board against Francis Anderson.
Meanwhile, start-of-day leader Fabian Gumz looked set for a disappointing finish after he lost set-under-set and then got three-outed down to two big blinds. However, he tripled up, doubled up and doubled up to sneak into the final table with 26 big blinds and a pulse.
Stefanov held the lead in a shallow bunch with just 45 big blinds.
Dominant Performance to Heads Up
As expected, it didn't take long for chips to start flying as Anderson was all in twice in the first four hands. Unfortunately for him, the second of those would be his last as he lost a race to Stefanov with
against pocket sevens.
Despite the short stacks, it took another 50-plus hands for the next domino to fall, and it was former chip leader Cesar Fuentes. Fuentes shoved a little over 16 big blinds with
blind versus blind but ran into Stefanov's
. Stefanov flopped an ace and faded a backdoor straight draw to grab nearly half of the total chips.
A little after that, Stefanov did surpass 50% of the chips when he busted 2019 bracelet winner Roman Korenev. Korenev tried shoving over Stefanov's button raise with
but ran smack into two aces to hit the rail in fourth.
Victory seemed all but assured after Stefanov got David Novosel to hero off his stack with
on
. Stefanov had turned tens full of jacks and led out then shoved river. When Novosel couldn't find a fold, Stefanov had about a 6-to-1 lead against Gumz, who had stayed afloat but had just 16 big blinds.
A Scare From Gumz
Early on Stefanov was one card from victory as Gumz got in with
against
. A club flush on the river let Gumz stay in it, though, and he'd double again with pocket queens of his own over threes.
After giving up the lead, Stefanov appeared to right the ship when he binked a gutshot on the river and got his shove called, reducing Gumz to just under 5 million at 250,000/500,000/500,000.
The German managed one double but wouldn't threaten any further. He got caught bluffing as Stefanov dug deep into the hero bag with a queen-high call on a double-paired board, and he wound up calling off his last few blinds with queen-high. He couldn't overcome Stefanov's ace-high hand that found an ace-high flop, and that was it for the RRPO.
Here's a look at some side event champions from the series:
Side Event Winners
| Event | Entries | Prize Pool | Winner | Prize |
| --- | --- | --- | --- | --- |
| Event #1: $400 Deep Stack NLH | 4,699 | $1,579,650 | Ben Boston | $133,918 |
| Event #2: $400 Limit Omaha 8 | 86 | $29,240 | Gloria LoRusso | $7,566 |
| Event #3: $400 HORSE | 84 | $28,560 | Barry Levy | $8,425 |
| Event #5: $400 Pot-Limit Omaha | 137 | $46,580 | Tommy Tran | $11,705 |
| Event #6: $400 Big O | 78 | $26,520 | Gavin Smith | $8,125 |
| Event #7: $400 Deep Stack NLH | 263 | $89,420 | Sheldon Gross | $20,370 |
| Event #8: $1,700 Purple Chip Bounty | 111 | $113,775 | Schahin Ghiai | $34,105 |
| Event #10: $400 Pot-Limit Omaha 8 | 102 | $34,680 | Michael Daud | $9,015 |
| Event #11: $150 Big Stack NLH | 486 | $58,320 | John Gorsuch | $8,000 + $3,500 Championship seat |
| Event #12: $400 Mixed Omaha | 59 | $20,060 | Renny Barrett | $4,617 |
| Event #13: $400 6-Max NLH | 94 | $31,960 | Anthony Barbera | $7,260 |
| Event #15: $150 Big Stack | 337 | $40,440 | Manny Minaya | $4,605 + $3,500 Championship seat |
| Event #16: $250 Ladies Event | 70 | $14,700 | Marla Crumpler | $2,676 + $1,100 RRPO seat |
| Event #17: $600 6-Max Turbo Double Black Chip Bounty | 65 | $21,450 | Mehrdad Vahabi | $6,710 |
| Event #18: $400 Big Stack Black Chip Bounty | 262 | $62,800 | Aylar Lie | $14,323 |
| Event #19: $1,100 Big Stack NLH | 163 | $158,110 | Isaiah Goldman | $35,700 |
| Event #20: $5,000 8-Handed NLH | 88 | $86,581 | Manig Loeser | $86,581 |
| Event #21: $150 No Limit Hold'em (Re-Entry) | 1,248 | $149,760 | TBD | $37,828 |
| Event #22: $400 Omaha 8/Stud 8 | 57 | $19,380 | Sergio Braga | $5,283 |
| Event #23: $25,500 High Roller | 45 | $1,111,500 | Bryn Kenney | $354,565 |
| Event #24: $1,100 Big Stack PLO | 127 | $123,190 | Andrei Mitsiuk | $35,726 |
| Event #25: $2,200 Six-Max Turbo NLH | 114 | $228,000 | AJ Kelsall | $60,910 |
| Event #26: $400 Seniors 50+ | 122 | $41,480 | Hassan Tahsildar | $10,440 |
| Event #27: $1,100 Turbo NLH | 119 | $119,000 | Jack Salter | $35,050 |