LearnWPT Takes the Time and Hassle Out of Solver Study with the WPT GTO Trainer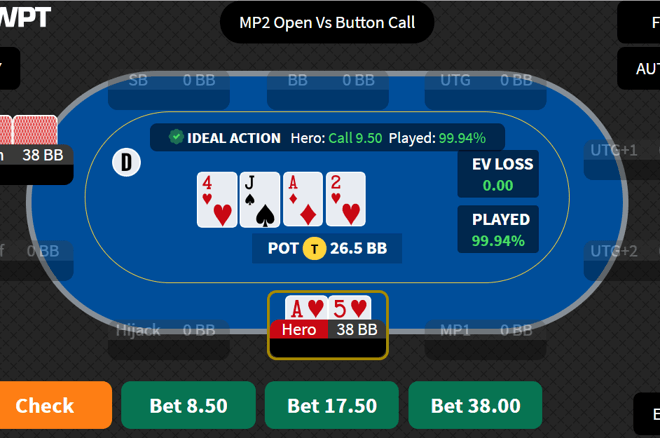 Table Of Contents
LearnWPT, The Official Poker Education Platform of the World Poker Tour (WPT) has introduced the fastest way to learn Game Theory Optimal Strategy with the WPT GTO Trainer. To play real solved GTO Hands right now and start improving your game today visit the WPT GTO Trainer.
Over One Billion Unique Spots and Counting!
Users can now play through solved poker hands and see their mistakes and actual EV Loss compared to GTO play in real time. Over time the user's play is guided closer and closer to Game Theory Optimal (GTO) Play. The World Poker Tour has already solved over 1 Billion unique spots and counting, which is far more than anyone could play in a lifetime.
The WPT GTO Trainer removes the need for technology or poker expertise and allows the user to avoid costly setup mistakes. Using solvers has often been a very time consuming and tedious process for poker players. Being able to rapidly play hundreds of solved hands per hour and see the results instantly is nothing short of a complete game-changer for poker education.
"For the last several years the world's best No-Limit Hold'em players have been using a GTO based strategy and using GTO Solvers to rapidly advance their game," Nick Binger, Lead Instructor for LearnWPT, told PokerNews. "We know solvers can be difficult to set up for the average user from both a technical and poker strategy perspective, and our number one goal is to make learning GTO easy.
"Now you can learn GTO strategy by simply playing poker and adjusting to the feedback. You can train specific spots that give you the most trouble and fix them fast."
Tony Dunst "excited" about WPT GTO Trainer
"I'm excited about the WPT GTO Trainer because now I can know instantly whether a play is a mistake and exactly how big of a mistake I am making. " said Tony Dunst, Host of the World Poker Tour and LearnWPT Instructor. "I look forward to using the WPT GTO Trainer to identify and improve my biggest leaks."
The WPT GTO Trainer is available exclusively to members of LearnWPT.com's online training site but you can try it for free by clicking here.
Members can choose from Cash Game and Tournament scenarios
Receive immediate feedback on your played compared to GTO including EV, Percentage Played, and the Ideal Action
Train specific scenarios including, 3-Bet Defense, Big Blind Defense, Button Defense, and Dynamic Position Training.
Members can mark specific hands and submit them using the Ask a Pro Feature for feedback and discussion with the LearnWPT Pros
New training scenarios are developed weekly with over 1 Billion solved Game Theory Optimal poker hands and counting.
Click here to try the WPT GTO Trainer for free today.
Sponsor generated content by LearnWPT