Advance Your Tournament Skills with this Masterclass from Raise Your Edge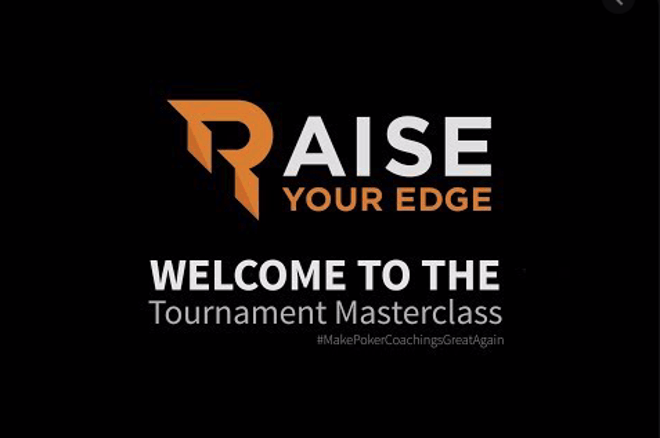 Are you stuck in a rut when playing online poker tournaments? Or just want to take your game to an elite level by learning from one of the best poker players and instructors in the world?
Look no further than The Tournament Masterclass at the poker training site Raise Your Edge.
Online tournament crusher and world-class poker instructor Benjamin "bencb789" Rolle provides what might be the most comprehensive course for multi-table tournaments.
If you follow online poker, you likely already know that "bencb" is one of online poker's biggest tournament crushers in the world. Some of his achievements include winning the inaugural PokerStars SCOOP $102,000 Super High Roller for $1,172,461 after beating fellow crusher Fedor "CrownUpGuy" Holz in heads-up play and winning a SCOOP event last year.
In addition, "bencb" crushed sit-and-go tournaments in 2013-2015 when he was consistently ranked in the top 10 on the Sharkscope leaderboard. In other words, he has tons of ICM experience to share.
This course isn't for beginner players as it is designed for those already with a firm understanding of no-limit hold'em tournaments to take their game to the next level.
Read on to learn about what is in store when taking The Tournament Masterclass at Raise Your Edge.
Take the Tournament Masterclass at Raise Your Edge!
Expert or Apprentice?
You can join The Tournament Masterclass with the Apprentice Class providing you tons of valuable instructional videos but limits some of the advanced topics out or you can instead join the Expert Class which includes all of the videos in The Tournament Master and more.
The decision should come down to how advanced you feel your game is and how you value some of the extra perks such as being invited to a VIP Discord group with "bencb" is to you.
There is a bit of a price difference between the two plans with the Apprentice Class costing $697 and the Expert Class costing $1,297. These prices might seem expensive but if you take in everything The Tournament Masterclass has for you it could prove to be a bargain when considering you should be able to achieve better long-term results in poker tournaments.
Plus, either plan should prove to be a much cheaper alternative than individualized poker coaching, especially for someone of the caliber of "bencb", who charges individual students up to €500 per hour.
If you choose the Apprentice Class you can always upgrade at a later point to the Expert Class. Both plans include free updates for life, meaning you will be always up to date as no-limit hold'em tournaments continue to evolve.
In addition, there is also a 60-day moneyback guarantee provided that you have completed the course, completed all the Call to Actions, and speak to one of the coaches to explain why the course didn't improve your game.
The choice of which plan to use is all yours. Here's a look at what is included in both plans:
| Apprentice Class | Expert Class |
| --- | --- |
| Preflop Theory & Adaptations with Ranges | Everything in The Apprentice Class |
| Theory and Implementation of GTO & Exploitative Play | + Advanced ICM Preflop Shortstack Theory |
| State of the Art Postflop Strategy     | + The Science Behind Resteals & Calling Them |
| Mastering 3B Pots | + Perfect Push & Call as Shortstack |
| BONUS: Special Postflop Shortstack Course     | BONUS: State of the Art ICM Postflop |
| Over 20 hours of content | Over 50 hours of content |
| ** UPGRADE TO EXPERT AT ANY TIME **  | INCLUDES BONUS COURSE: The GTO Bible! |
| | INCLUDES BONUS: Postflop Multiway Module |
| | ACCESS TO EXCLUSIVE VIP DISCORD WITH BENCB |
The Tournament Masterclass Overview
It will be like you are a kid in a candy store with so much video content in The Tournament Masterclass with many advanced topics, each with multiple videos, covered.
Simply go in order and take as many notes as you can to absorb as much valuable information as possible. Also, rewatch videos or at least parts thereof in some of the longer ones, to make sure you understood as much as possible.
You can expect to learn what many poker players do wrong to better help address what might be some of your bigger leaks plugged and to target and exploit opponents.
Many hand examples are provided and are analyzed with the Range Hand Analyzer, which is a tool included as part of The Tournament Masterclass.
The tool is essential to your learning process by providing hand analyses at different stack sizes and positions.
The videos are very specific with hand examples and also teaches you also how to do analysis on your own. While it will be impossible to learn what to optimally do in every situation, especially if multi-tabling online poker tournaments, the idea is for the ranges to become second nature to you while playing.
There are also quizzes along the way to help affirm your learning process.
It is also recommended to join the Discord group to discuss strategy with like-minded poker players.
Tons of Content
The Tournament Masterclass is broken into nine different sections, some of which are broken out into subsections. Each section or subjection has plenty of video content to cover the specific topic with the purpose of getting your game to a more advanced level.
Here is a look at the eight sections before we break them down:
Welcome To The Tournament Masterclass
Preflop
Postflop
Short Stack
ICM
Heads Up
High Stakes Reviews
Bonus Content
Welcome To The Tournament Masterclass
This Welcome To The Tournament Masterclass section is the shortest for a reason with just one video as it is as the title suggests an introduction to the course.
Although no poker strategy is covered, "bencb" does explain in a nine-minute video how to get the most out of the course including the importance of taking notes and practicing what you learned.
Preflop
Get your learning caps on when you pop into the Preflop section which features seven different subsections covering different aspects of preflop play.
The subsections are full of video and quizzes. It is recommended that after you finish a video that you make sure you have grasped everything and add notes that you can refer back to later before heading onto the next topic.
Although there are 50+ hours of content in The Tournament Masterclass, we learned quickly that it takes far longer to complete the course if getting the most out of it.
Topics including understanding ranges, open-raising, flat-calling, three-betting, four-betting, squeezing (Expert plan only), and more at different stack depths and positions are all covered in detail.
Of course, there are quizzes along the way mixed in with the videos providing a comprehensive learning experience and the Discord group to discuss different spots and topics.
Preflop Section Breakout
Understanding the Ranges (10 videos)
Open Raising (9 videos + 6 quizzes)
Flatcalling & 3betting (6 videos + 3 quizzes)
Playing vs. 3Bs & 4betting (9 videos + 7 quizzes)
Passive Defending (9 videos + 3 quizzes)
Squeezing *Expert Class* (5 videos)
Reshoving Multiway (1 video)
Postflop
Many players will have their biggest leaks during postflop play. Rest assured that the course's Postflop section will not disappoint.
Depending on how many hours you have each day or week to study, this section could take a while since the videos can be up to two hours long and have plenty of good content where it makes sense to pause the video, take notes, and put things into practice.
The Postflop section in the course discusses how you should act against preflop aggressors in position or out of position while doing the same in cases where you were the preflop aggressor yourself.
It also dives into three-bet pots, check-raising, and multi-way pots.
Those that purchased the Expert Class will also have access to the OOP Simplification class featuring two videos.
Postflop Section Breakout
Playing IP vs PFA (14 videos + 5 quizzes)
Playing OOP as PFA (10 videos)
Playing IP as Cold Caller (1 video)
Playing OOP vs Cold Caller (1 video)
Mastering 3B Pots (1 video)
Check Raising (18 videos)
Postflop Multiway (8 videos)
OOP Simplification Expert Only (2 videos)
Short Stack
Inevitably in most tournaments, you will wind up as a short stack at some point unless you are absolutely crushing or lost in an all-in situation against a bigger stacked opponent while holding a decent stack yourself.
This section is broken out into three sections, two of which are available for those with the Expert Class only in the Pushing and Calling Pushing (10 videos) and Restealing & Calling Resteals (7 videos).
The topics covered here for the Expert Class could prove to be worth the extra price itself as "bencb" was well-known as a sit-and-go crusher before he began to focus more on high-stakes multi-table tournaments.
Those enrolled in the Apprentice Class aren't left out as the Playing Postflop as a Shortsack, which features seven informative videos, are available to all students enrolled in The Tournament Masterclass.
ICM
Understanding ICM is paramount for sit-and-go players as they will very often find themselves in spots where a full grasp of ICM will dictate the long-term winners and losers.
That being said, it could prove to be more important for MTT players with prizes at final table so big compared to the buy-in. Making ICM mistakes in these circumstances will prove to be costly in the long-term.
This section is only available to those in the Expert Class and features two videos that dives into how to consider ICM both preflop and postflop on an advanced level. The more than 2 1/2 hours of video content will be something to take extensive notes on and to learn properly you should also plug away examples until it becomes second nature.
Heads-Up
Unless you play sit-and-go tournaments or tournaments with smaller fields, it won't be every day that you will be heads-up in a tournament.
But when you do, there is usually big money on the line with most poker tournaments featuring a huge difference between the top prize and the runner-up prize.
The Heads-Up section of the course is available for the Expert Class only and is divided into three videos titled "Preflop", "Practical Hands", and "Play and Explain".
This section of the course should prove valuable to many players that don't have enough experience playing heads-up or have mastered the concepts and could pay for the entire class many times. Regardless of your skill level, you should pick up something from "bencb" that will improve your game.
High Stakes Reviews
The High Stakes Reviews section is similar to what you might see at other training sites that run through a tournament played and explain along the way.
The only difference here - and it's big - is that in this case "bencb" is the one teaching and it is from beginning to end in two huge events in the WCOOP Super High Roller in 2016 and his SCOOP victory in a $1k event in 2019.
The SCOOP section is broken out into 11 videos with only the first one available to those enrolled in the Apprentice Class, while the WCOOP section is broken out into three videos.
Bonus Content
This is not all the video content as those in the Expert Class will be able to also learn from Bonus Content including 23 videos in The GTO Bible.
For those that want to improve their mental toughness, the Unchained Mind - Fighting Tilt video will prove valuable.
Other Bonus Content includes Bounty Final Tables vs Regular Final Tables and Common Leaks in PKOs, both with guest coach "w3c.ray."
Conclusion
The Tournament Masterclass at Raise Your Edge should bring your game to the next level as it is perhaps the most comprehensive course on poker tournaments available anywhere at any price.
The course assumes you have some basic knowledge under your belt but if you have mastered the basics this course should be right for you.
Head to Raise Your Edge to sign-up for either the Apprentice Class at $697 or the Expert Class for $1,297. You won't regret it, and if you feel you haven't learned from this course, Raise Your Edge will stand behind its product with a 60-day moneyback guarantee.