"5Dinks4all" and "WhiteChick" Win Big in WSOP Online Super Circuit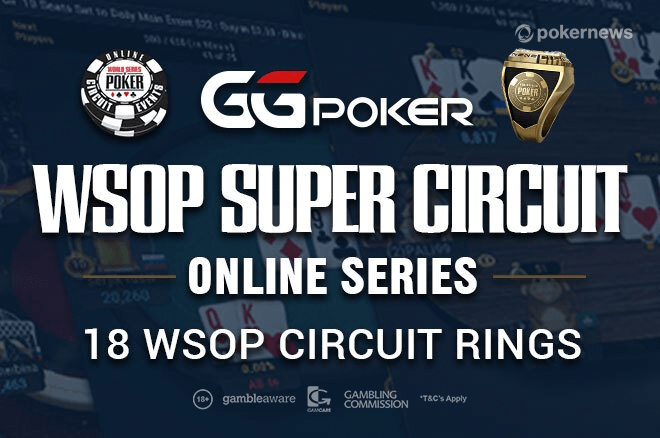 Two more WSOP Online Super Circuit Ring Winners have been crowned on GGPoker on Sunday night. Players once again showed up in droves for Event #12: Monster Stack and Event #13: COLOSSUS $2M Gtd. PokerNews live reporting covered both events start-to-finish.
The WSOP Online Super Circuit runs until May 31 on GGPoker, with $100,000,000 in guarantees offered between the 18 WSOP circuit ring events and the side events. The rapid-growing site recently acquired Fedor Holz and Bertrand "ElKY" Grospellier as brand ambassadors to their team.
The first-ever WSOP Online Super Circuit is here - at GGPoker!
The PokerNews live reporting team is bringing live coverage of all 18 online bracelet events. Don't miss it!
"5Dinks4all" Wins WSOP Online Super Circuit Event 12: Monster Stack ($126,949)
WSOP Online Super Circuit Event #12: Monster Stack $500K GTD has come to an end after over 15 hours of play.
Topping the starting field of 4,846 at the end of the day was ""5Dinks4all" who rode a dramatic come from behind heads up victory to win the grand prize of $126,949.
The Andorran champion was spotted with a few tables to go gathering chips and moving toward the top of the leaderboard. Play would go on at a steady pace until the verge of the final table, where play would stall with ten players remaining, taking quite a while for an elimination in order to get down to the final table.
Event #12 Final Table Results
| Place | Player | Country | Prize Money |
| --- | --- | --- | --- |
| 1 | 5Dinks4all | Andorra | $126,949 |
| 2 | Piko1432 | India | $87,855 |
| 3 | MrWheatToast | Canada | $60,803 |
| 4 | TheRealElysioum | United Kingdom | $42,080 |
| 5 | Loazi | Canada | $29,122 |
| 6 | tonkatsu&wagyu | Japan | $20,155 |
| 7 | BigMac_3,73$ | Germany | $13,949 |
| 8 | GorillaWarfare | United Kingdom | $9,653 |
| 9 | sinqularis | Belarus | $6,681 |
At the start of the final table, eventual second-place finisher "Piko1432" was the substantial chip leader while "5Dinks4all" was sixth in chips. Play at the final table was slow at first, with only one elimination happening within the first 45 minutes. But as soon as the field was cut to seven, things suddenly sprang into action with five eliminations happening in the span of just 18 minutes, including three in consecutive hands to take out "tonkatsu&wagyu" in sixth, "Loazi" in fifth and "TheRealElysioum" in fourth place. A few hands later, the short-stacked "MrWheatToast" was eliminated in third place to set up heads up play.
Heads up play would end up being the defining aspect of the entire tournament. "Piko1432" entered heads up play with 58/42% chip advantage. After a few hands, "5Dinks4all" was suddenly on their last legs as their chip count had been whittled down to about 22%. But they managed to get a big double up to draw the chips counts close to even.
"Piko1432" would again stretch the lead following the double up, as they wore down "Dinks4all" to a 30% deficit, looking to have reasserted dominance. But this time, "Dinks4all" did not need a double up to climb back. Instead they compiled a few hands in a row before taking their first chip lead after a few aggressive plays.
"Dinks4all" had a chip lead of approximately 65/35 when what would prove to be the final hand began. The board ran out with four clubs and "Pico1432" called a river all in with a small flush and found out they were beaten by the higher flush, the river club being the difference in the end and "Dinks4all" was the champion.
"WhiteChick" Wins WSOP Online Super Circuit Event #13: COLOSSUS ($499,339)
Day 2 of Event #13: COLOSSUS $2M Gtd is now complete, and the winner was "WhiteChick" from Singapore. They made their way through a total field of 9,603 runners across all Day 1s, and a Day 2 field of 1,430, to take down nearly $500,000, the lion's share of the more than $3.5 million prize pool.
The Colossus was the 13th ring event in the month-long 2020 GGPoker WSOP Online Super Circuit, held online for the first time at GGPoker as a response to the global pandemic situation. There are still five rings up for grabs before the end of May, and PokerNews will cover them all. In addition to the ring events, there are a number of side events running as well.
Event #13 Final Table Results
| Place | Player | Country | Prize |
| --- | --- | --- | --- |
| 1 | WhiteChick | Singapore | $499,366 |
| 2 | Gius2020 | Monaco | $347,922 |
| 3 | kimokh | Hungary | $242,423 |
| 4 | momosiso | Israel | $168,913 |
| 5 | KingWilfred | Canada | $117,694 |
| 6 | Money209 | New Zealand | $82,006 |
| 7 | Luizftorres14 | Brazil | $57,139 |
| 8 | getaxc56 | Brazil | $39,813 |
| 9 | .sitting out | Israel | $27,740 |
It took around nine hours to hand out the latest ring in the 2020 GGPoker WSOP Online Super Circuit. They got underway in Day 2 at 3pm Eastern time with just 1,430 survivors from multiple day 1s that racked up a total of 9,603 entries. That put a whopping $3,694,140 into the middle for prizes, a huge figure for a $400 buy-in.
It only took a little more than two levels to play down into the money. They started handing out cash early in Level 3 of the day, and by the start of Level 7, they were down to less than 700 players. Just two levels later, they were down under 350 remaining, and by the start of Level 12, they were down to 200.
They were down below 100 in Level 15, and they hit the final four tables just before the start of Level 22. From there action slowed a little as the prizes got bigger, but it was just over an hour before the final table was set.
---
---
".sitting out" and "getaxc56" both exited quickly from the final table, getting small stacks in behind, but they played almost an hour before "Luizftorres14" got ace-king in against the aces of "WhiteChick" and went out in 7th. That put "WhiteChick" on a tear, and they proceeded to eliminate "Money209", "KingWilifred", and "momosiso" in short order, holding when they had to, and getting there when they had to, amassing more than 370 million chips in the process.
"Gius2020" got them heads up when they woke up with aces after a shove from "kimokh" with ace-jack, and heads up play went on for a while. "Gius2020" took the lead at one point in a huge hand where they flopped the straight against the pocket queens of "WhiteChick", but "WhiteChick" took the lead back a few hands later when their fours held. They won it a couple of hands later when their king-six got there against the pocket jacks of "Gius2020".
PokerNews is back on the GGPoker felt on Tuesday for the next ring event in the 2020 GGPoker WSOP Online Super Circuit. Event #14: Deepstack Bounty Hunters $500K Gtd gets underway at 2 pm Eastern time for another day of deep stack bounty action, and you can follow the action here.