Natural8 Sets Its Sights on Growing N8GGMasters 2020 Tournament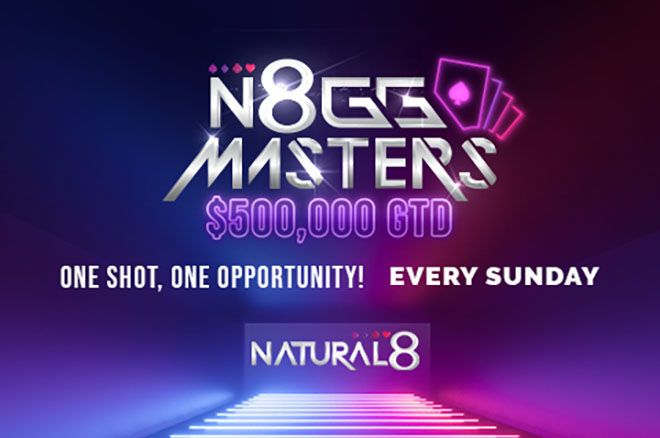 The N8GGMasters 2020 continues missing its guarantees by design, as Natural8 sets its sights on growing this tournament.
Out of the 17 times the tournament has run this year, 14 of those have fallen short of their guarantees. With a total of $6,188,274 paid out in prize money so far, a good portion of that ($464,448) was in overlays.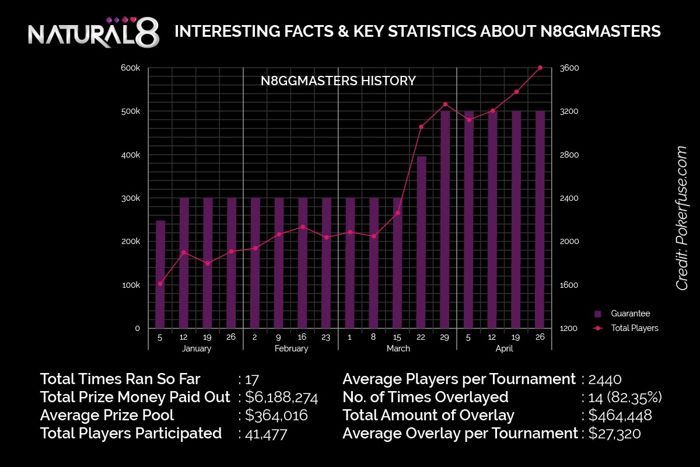 These overlays bring huge value to online poker players, as Natural8 adds money to the prize pool on top of entry fees paid by players.
When N8GGMasters 2020 made its debut in January, it had just a $250,000 guaranteed prize pool — half of what it is today at $500,000. 1610 players joined the field in that first week, again half the number of participants which currently sits at approximately 3600 players.
Natural8 added nearly $28,000 to the prize pool in that week, and despite not meeting the guarantee, raised it to $300,000.
The tournament continued to miss its guarantee for weeks until March 15, when it breached its $300,000 guarantee for the first time. In response, the guarantee was bumped to $400,000 and once again to $500,000, where it currently sits.
---
---
A Natural8 spokesperson said, "We're constantly looking for ways to grow the N8GGMasters 2020 Tournament. Even though there have been a significant amount we've had to make up in overlays, we continuously increase guarantees so players will have more incentive to participate. The guarantees started at $250,000 in January and are now at $500,000 so the numbers really speak for themselves."
The N8GGMasters 2020 takes place every Sunday at 17:00 (UTC+0), at an accessible buy-in of $150. In addition to the prize money, players also compete for Player of the Year (PoY), where the winner has a chance to become an ambassador for the Natural8 network.
---
About Natural8
Natural8 is one of the world's leading online poker rooms, aiming to make poker fun again. Players can look forward to exciting non-stop promotions, a fast and reliable platform, "Fish Buffet" loyalty program that offers up to 100% cashback, 24/7 live chat support and a safe, secure environment for all kinds of players.
Natural8 offers familiar favourites like Texas Hold'em and PLO, as well as a range of specialty games like Short Deck Hold'em, All-In or Fold, fast-fold Rush & Cash, and lottery style Sit & Go's Spin & Gold. With over $1M in guaranteed tournaments every day, players can also access immersive gameplay features like Tournament Staking, Bubble Protection, Smart Betting, Smart HUD and Card Squeeze.
Newcomers get access to exclusive promos like the $1,688 200% First Deposit Bonus and $500 Weekly Deposit Freeroll. Download the Natural8 app now to start playing.
Sponsor-generated content by Natural8