Natural8 2020 WSOP Online Hand of the Week: Jeff Platt Cracks Aces to Assume Chip Lead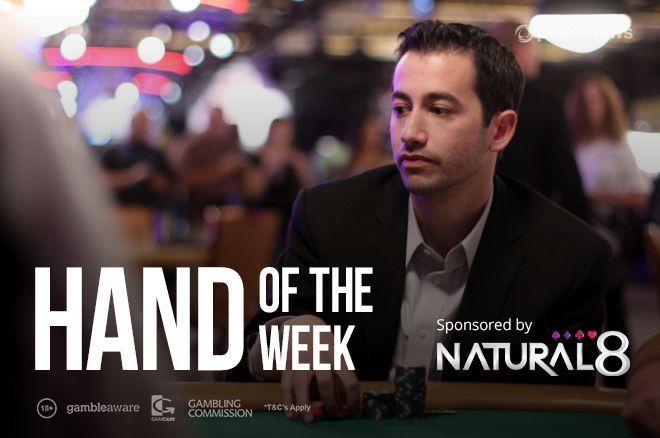 Natural8 is home to the WSOP 2020 Online with 54 Bracelet Events taking place from July 19th till September 6th. Win a Bracelet and join the exclusive Natural8 Winner's Circle where up to $700,000 in Sponsorship rewards are waiting to be claimed. Start your journey by exploring the WSOP Silk Road Micro-Stakes Tournaments or via the $5,000,000 WSOP Giveaway. The opportunities are endless.
The 2020 World Series of Poker (WSOP) online bracelet events will run from July 1st to September 6th and is comprised of 85 WSOP gold bracelets on the digital felt across two different clients: WSOP.com and GG Poker.
Each week, we'll highlight a "Hand(s) of the Week," which very well could include bad beats, lucky suck outs, and game-changing swings. In the first week of the 2020 WSOP online series, we shared two big hands played by Daniel "DNegs" Negreanu.
PLAY IN WSOP ONLINE 2020 AT NATURAL8
This week's hand took place in Event #7: $800 NLH Knockout Deepstack with 15 players remaining in Level 35 (30,000/60,000/7,500). Poker commentator and PokerNews Podcast co-host Jeff "mavsusc" Platt, who has been streaming WSOP online action daily, raised to 122,500 from middle position, and was called by Ian "APokerJoker2" Steinman in the cutoff and James "jerzrep" Nadolski in the big blind.
"At this point in the tournament, I had a top-five chip stack with 15 players left," Platt told PokerNews. "With the top-heavy payout structure, I wasn't worried at this stage about any ladders/pay jumps."
He continued: "There are some stacks in the shove or fold range behind Steinman, so you always have to be concerned with traps when the cutoff flats, especially when the cutoff is as good as Ian Steinman. Nadolski has a fairly wide defending range here, but not as wide as it'd be if there were no callers before him."
The Flop
Nadolski checked the
flop to Platt, who continued for 155,200. Only Steinman called.
"Not a terrible flop for us, as we assume tens or better three-bets preflop, especially with Nadolski off his 25 BB stack," Platt explained. "I like betting small here when Nadolski checks to us. We need to protect two red sevens a bit at this point. At this point, it's still pretty hard for us to narrow down Steinman's range. He'd call behind with any pocket pairs and high cards including the queen of spades or better, probably?"
The Turn
The
fell on the turn, and Platt checked. Steinman bet 282,500 and Platt called.
"Let's pump the brakes a little bit. I moved into defensive mode here. I don't think there's a reason to lead here," Platt said. "We're planning on check-calling here. Why? Steinman still has too many bluffs at this point, considering he can fire all of his flush draws here after I check. We also don't want to inflate the pot by leading if Steinman has a better hand than us."
The River
Platt then led out for 225,500 on the
river after making a set and Steinman raised to 677,500. Platt called, and Steinman tabled
. Platt drilled the river with his
, however, and Platt's set of sevens won the pot and propelled him to the chip lead.
"This looks like a blocker bet, and I feel like it opens the door for Steinman to raise with just the ace of spades or just the king of spades," Platt added. "Sure, he'd also raise with his flushes here, and he did raise with the ace of spades but also just so happened to have the ace of hearts. I love this raise by Steinman here. He can fold to a reshove, which he's never going to see, considering he has the ace of spades. Pretty clear call for me, but great hunt for more value here by Steinman. I think too many players just call river with ace. He's looking for max value. I just got really, really, REALLY lucky on the river!"
WSOP Online 2020 - Natural8 sponsorship up for grabs!
Win WSOP Gold bracelets on Natural8 for up to $700,000 in sponsorships, including a Las Vegas Package and opportunity to join Team Bling as an ambassador
The hand was pivotal in Platt making the final table as the chip leader, which in turn energize the poker world. Not only did he have thousands of fans watching his run, he had dozens if not hundreds of big-name players, most of whom he'd interviewed in the past, pulling for him.
Unfortunately for Platt, the cards dried up on him at the tough final table, which included Steinman, Eric "CircleBall" Baldwin, and eventual winner Joon "jykpoker" Kim, who busted Platt in seventh place for a $12,657 payday. While he may not have run, Platt's run to the final table, propelled by the above hand, was enjoyed by many.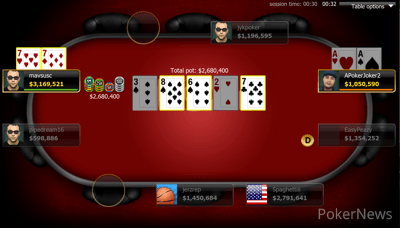 Want to play on Natural8? Get a head-start with exclusive newcomer promos like the WSOP First Deposit Bonus, $8 Extra Bonus, and $500 Weekly First Deposit Freeroll. Sign up here.