PokerNews Book Review: Dara O'Kearney's PKO Poker Strategy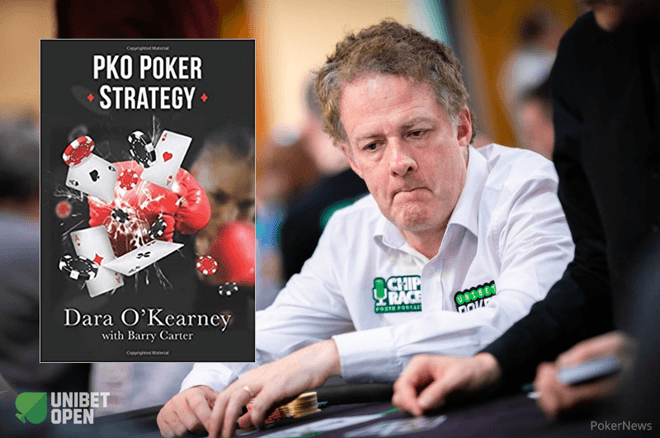 Table Of Contents
Poker in 2020 is close to a solved game. Limit hold'em bots can crush the best human opponents, and through software like solvers, even many spots in no limit hold'em are close to solved from the game theory optimal perspective. Add in Independent Chip Model (ICM) theory and range analyzers, and it's clear the poker world has never had more "answers" at its fingertips.
But there's still one area of tournament poker that is far from solved - progressive knockout tournaments (PKO). While PKOs follow the same format as most freezeout games, the added wrinkle of bounties changes the math enough that old tournament rules no longer apply.
One of the first efforts to address that knowledge gap is the 'PKO Poker Strategy'. Fresh off their success in Poker Satellite Strategy, where Dara O'Kearney and Barry Carter laid bare the essential strategies to make your way through satellite tournaments, the pair set about working through the intricacies of PKO poker.
Clear and Easy to Understand Analysis
"First of all I did some of the maths from first principles," O'Kearney said about his new book 'PKO Poker Strategy'. "I worked out how much equity is typically needed at the start this way, and also what a starting bounty is worth at different points of a PKO."
The result, after polishing help from co-writer Carter, is an impressively pithy book that may well destroy the value in PKOs as effectively as their satellite book did for the qualifier games. Not only are O'Kearney's analyses clear and easy to understand, but the layout and structure of the book as a whole guides the reader through the concepts in an intuitive way.
The book is not structured as a guide on how to play a PKO from start to finish. Instead, it begins with a broad overview of the basic concepts, and within the first 20 pages, gives the reader a solid foundation in the concepts to come and, a basic understanding of how to start applying those concepts on the felt.
Play on Unibet Poker Straight From Your Browser - No Download Needed!
Moving Away from 'Standard Spots'
As the reader gets deeper into the text, O'Kearney and Carter get deeper into how and why the bounty affects the kinds of hands that can be played profitably in certain spots in PKOs. "I started to notice patterns which led to a new way of estimating the value of bounties using two concepts I called Bounty Factor and Bounty Discount," O'Kearney said. As they did in their previous book on satellites, the authors distilled some very useful "guerilla maths" to help guide players through complex calculations on the fly.
Through the rest of the book, O'Kearney and Carter run through examples of how to apply the strategies and math in active play, but they've chosen an innovative way to go about it. Assuming a basic knowledge of how to play tournament poker in a "normal MTT", the authors spend most of their time discussing how bounties should alter your play from more "standard spots".
The substance of the book discusses the most crucial stages of PKO tournaments, but rather than looking at the wide range of possible hand spots players might encounter, they settled on "the brave, or possibly foolish, step of just having one hand example to cover most bubble and final table decisions." The idea is to let the reader see how ChipEV, ICM, and bounty decisions differ in specific spots throughout a tournament, and using a single hand as the example simplifies that process a great deal without sacrificing clarity.
Another "Epic" Collaboration
While there's little question in the poker world about the technical proficiency of O'Kearney on the felt, his collaborations with Carter have allowed him to share some of that impressive knowledge with poker players everywhere. The two seem to make the perfect poker writing pair. After O'Kearney does the math work, Carter synthesizes his "brain dumps" into a readable first draft. The two then go back and forth with O'Kearney correcting misunderstandings, and Carter acting as the average reader to bring clarity. O'Kearney then writes the final draft to give it his unmistakable "voice."
The result of that writing process, both in the case of their first effort, Poker Satellite Strategy, and this latest epic, PKO Poker Strategy, is a very readable book. O'Kearney's style allows them to explain complex concepts like Bounty Factor and Bounty Discount in simple ways, and the examples they use show the reader clearly how and when to apply those concepts in play.
If you've found yourself wondering what the best move is in a crucial spot in a bounty game, you're not alone. Until this book, it's largely been uncharted waters, but PKO Poker Strategy is your navigation guide through those waters. Your PKO game will never be the same.